As temperatures soar everywhere
, here are some thanda thanda kool gifts to chill!
DadiBua -
to soothe her throat so that she doesn't scare Junior
while singing lullabies
Ashu - The New Daddy Cool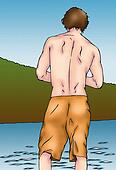 How long will he wear those boring tracks
Nidhi - The mom-to-be.
Unlimited supply for 9months and all flavours included to satisfy cravings.
Knowing Nidhi she'll crave for the unheard of.
Mallika
to help get over her 12 year itch.
Bike Tycoon Daksh -
A customized helmet with fan to ensure that he doesn't think he's 'too hot to handle'
Ranga -
To help him handle different shades of people.
Anji-
to get her 'real creative juices' flowing and design some 'cool' maternity and kids wear.
CS -
For protection from the heat generated by DB's yellings.
His ears will be covered by the hat.
Kushi -
To ensure she can't open her mouth and even if she does, she sounds sweet.
Dr. Dubey -
to hang up his boots
and change with the times.
For all of us
To help
and