Nautanki Saala
Shahrukh Khan In Poster Irritates Aamir Khan At YRF Studio
Aamir Khan's penchant for perfection has assumed mythical proportions. But we thought one more story about just how focused he remains while at work wouldn't harm us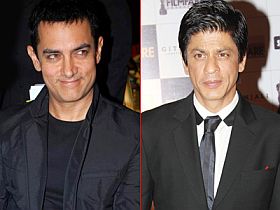 Aamir Khan's penchant for perfection has assumed mythical proportions. But we thought one more story about just how focused he remains while at work wouldn't harm us. So here it is. The actor has been burning some serious calories for a dance sequence with Katrina Kaif in "Dhoom 3".

This incident happened in the rehearsal hall of Yash Raj Studio, where Aamir was perfecting his moves. A source told, "Aamir was practising at the sprawling rehearsal centre with a large group of dancers.Everything seemed fine initially, when suddenly he stopped in his tracks and retreated into a corner for few minutes to have a chat with someone."

While the other dancers continued to rehearse, Aamir's absence was attributed to his need for a quick breather. That was not the case. Apparently, he was finding it hard to concentrate with a large poster of "Dil To Pagal Hai" and a larger-than-life SRK distracting him in the hall.

The source added, "He told someone to take off the poster of Dil To Pagal Hai as it was distracting him. But rather than comply his wishes, the YRF staff told him politely that he had no authority to remove anything from the hall."
The conversation was cut short, Aamir went back to the rehearsals, but unhappy at being turned down so summarily. Last heard, the poster still remains in the YRF rehearsal centre, while Aamir has had no option but to better his dancing skills under the watchful gaze of his rival.