Originally posted by Leesan
Ok,ok,I know I'm getting super excited and letting my imagination run way ahead!
But...but this is what I'm thinking and hoping for:
Mohan and Megha continue to battle it out, Mohan angrily says that "I never married anyone else!" Then Megha says "then who is Rimjhim's mother, the one with all the sarees,the pendant, the long hair ,the peacock eyes????
"
Mohan grabs her by her shoulders and spins her around to look into a mirror ,then says " you really want to know?". Megha nods her head. Mohan says " Here she is! That's RJ.'s mother! Happy now?"
Megha is shocked and confused and says " I don't understand, how can I be her mother? What are you trying to say ...Guru said..."
Mohan interrupts and says " Rimjhim is adopted!"
Megha is speechless, then they both turn around to see that RJ is there and has heard every thing!! She runs off crying !
Lee baby
Save yourself for RJ thing from me..i am coming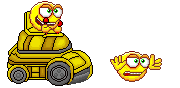 well you are right..this may happen..98% probability


Edited by passionalive - 08 April 2013 at 5:41pm