Hi all, I'm Sia.
I have got this privilege of updating the Written version of the show for
Mondays
and
Fridays
.
I would like to thank you all for giving me this opportunity.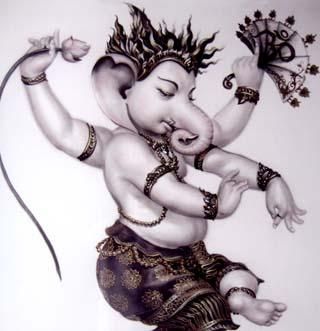 Devon Ke Dev Mahadev
08th April 2013 : "Rishi Dhatich to the rescue
Jal's Guru specch!"
Shiva lifts up his Parvati and brings her to an open space.
Ganesh asks his father will his mother be alright.. would she now recognize him.
Shiva puts her down on the ground, gently and continues look at her.
Just then Parvati devi opens her eyes.
When she realizes where she was Parvati ma gets up abruptly and walks away. She asks Ganesh what was the sadhu doing there..and asks him to proceed.. Shiv tells Ganesh not to be sad and that his mother is going on the right path.
Back at JAl's crowing ceremony...A few asuras painted in blue Silver colours attend the ceremony.
Jal then gives a 'Guru' kinda speech to the asuras askin the definition of asuras...and saying that they too have rights as devtas have to live with dignity.
Its unjust and sheer exploitation of rights.
He says that all this time they where spineless to face them... didnt have faith in themselves.
Back at Vaykunth
Naradji is shocked to see all this... and as to who is gonna stop him..When he says that Jal has already snatched away Airavat and looks like he is gonna take away Indr's Throne, how worried eh would be..that he couldn't find a way out... Narayan looks at Naradji as if he got some leela to play here..
Understanding what his NArayan has said Narad moves on for his next task.
Jal says that has accepted the throne as a gesture of guru dakshina.
He inspires them to fight for their rights.
Shiva says 'apasmar'
on asked by Ganesh on the same Shiva says that it is raises ignorance .its hinders the focus of the yogic path by placing one or the other option
it never lets one reach truth ans knowledge of the self.
And when one forgets something or go astray of their path this
apasmar
gets a chance to grow...Ganesh says which means it must have grown too faster. (Thank you Surya_krsnbhakt for the correction
)
Shiva asks Ganesh to take his mother to rishi Dhatich's ashram.
The next morning they both proceed to the ashram... Ganesh asks his mother to stay there till he gets Rishi's consent to allow in.
As she waits and sees around Shiva's huge shadow shades the whle region including her!
And The BG is played... goo old days I say!
Her feet moves by them self towards the place.
When Ganesh asks that he wants to meet rishi Dhatich and tries to enter the ashram two sadhus stop him saying that he is in meditation.
just then Dhatich comes and welcomes him.. he feels grateful to have Shubhta at his ashram.
He says to Ganesh that he knows how he feels of losing his mother's love and pamper.
He says that he is the witness of divinity an assures that there might be some leela of Adi Shakti behind this situation.. just then Parvati devi arrives and all by herself gives her pranam to Dhatich and so does he.
Where as Dhatich recalls of Sati devi whens she first comes to his ashram.
Parvati devi says "I have lost my way" just as Sati devi said centuries ago.
then he answers the same thing "losing the way itself is to find one! "
Then she looks at the huge SHiv ling and the BG plays the title song...
She walks towards the linga ...as if her feet dragged her there.
She looks at it mesmerized.
Shiva says "I am so near to Parvati, but just this little distance seems so far... My voice is reaching you but you are unable to hear me in them... Your eyes observe me but you are not recognizing me! what can be more painful to me! Im sure we'll someday go back to Kailash as if we never were apart."
*************************
Precap:
Narad ji goes to Jal where he says to the rishi that he is not permitted to his place without his consent. Naradji gets to that Shukrachary has not said all abt Jal's birth to him.
Parvati mata goes to the huge Shiv ling at Rishi Dhatich's ashram and places her hand over it.

*************************

Thanks for reading the WU
Regards
Sia
DO NOT COPY THIS POST AS THIS IS EXCLUSIVE TO INDIA FORUMS


Edited by sankalp_prapti - 25 August 2013 at 3:24am