She changes into her sexy night dress'''he smiled and looked away'.

Divanagi Ka jaam Hai, Tu Ishq Ka Inam Hai
She came near to him and pushed him on the bed & sat near to him'
Tere Pyar Men Pagal Hun Main Subah-O-Sham
Janam, I Love You, You Love Me
Janam, I Love You, You Love Me


She opened his shirt button then showering kisses from his torso to his chest'''
geet
Thandi Havaen Jadu Jagaen, Meri Nigahen Hain Pyasi Pyasi
Chhane Laga Hai Nasha
Then softly biting his neck'.
maan
Ye Gori Bahen Tujhko Bulaen Aaja Mita Dun Duri Zara Si
Ho Na Koi Fasala
He pulled her hair' both looked into each other eyes then she took lips into herself''.
His grip in her hair tighten to press her closer


geet
Dil Ka Yahi Paigam Hai, Tu Chain Hai Aram Hai
Tere Pyar Men Pagal Hun Main Subah-O-Sham
While her hand reach to his pants''..and his hand remove the step of her nighty'''

Janam, I Love You, You Love Me
Janam, I Love You, You Love Me

Honthon Pe Bas Tera
*******************
While her hand reach to his pants……..and his hand remove the
step of her nighty………
His hand slipped under nighty …he cupped her soft back curves…
he squeezed them….burring his face in her chest between the
curves…..she slipped his pants further down……..
He passionately kissed him…she helps him in removing the nighty and surrendered totally to him…. He passionately turned her over down,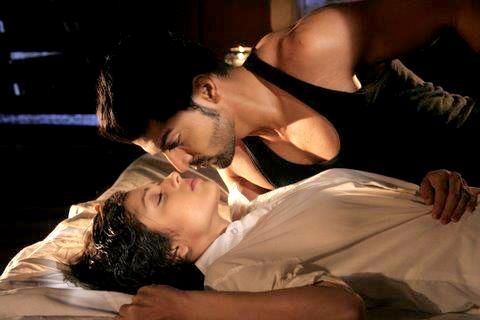 struggling out of his entangling pants & kicked it away. His mouth closed over hers with hard possession & he pushed himself more fully on her. She trembled under his body.
Maan : jaan
Geet : sshhh…
He kissed her harder & she kissed him back with equal intensity.
He outlined her lips with his tongue. She moaned in pleasure. He softly cupped the curves she arched her back offering herself to him. His breath was warm against the tops of her *****. Maan lowered his head to stay close above her buds & she ached to feel him against her flesh.
He nipped & suckled one ***** & then the other….then he kissed her belly button, digging his tongue in it...then circling with his tongue on the sensitive skin around it...he licked and sucked her flesh thoroughly then nibbled on it harshly making her scream in pleasure...
She gasped into his mouth as he slowly slid his hand inside her thong slipping them away. His long finger set up a slow, steady rhythm & with each thrust she climbed a little further closer.
He gently rubbed his cock over her core and moved his pelvis back and forth...She moaned...the dry humping was turning her on, as she went wetter and wetter…then he finally entered her, giving her time to stretch out to his length and girth...her back arched as he entered her and stretched her out, and she moaned louder while her eyes rolled up in her head...she was in immense pain and he could feel it looking at her teary hazels...
Maan: geet are you ok
Geet : maan don't stop…mein thik hu
Her hands were on his shoulders and arms, and her nails seemed to lightly cut into his skin as he began to shove the last couple of inches in...Finally with a last hard push he was in, she moaned screaming his name as loud as she can...
She cuddled into his arms feeling high. He softly caressed her arms then her cheek…
************************
Sorry for spelling and grammar mistakes……..I don't know ………
this part you all like it or not………….