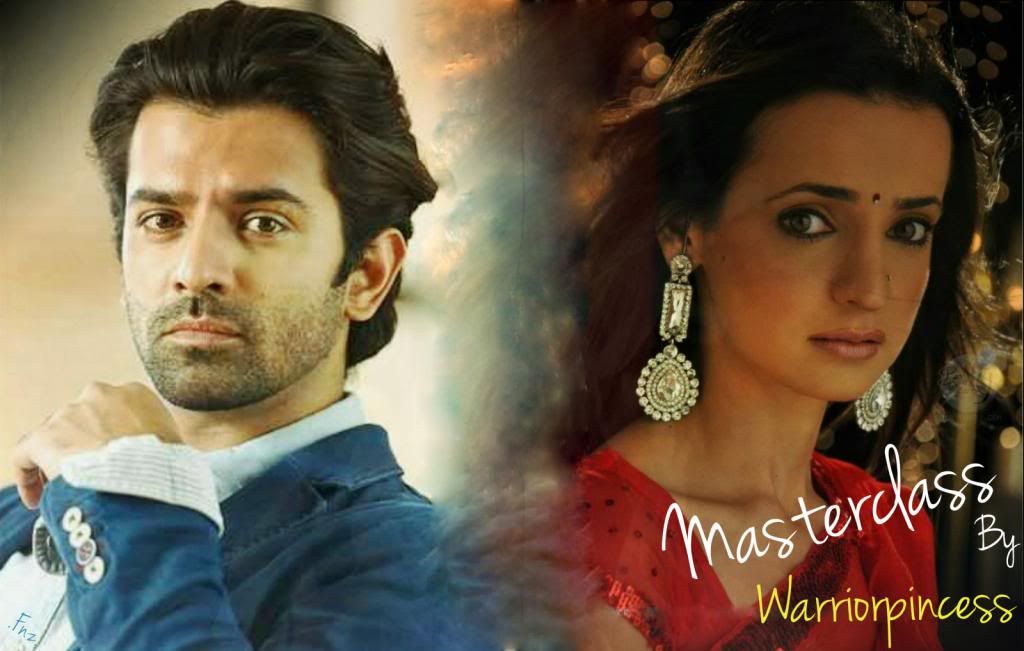 Banner created by Omoraboti (not using your real name without checking) - thank you my jaan for the suggestion and the banner!


Chapter 75



It was well past 7am when Arnav woke up. He couldn't believe that he had overslept. Rubbing sleep away from his eyes, Arnav yawned. Sleep had found him but it had been less than restful. Khushi must be the same he thought as he turned over but the bed was cold and empty. He turned to the bathroom hoping to hear the shower running. Nothing but silence surrounded him. Arnav shifted and rolled onto his side to sit up as he gazed somewhat confusedly around the room. In the few days they had been married, he had become used to having her in his arms at night. Where was she? And how had she gotten out from bed without waking him? Arnav got out of bed and walked to the wardrobe and began pulling out clothes and grabbed some underwear from a drawer. He dressed and then headed down the stairs, his bare feet padding silently on the polished wooden steps.






Deeply engrossed in what she was doing, Khushi didn't realise that she was no longer alone until she felt a hand on her shoulder and heard her name. She looked up into familiar brown eyes which were now filled with concern and some hesitation.








She looked exhausted. Looking around, Arnav noticed his laptop surrounded by countless pages of handwritten notes and diagrams interspaced with half empty cups of tea. Had she slept at all he wondered in amazement as he watched his wife stand up and stretch.






Khushi winced as the pain from muscles stiff from sitting for so long stung in complaint. It had been worth it she thought as she turned to her husband. Involuntarily, her eyes slid over his body. He wore a pure white cotton shirt which was casually loose but clung lovingly to his broad, straight shoulders before falling softly over over his narrow hips. She could see the definition of his tight abdominal muscle underneath the fine cotton and the stark whiteness of the shirt was in sharp contrast against the tanned tones of his skin. His jeans, ridding indecently low on his hips, had been worn and washed so many times that they were faded and actually beginning to rip in places. The fabric clung with an almost erotic sensuous closeness to the long, powerful legs. The hems on the bottom were frayed where they fell over long, narrow feet, the toes curling slightly on the polished wooden floor of the dining room. He looked much more like some untamed unsophisticated average Joe rather than the powerful multibillionaire he actually was.


Despite her exhaustion, Khushi could clearly see that despite being dressed as simply and as casually as this, it was the sheer physical power of the man that hit home hard and strong, knocking her off balance and appealing to the most primitive, most basic part of her female nature. Blood began pulsing in her veins as she shook off the tiredness and automatically began tuning into her husband's body. Was it normal to feel such blatant desire for another person, Khushi wondered distractedly so much so that she almost missed it when he spoke.






'Khushi?' he said softly, 'what is all this?' he asked at his eyes slid across everything on the dining table. Khushi struggled not to yawn but Arnav noticed something blazing in her eyes - hunger? Longing? Before he could work it out, she snatched it out of reach, lowering her eyes and rubbed them as if to chase sleep away. Arnav instantly noticed this, 'why don't you go take a shower and I'll make some coffee,' he suggested. Khushi nodded gratefully and walked towards their bedroom. Yes a cold shower was definitely needed, both to wake her up and cool her down.






Arnav was just returning to the living room with two steaming cups of coffee when he noticed Khushi coming down the stairs towards him. She was wearing a lavender chikankari salwaar kameez, her face dewy fresh and completely devoid of makeup, her wet hair cascaded down her back. How could a woman look so innocent yet so tempting at the same time he wondered as he quietly handed her a cup of coffee. He watched as she took a sip, grimacing slightly at the bitter taste as they walked towards the lounge suite and Khushi took a seat. Arnav debated on where to sit for a split second and then sat down next to Khushi without touching her.






Arnav stole a sideways glance at his wife. He waited for her to speak. To shout. To do or say something. Anything. But she was completely silent; her beautiful face was absolutely closed to him. If this had been taking place in a boardroom with anyone else, Arnav would have been least bothered. In fact he might have even relished the thought being able to cause such distress to a business opponent. But now, how the tables had turned and everything twisted inside him. Suddenly he could hardly breathe as a number of emotions turmoiled through him. Concern. Fear. Confusion. And desire. Something that he clearly never felt for a business opponent. Bloody hell, Arnav thought to himself, balancing business and his bride was hard!






Khushi gathered her thoughts as she sipped her coffee but Arnav's unique scent accentuated by his underlying male musk surrounded her and suddenly that cold shower felt pointless. How was she supposed to concentrate on what she was supposed to do when indecent thoughts of her husband kept popping into her mind? She grabbed her cup and took a big gulp of the hot liquid. The burn of bitter coffee as it made its way down her throat was enough to clear her head. She placed her coffee cup on the table, took a deep breath and turned to face her husband.






'Last night when you told me that you are the opposing party in the property deal for Jaleebi Junction, my world stopped. My first thought was complete panic. I've seen you virtually annihilate your opponents mercilessly when you are out to win and I thought if those accomplished businessmen can't win against you, then what chance do I have?' she said quietly as she looked down at the carpet floor.






'So I decided that I'll bow out and let AR Corp have that property,' she said softly.






Stunned Arnav swung towards her and he roared, his anger instinctly getting the better of him before he had a chance to think about it, 'Khushi, NO!! I can't belive that you can even think about backing out after everything you've been through -!'






'Arnav!" Khushi interrupted, 'Let me finish!' she said loudly. She was amazed at his reaction in her favour but at the same time she was annoyed at having been interupted before she finished.






Taken aback by the irritation in her voice, Arnav stopped speaking immediately and stared at Khushi. Her beautiful eyes were blazing and her cheeks flushed with anger as she spoke. 'You know I hate being interrupted as much as you do Arnav - we've had this discussion before!!' Astounded and feeling appropriately chided, Arnav quietly held his hands up in defeat and moved his hands across his mouth as if to close a zipper.






Khushi lowered her raised her eyebrows. That was better. Saying what she wanted to was challenging enough without being rudely interrupted by her husband. She took a deep breath and a sip of coffee before continuing.






'As I was saying, I decided that I'll bow out and let AR have that property. That would be the easy way.' Nerves to the limit, Khushi continued, 'well its the least problematic way - I mean how can I even entertain the thought of even going up against AR Corp?' she said as she looked into his eyes. She looked utterly dejected and Arnav felt a tug on his heart strings and his hands tightened around the fragile porcelain cup. He instantly wanted to do whatever it took to make her world right. Sighing softly he decided that he needed to give her the space to say what she wanted to first as he watched her.






Khushi took another deep breath as she assembled her thoughts. The property matter was causing tension between them and she needed to get over it. Arnav meant the world to her and there was no way she'd jeopardise their marriage. For anything.






Khushi continued, 'then I sat down and thought about it. It would be the easy way, but it would also be the wrong way for me. I've never been a pessimist or accepted defeat easily, and I'm not about to start now.'








She took a deep breath. And neither would she jeopardise her dream of making Jaleebi Junction a reality. All her energies were focused on retaining her composure and holding back the uneasiness that threatened to overwhelm her. But she squeezed her eyelids closed and concentrated on breathing rhythmically and gradually her frayed sleep deprived nerves calmed a little and she felt her fortitude return.






She turned to face her husband, the man who was at the centre of her universe. The man who made her feel like she was the most priceless thing in his world. The man who was her mentor and now her opponent and Khushi was deluged by the strongest determination to make things right.



'I've learnt everything I know about business from you and there's no way I'm to let this go without giving it a good fight. Even if it's against you,' she said softly. 'But Arnav make no mistake, this is me and you in business and it has nothing to do with our marriage. What happens from here on will remain outside those doors and we will not bring it home with us. I will not let anything damage our marriage and that includes both Jaleebi Junction and AR Corp,' she said in a low, deadly and very determined voice as her eyes locked with his and held him captive as she issued her directive.






Renewed determination roared through her veins and the fear evaporated. She wasn't going down easily and she'd give this fight everything she had.






Khushi waited for a retort and for a moment Arnav didn't reply. She watched as he inhaled deeply and took a good look at her, his face devoid of any expression that could give her an insight into his mind.






Arnav inhaled and exhaled slowly. Khushi was clearly on a mission and meant business. He could see it in the way she held herself, the tension in her shoulders, the ramrod straightness in her back, the clenching of her jaw, the lines of determination around her nose and mouth. Generally people fled a mile when they worked out that they were up against him and here she was, openly and voluntarily taking him on in a David vs. Goliath battle. He had never met anyone who spoke with such conviction, such strength and determination to fight for what she believed in but with no intention of losing what she had already attained. Her passion and determination to succeed regardless of what the circumstances might be was truly inspirational.






Arnav suddenly felt slightly overwhelmed, and if truth be told, it was actually him that should be daunted with the thought of going up against Khushi Kumari Gupta Singh Raizada he thought as he stared into her eyes.






Khushi frowned as she watched her husband studying her intently.








Tearing his gaze away, Arnav took a sip of his coffee. He looked into the dark brown liquid as he spoke, 'Khushi, I'll be honest with you. When you told me that you are interested in that property, I played with the thought of pulling out of the deal so that you could have it. Or maybe buying it for you but telling the owners to go through the charade. But Khushi, I know how you think and you would have never accepted it if you found out the truth. On the other hand, there's AR, and I need to get hold of that land for AR. None of the options I tried worked. So I just grappled.'






Arnav sighed as he dragged one hand through his hair, 'No, I struggled. I struggled with telling you the truth. I struggled with what to do. But you, Khushi, you made a decision and took action. You are much stronger than I am Khushi,' he admitted quietly as he turned to face her. 'Khushi, I have no idea what the outcome of this will be, and I know that both of us will put everything we have into winning. But Khushi I would never, ever, risk damaging our relationship for anything, and that includes business,' he told her with deadly intensity.






Khushi considered Arnav's words momentarily and then she shook her head as she looked at Arnav. There was definitely still more to this discussion. 'You say that Arnav but you didn't tell me what was bothering you until I practically threatened you. Lets say I hadn't pushed you - would you have told me the truth?' she questioned softly. Irritation flashed through his eyes as he spoke, 'Khushi I was trying to work it out myself,' he bit out gruffly but trying to retain his calm but feeling his annoyance building. Khushi nodded, 'that's my point Arnav, you were trying to work it out alone.' Khushi took a deep breath, 'Arnav, look it from my perspective. My husband is livid with anger but doesn't tell me why. We then come home and he's still annoyed and then something tips him over but he still doesn't tell me. I know at this point he's hiding something from me.'






Khushi heard Arnav's breath hiss slightly as his eyes narrowed. He turned and met her fury with cool calculation. 'Khushi, I was trying to be considerate damn it - you have enough to deal with and I didn't want to worry you,' he said coolly but with a hint of anger evident in his voice. Khushi bit back the natural urge to argue in response and counted to ten in her head as she rotated herself to face her husband. 'Arnav, this is not just about Jaleebi Junction or AR Corp. This is bigger than that - we are MARRIED! That means we talk about things. It's not your job to worry about things alone anymore,' her eyes flashed fire and fury at him.






Arnav's hot temper flared and he felt his hands curl inwards. "Why do you assume that this is entirely my fault Khushi? In anycase, even if I had wanted to talk to you, it's not like you were very receptive to me after I told you the news; you walked away and went to bed and when I came to you, you kept your back to me! So tell me, exactly how am I supposed to communicate with you?' he bit out in a voice low and controlled only by a supreme act of will to hide the bubbling cauldron of anger that was beginning to rise through him as he glared at his wife.








Khushi stared at Arnav for a minute and then flopped back on the couch. Arnav's allegation was on the mark. Khushi let out a deep sigh, 'ok, you are right Arnav. I did shut you out after you told me the truth and yes, I should have spoken to you and not taken my anger or fear to bed - so I've learnt that lesson today.' Khushi turned to face her husband, 'To my defence my action was in reaction to the fact I practically had to bully you to tell me the truth. It shouldn't have to be like that and this is probably going to annoy you to no end, but I'm still going to say this: I want to be the shoulder to you get to lean on when you get that sinking feeling. I shouldn't have to push you so much. Secondly, if you decide that you want to protect me all the time by not sharing what's bothering you - then that makes me an unequal partner in this marriage,' she said softly.






Every muscle in Arnav's body tensed. He heard the slight break in her voice and it spoke to something deep inside him. For so long he had carried the burden of trying to make the best decisions he could for his business and his family. How could he possibly unlearn that behaviour and stop being the problem solver, the Mr fix-it of the family? Arnav closed his eyes as his body tensed with an emotion so intense it felt almost like pain. Would be so wrong to let his wife give him the emotional strength that no one had ever been able to give him? To share his turmoil? To be his sounding board?






Khushi could see Arnav struggle with her words as he fought a battle with himself and she instinctively laid her hand on his arm. 'Arnav I'm strong. You've said so yourself. I haven't come this far in my life without becoming resilient. I have it in me to fight for my dream and make it a reality, but also to be your wife. Let me be you your strength too,' she said softly. She so desperately wanted to be the person he trusted above all others, the person he depended upon. She wanted ease his burden, give him a safe place to rest and as Arnav heard the yearning in her voice, a torrent of feelings swept through him and he realised that he had miscalculated his move in this instant. Leaning back, he couldn't help but stare at Khushi, astounded by her words and today he had a newfound sense of respect and admiration for her strength and indomitable spirit. And then he nodded, his dark eyes not leaving her for a second.






Mesmerized by the intensity in his expression, she put her hand in his, his fingers lacing with hers. Time stood still for a brief moment as two individuals who shared many relationships including lovers, husband-wife, mentor-mentee now added a new dimension to their association as one of equals on every level.






They stared at each other wordlessly, and then Khushi held out her other hand 'so now that we have that sorted out, with this property deal, may the best businesswoman...or man, win,' she said with a soft smile.






Arnav looked at his wife's outstretched hand and he smiled a slow smile that was a hundred percent masculine and equally seductive. 'It will be my privilege to meet you at the negotiation table Mrs Raizada,' he said softly.






Khushi slowly pulled her hand back, 'No Mr Raizada, you will be taking on Khushi Kumari Gupta,' she said as she smiled.






One eyebrow rose, as Arnav accepted the challenge, 'The pleasure will be all mine Mrs Khushi Kumari Gupta, it always is,' he said, his voice low and sensually husky but with his trademark tone of supreme confidence. Khushi smiled back, that sexy twinkle reappearing in her eyes once more as she watched her husband stand up slowly.







Khushi didn't let go of her husband's hand.







Looking at his wife, Arnav's eyes locked with his wife's as he raised one eyebrow slightly, 'you know Khushi maybe you shouldn't have had that shower yet,' he said softly. 'Why?' she asked in a feigned tone of innocence. Arnav's hand's went up to to the top button of his shirt and Khushi watched as the first button popped free, 'because you're only going to get sweaty again Mrs Raizada,' he drawled. Khushi's eyes widened, 'Now Arnav? Not that I'm complaining but we both have to get to work,' she said in a voice that even she didn't believe.






'Excuses Khushi? Really? Our conversation about business is over. We've even done a relationship analysis. And, like we've agreed, I'm being honest and communicating with you - I know that you want me because you've been undressing me since I walked in this morning,' he said in in a sexy drawl that made Khushi's toes curl in anticipation.






Khushi scrambled up and grabbed his hand and began to pull. Arnav stood his ground as he looked down at his wife, his expression clearly questioning. Khushi groaned, 'Upstairs where else,' she said as she tried to pull him again. Arnav just looked at her and Khushi gasped as she was suddenly on her back on the couch with Arnav leaning above her, dark, virile and very much in control. 'Khushi you just said that we're short on time and this seems to be a very comfortable couch,' he drawled as his eyes glinted with naughtiness. Khushi gasped, 'Arnav! No! What if someone comes in?' she said as she tried to sit up. Arnav raised one eyebrow, 'Scared Khushi? I could have sworn I saw a super-confident Khushi just now. A Khushi who wasn't afraid of anything. Perhaps not even afraid of getting caught.' Arnav murmured with characteristic confidence as he stood at the edge of the couch with his white shirt open and hanging off his broad shoulders. His chest rose and fell slowly making his ripped torso ripple slowly and Khushi's mouth went completely dry. Arnav Singh Raizada was, quite simply, the sexiest man to ever walk the face of the earth she admitted as he slowly slid the shirt from his back and let it drop to the floor.






Khushi swallowed as she dragged her eyes away from his only to see his hand slowly undo the button and then pulled down the zip on his jeans as knelt on the couch and moved over her. There was something in his eyes that filled her with a crazy, sweet longing and with a rush of anticipation, Khushi leaned forward as she brushed her nose against Arnav's, 'Ok Mr Raizada, you're on. We're short of time, so stop talking and wasting it,' she whispered as watched her husband's smile widened to match hers. Khushi practically purred in pleasure as his lips settled over hers. She felt the rough scrape of his stubble over the sensitive skin of her face and opened her mouth under the demanding pressure of his mouth. Khushi moaned as he took control and began dealing with items of clothing between them.






Arnav's fingertips brushed over her temples, then across her cheeks, down to her throat. He tilted her jaw up and his lips pressed gently against hers as his body sank into hers. He didn't say anything, he didn't have to. He linked his fingers with hers as his big body cast a shadow over hers. Tilting his head, he lowered his mouth and lightly traced the edge of her lips with the tip of his tongue.



There was scorching intensity, hunger and need as they loved each other. Arnav looked down at Khushi, brushing her hair from her forehead. This was his Khushi. His eyes locked with her's and his breath caught in his throat. 'I missed you baby,' he said softly, his lips brushing against hers, 'so damn much and not just for this,' he whispered as he moved, 'its never bothered me when someone is mad but I can't stand being distanced from you Khushi,' he whispered against her ear as his hands sank under her hips to hold her in place. 'Khushi I love you. I think fall more in love with you as each second passes,' he whispered as he stared into her eyes.
The intensity of his gaze was searing and Khushi's heart constricted as she squeezed her eyes shut but the tears fell anyway. 'I love you Arnav. I can't tell you why, or how much, but it's the one absolute certainty in my life,' she whispered as her hands cupped his face. She just adored him so much and suddenly everything had gone from being wrong to being very, very right.
credit to the original creator. I have merely borrowed it.
Hellooo darlings!
Ok, I have been swamped by PMs from irate readers saying that they've left me long comments and I haven't bothered replying. My apologies if I have hurt your feelings with my silence.

As you know, I have recently been making a concentrated effort to make one on one contact with readers and respond personally to comments. The situation with Chapter 74 is therefore an exception and was a deliberate move from me this time. I will explain why shortly.
But first, I promise you that I have read each and every comment posted in response to Chapter 74 and I do thank you from the bottom of my heart for writing in.

The reason I had deliberately chosen not to respond to comments this time was that after the previous chapter, there were alot of questions in the comments, and they generally focused on:
1. why-oh-why is the cliff-hanger back and how dare I use it at such a critical juncture?
2. what's wrong with Khushi, how can she be so cold to Arnav? Is JJ all that matters to her?
3. why can't Arnav just give her the property? Is AR Corp more important than his wife?
4. how can JJ and AR Corp (two companies separated by heaven and earth) want the same property?
5. there's no way both can be happy - or is there?
I was silent because I needed to get Chapter 75 to you guys and I wanted it to speak for itself without any interference from me before I posted.
So...now that it's out there, how do you feel about things now? Is there hope for these two? Can both keep their dreams AND their marriage alive?

This is special chapter for me. There are three reasons for this.

First, it was insanely challenging to write because I wanted to show a transition point in Arnav and Khushi's relationship. Has something changed? Who is the mentor? Who is the mentee? Is there even a need for either?

Second, I know I have a lot of expectations from you guys and I wanted to do my level best not to disappoint and third, this is the 75th Chapter of Masterclass and hence a diamond jubilee.
I read somewhere that it's a simple truth that sometimes the most ordinary things can be made extraordinary, simply by doing them with the right people. Thank you for your company for the last 75 Chapters and for making this ordinary story, Masterclass, extraordinarily special for me.

So over to you, I await your reactions. And as always, I will accept bouquets and brickbats with equal gratitude and humility.

Yours truly
Naina
please add:
masterclass_pm to be on the pm list for this work

chapter 76 http://www.india-forums.com/forum_posts.asp?TID=3524143&TPN=134



Edited by warriorprincess - 16 May 2013 at 8:19am