Hello people ... I guess I am late to wish you all HOLI but celebration to kabhi bhi ho sakti hain na??? So, lets celebrate the colours...
Rang Milanti
Will colours bring them back together!!!

He stepped out from the local train. Bolpur. A suitable place to complete his photography assignment. That too in season of colours. He waved his hands to a van rickshaw, standing beside the entrance of the station.

"ruko bhaiya thoda..Main abhi aata hun(wait for sometimes'..I am just coming)". He gave some money to him and ran to take some magazines and one bottle of water.
He came back smiling. The peaceful environment, open sky and cool breeze, he just loved the place. He came towards the Rickshaw still smiling looking downwards dreamily.
"Ha chalo" he said but to whom? The rickshaw had gone far away without him. "Hey oye ruk. I paid you bluff master." He shouted running behind it. Suddenly the Rickshaw stopped with a thatching sound.
He walked towards them taking conscious steps.
"Toh aa bhi gaye tum? Ek bekasur ko bluff master bhi bol dia??"
"Oh God Manvi? Why you took my Rickshaw? Can't you afford yours? Where's your independent feminism flew?" He said sarcastically.
"Virat!! I don't have any interest in your money. Ghar jaake mil jata na tumhe paisa? (You would get all the money in home, na?" She said while trying to stay calm.
"wah. Philosophy ma'am ki philosophy suno, pehle chori karo phir wapas karo'.wah!!!" he clapped.
"Teacher ji, e babu kaun hain ?" the driver asked "tabhi se aap ke saath bahes kar raha hain?...Hum bhi Raghu dakait ke pota hain, kat ke rakh denge".he said rotating his big red eyes.
"What? No, she is very sweet, why should I argue with her. No, Never" He sighed in nervousness.
The driver looked at him with raising eyebrows.
"Meri pati hain yeh!(He is my husband)" manvi said finally.
The driver looked down may be in embarrassment. "woh teacher ji aapne kaha to nahi kabhi'''ki aap shaadishuda hain" he rubbed his neck, "he he he". He laughed in shame.
"Jaiye babu teacher ji ki paas baithiye."he said agin. Manvi sifted more to her side to make space for him.
"nahi, tum jaao'.main aa jaunga dusri rickshaw se" he suddenly backed out and left with a sigh.
Manvi nodded her head in negative and the grandson of Raghu Dacoit again started pedaling his rickshaw.
*******************************
Virat kept looking at the figure of the rickshaw which was gradually becoming small. Manvi used to say to him, "jab tum dur jaate ho toh saaf aur lamba aur bada dikhai dete ho, aur paas aate hi unclear. Main tumko samajh nahi paati(when you go away you became clear and big but when you are near, you became unclear. I can't understand you)". Living separately was Manvi's decision and he respected her every decision.
He took another Rickshaw. The atmosphere is really amazing here. The red soil, smell of felsh flowers from roadside trees, chirping of birds and red palash flowers on the concrete black road. He started humming song.

"Khaha utrenge?(where will u leave?)" The driver asked after moving some distance.
Humm where? To manvi's house or to any hotel? He thought. "Thakur parha, beside Ranidighi" he blurted.
The driver stopped his Rickshaw beside a small lake. He got out of it and went to the oldest house of the area.
He saw Manvi with some young girls and boys. Everyone was wearing golden yellow saree and boys were wearing pajama Punjabi. "In Blue horizon'''''' flowers are burning with colour''''Oh in blue horizon" They were singing Rabi Thakur's songs and spreading gulal in the sky. Manvi looked beautiful as usual in gajra(flower in her head) a gulal bindi on forehead and some red vermilion on her partition. He was once again falling for her.

"Ma'am, samne wali aadiwasi o ki basti me aj jo parob(festival) hain aap aa rahi hain na?(are you coming in the aadibasi festival ma'am?)" asked a young boy.
"nahi satya isbaar nahi''.(No, Satya not this time)" She disagreed.
"Ma'am is it that much easy to avoid them. You will see how your evening students drag you to the fest" said a girl giggling. Manvi teach the aadibasi people without taking any money every day at evening.
"Ma'am please you have to come" said Satya.
"okk,okk I will try. Now you all go and enjoy"
They all left giggling enjoying the spring of their life.
"Woh ladka kuch zyada hi tarap nahi raha tha tumhe aadibasi festival me dekhne ke liye?(that boy was very enthusiastic to see you in the aadibasi fest)" he taunted.
"Virat he is my student.(sighs) you will never change" she went in to the house, "come I already sent Birju at the bazaar to bring some fish for you. Lunch will be ready in one hour" she left to her room.
"Humm hospitality toh damat jaisa hi ho raha hain''' bas patni bhi patni jaisa behave kare phirse" he said to himself and sighed.
********************************
"Arre yaar yeh kaha phas gaya''uff(Oh God where I stuck''.uff)" said Satya trying to control his fall over his professor but failed.
"yeh kya hato''jaao udhar baitho''.. battameez kahika(What is this? Shift there'''disgusting boy)" Virat shouted. Satya looked down in embarrassment and more over to suppress his laughter. They were in a bullock cart going to see the aadibasi festival.
Manvi nodded in negative.
Students enjoyed the scenes in front of them in the whole way. After one hour of travel they reached the destination. It was sooo beautiful, surrounded by palash trees.

"Do you all know? It is the time when winter ends and summer commences. As a consequence of these seasonal changes, the intensity of disease spread increases significantly. In ancient times to save our human body from these dreadful diseases, a tradition of playing Holi with Palash Flower was followed." Everyone looked at her in awe.
"Are you the philosophy professor or any doctor or dictionary? You never fail to amaze me" Virat said at last.
The Santals(aadibasi) came and led them towards a place. Atlast they entered to the world of aadibasi Santals.

Pleople were throwing colours in sky, laughing dancing going crazy that day. They applied gulal on them too.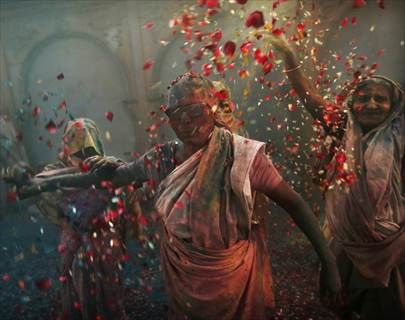 Then started their dance. Dhi dhi da dhitam dhitam dhi dhi dha dhitam dhitam tam. Santal girls were dancing holding each other. A middle aged Santal was playing the Madol(Dol kind of instrument) skillfully.

May be there is some trance in that music. When the day light faded and the night came no one knew.
The College students excused themselves earlier, but the Santal students of Manvi didn't approve her departure so soon. So she with Virat stayed there. They dragged Manvi with them and they along with Manvi kept dancing in the rhythm of Madol. Virat kept taking pictures.
After a while, a little girl of 7 or 8 years came and gave them two full glass of Mahua.
"What is it beta? We don't drink" manvi said.
"Drink it up. It is only flower juice" the girl pouted.
"Aree mujhe do(hey, give me)" Virat snatched it from that girl and drank full of it.
"kya Manvi kuch nahi'. Pee lo(what Manvi,nothing...drink it up" he said giving the other glass to Manvi.
Other Part : Page_ 11 80656236


Edited by preity_d - 14 April 2013 at 2:02pm