(note-even VAANI is at home as she is having exams )
viren-arre jeevs suno to sahi mein khud virat ko kabhi bhi sulaya nahi hai nishu ko kaise sulaoon arre suno to and looks at nishi she was gigling after seeing her fathers expressions.
viren- dekha nishi aap ki mamma aaj kal bahut kaamchor ho gayi hai...by the way thank god ur mom is asleep now we can continue our secRet classes
(note-virika have kept a bet that what what will nishi say first mamma or dada)
viren-now be a good baby and call me dada call me dada
call me dada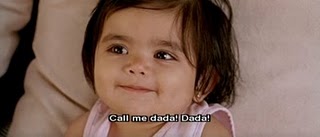 nishi- (smiling)
viren-huhhh...looks like u r not in a mood 2 learn dada 2day sooo what shall we do now ummm...
nishi starts crying
viren-aww what happen nishu y r u crying
viren looks at the clock and says
viren-ohhh shucks maan its almost time for u 2 drink ur milk
viren takes nishi along with him in the kitchen and made her 2 sit in high chair and he starts 2 boil the milk .After 5 mins the milk was ready so he took nishi in the room and he sat on the bed and made nishi lie on his lap and started 2 feed her
nishi-(drinking milk)
viren-abhi nishi doodh pee rahi hai phir hum kal ghumi ghumi jayenge ...
viren's phone started 2 ring her rejected the call then he got a message from his P.A the message says-sir pls pick up the phone its urgent
nishi was closing her eyes while drinking milk so viren thought she was drifting 2 sleep so he left her on the bed (without taking the milk bottle out of her mouth) alone with jeevika who was sleeping...viren went in the balcony so that he could let the 2 girls sleep without any distrbance ...nishi opened her eyes as she couldnt feel viren's hand she got up and the milk had spilled on the bed as she was 6 months old she could crawl she started crawling and reached at the edge of the bed... the milk had spilled on the bed and jeeviks could fell something wet she opened her eyes and saw her nishi was about 2 fall ..she quickly got up and took nishi in her arms who started crying as she thougt she was alone jeevs qickly tried her best 2 make nishi calm...viren heard his nishi's crying voice and came rushing in the room and saw nishi in her mother's arms and he could see jeevika very angry with him but keeping the anger on one side both virkia decided to pat nishi so that she cold sleep...
nishi-(sleeping)
jeevika - what is this viren ji how could u leave nishi alone on the bed and that 2 without taking the bottle out of her mouth
viren-jeevika listen 2 me ...
jeevika-what should i listen 2 u virenji that i got a call y cant u understand at home no office work i think u have forgotten that u have a daughter who is only 6 months and needs extra care because we had lost our first bab...(stops)
viren-(raises his voice)jeevika! what r u trying 2 say (calms down) i know it was my fault i should not leave nishi alone like this but i am saying sorry pls forgive me
jeevika-no!(thinks in her mind not so fast virenji abhi toh mauka mila hai aap ko tarpane ka)and walks out of the room
viren-arre jeevika ruko suno to meri baat
jeevs is in the kitchen cooking viren enters
jeevs-omg again nishi is alone
viren-i told vaani to stay with nishi ...by the way jeevs i am srry pls maaf kardo na yaar
jeevs not paying attention
viren-umm agar tum mujhe maaf nahi karogi na toh.,...(think what 2 say)toh
jeevs-(slightly laughing)
viren-toh mein apni vein kaat lunga
jeevs-(starts crying and turn around to face viren )khabardaar aisa kabhi kiya toh agar aapne ye kiya toh mein aapse kabhi baat nahi karungi
viren-(thinks in his mind "aagayi na aukad pe ) haan haan promise kabhi nahi karunga
jeevs-abh aap jaaye yahan i have 2 cook dinner
viren-if u want i can help u
jeevs-oh really then chop the vegetables
viren-ohh not this help
jeevs-then which help
jeevs could feel viren's hand on her waist and can understand his intentions
viren-i was talking about this help what do u think
jeevs-no i have alot of work 2 do and i dont need this help right now
viren-then i think u want me to help u when we go 2 manali
jeevs blushes
viren-tell me do u want this help there in cold it will be more easy u know
jeevs blushes even more
viren staterd nuzzling her neck suddenly the door bell rings and everyone comes home from shopping and jeevs runs ot of the kitchen
-------------------------------------------------------------------------------------------
PRECAP-
jeevs-viren ji chodiye mujhe packing karne dijiye
viren-jeevika ji rehenedijiye mujhe romance karne dijiye
when suddenly they could hear someone say
vaani- chacha chachi mujhe nishi ko leke jane dijiye...
NEXT UPDATE ON WEDNESDAY OR THURSDAY
i will pm only to those people who r there in my buddy list
thank u each and everyperson who liked and commented
JOOTE CHAPPLES ,ROSSES,PIZZAS EVERYTHING EXCEPTED ...