He made us fall in love with his down to earth nature but irked us with his Casanova-like behaviour and care-a-damn attitude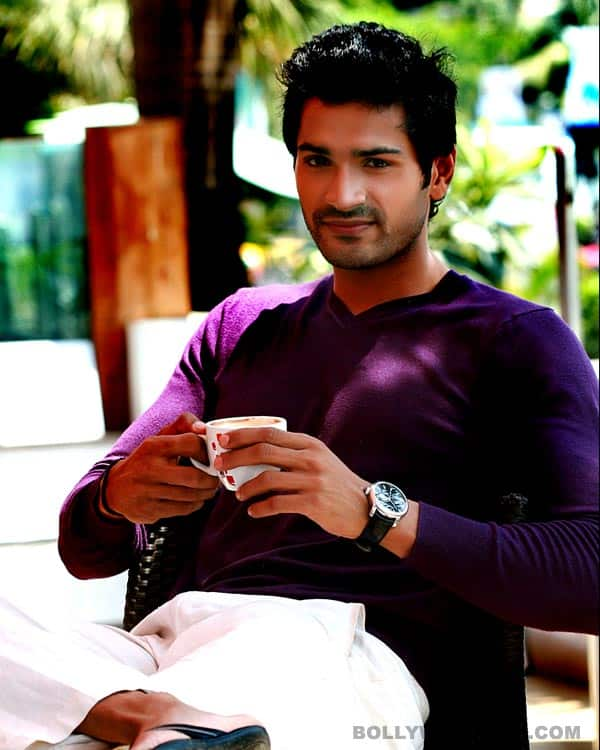 Mrunal Jain, who was last seen as the baddie in Hitler Didi, is currently playing a grey shaded character in Uttaran. The actor reveals the secret of his six-pack abs, the troubles in working with Tina Dutta and Rati Pandey, his marriage plans and his ideal woman.
Was acting always your dream?
No, it wasn't. I was into modelling first, but never really pursued it after I joined my dad's textile business. It was sheer luck when I got that first acting opportunity. Once I got my first show, the passion for acting just grew.
Are you planning to go back to working for your dad again?
Someday my dad will need me back. He will be my first priority then so yes, I may go back to doing business.
How did you bag Uttaran?
It's sounds very filmi I was holidaying in Goa during the monsoon. I had already auditioned for the role in Uttaran, and suddenly they asked me to come back. The producers confirmed that there were no more audition rounds the shoot was about to begin and they needed me.
You play both good and bad which is easier?
The character Vishnu has a lot of grey shades to it. He is a dual faced person. The thin line between both the characters is fun to play. So I prefer playing a baddie. My real personality is quite opposite to that.
How different is Vishnu from Mrunal Jain?
Vishnu pretends to be devotional person, but Mrunal goes to the temple every day. I am not the Casanova type at all.
Will your character ever turn completely positive?
Well, that depends on the writers and the TRPs. As an actor, all I can do is my job.
How did your fans react to Uttaran and Hitler Didi?
Fans who've seen me in Hitler Didi recognise me in Uttaran. In HD I was playing a pure baddie, but in Uttaran, I was the positive guy for a long time and suddenly began to show my evil side. So people were taken aback with that.
What is it like to work with Tina Dutta? Does she throw a lot of tantrums on the sets?
It's good working with her. Most of times I do not get to shoot with Tina, 'coz she has a lot of health issues. It's frustrating sometimes, but I make do with the duplicate. Tina is like the kid on the set. She needs to be pampered and taken care of, but at the end of the day I think all girls need to be pampered and given a lot of attention. She laughs and fools around, which livens up the atmosphere she is very bubbly!
One thing you hate about her.
She makes me wait a lot nothing else.
What about Rati Pandey in Hitler Didi?
I think it was super fun working with Rati. She is a spontaneous actor, someone I liked working with. Rati is very different from her character, but she is brilliant. In other words, she is a thorough professional.
In comparison, who is the better actor Tina or Rati?
I don't really want to pick one. Both characters are very different, but I enjoyed working with Rati and I am still getting to know Tina.
Rashmi Desai your rapport with her
Rashmi and I don't have any scenes yet. She is the only other Gujarati on the sets, everyone else is a Bong so we yap away whenever we get the opportunity.
We've seen you doing several bare-body shots. What's your workout schedule like?
I work out six days a week for about one to two hours max, in the evening. I do cardio thrice a week. But I give more attention to my muscle building, weightlifting and kick boxing.
What's your diet like?
I am a pure Jain. Hardcore vegetarian I don't even eat egg.
One thing you do not like about Uttaran.
There is nothing to dislike about it. Pintoo Guha and Rupali Guha are one of the best producers I have worked with in my life. I feel they take care of their entire unit very well. I have never seen such treatment in any of the shows I've done.
Are you doing any other shows?
I am doing only Uttaran, as of now. I cannot focus on anything else. However, if something good comes up, I will definitely take it on.
Let's get personal Are you seeing someone?
No.
You are 27 years old when do you plan to get married?
I am going to have an arranged marriage and it may happen very soon.
Wow! Why arranged?
Some things in life I believe our parents know best for us. I am not against love marriage, but this is one responsibility I've given completely to my parents. I know they will choose the right girl for me. I think arranged marriage is a new journey all together. It's the fun about discovering a person.
So what kind of girl are you looking for?
I am looking for someone simple and understanding. If that is sorted, then everything else will fall in place obviously that won't happen overnight. It's a partnership, after all, and I am ready to do my bit. With a little time into it, I will eventually fall in love too.
Tell us something about you that no one knows.
I might look huge and arrogant, but the thing is that I am a very reserved person. My experiences have taught me that one should talk only as much is necessary and listen more. I am an emotional guy, but not very expressive. I don't make enemies, nor do I hold grudges.
What do you do when you are not working?
I read a lot about fitness. I watch a lot of movies and I like to be in my room, surrounded by gadgets. I am a gadget freak.
Link - http://www.bollywoodlife.com/news-gossip/mrunal-jain-tina-dutta-makes-me-wait-a-lot/


Edited by Angels_Sweetz - 29 March 2013 at 6:23am