Lolzz Me back again with another stupid piece my mind
Ahem Ahem...so the topic is Premeer Reunion on 27th March 2009
What should i say about that epsisode...that was the episode for which all the deshians were eagerly waiting for since 1st Oct 2008 (During Prem's Death sequences)
Well After Getting the awesome surprise on 17th Dec 2008 (Rajasthan Track) we got know that Harshad was back again as Prem in the show
but there was a confusion not only in Heer's mind but ours also...that the person whose face resemble like Prem...was really Heer's Prem or Gaurav Sharma
But but but...by the grace of God, our love and some of Heer's Jasusi
finally we got know that Prem was alive
Lekin...Heer bhi kuch kam nahi thi after all she was Mrs. Heer Prem Juneja...she wanted her Prem to confession this truth that he was her Prem on his own...for that Heer started her mission " make jealous The Great Prem Juneja" by flirt with so called Gaurav Sharma (obviously Prem)who there in the Juneja House For 3 months acting like Prem in front Juneja Family
so the mission was start by Heer
Which gave this result
.
.
.
.
.
.
.
.
.
.
.
.
.
.
.
Bairi Piya Barda be dardi...Ishhh
Through out this scene i was singing this song in my heart
Or Phir kya tha...Apni Heer ko kisi or gair mard ke sath is tarha flirt karte hue dekh...Prem ko gussa agaya...bol diya Heer ke samne jo uske dil mein tha...
I hope you all guys remember that scene and Premeer's dailoges...if not then here it is
Prem:- Bas Heer bas..tumse kitna pyar karta tha..kitna pyar kar tha mae...Vishwas karta tha..pooja karta tha tumhari...or tum itna gir gai Heer...itna gir gai...maine kabhi sapne mein bhi nahi socha tha ki tum itna gir jaogi...Us din mandir mein tumhe jab dekha tha.to...
Heer (confusingly):- Mandir mein dekha tha???...it..itna pyar??? Yeh sab kya bol rahe ho tum????
Prem (angrily):- Kuch nahi
Then he picked up alcohol and start drinking but then he realized that it was not alcohol..it was salt water
Prem (confusingly):- Isme to...
Heer (smirking):- Sharab nahi namak ka pani hai na...kyun Prem natak sirf tumhi kar sakte ho kya...Maine tumhari saari bottles ko check kiya tha..un sab mein bhi yehi namak ka pani mila...jab tum muje yeh jata rahe the ki tum sharab pi rahe ho to us waqt tum yehi pe rahe the na...apne ap ko bura sabit karne ke liye tumne us accident bhi karwa..jab maine pata kiya to muje pata laga ki agar driver ne pee rakhi hoti to wo lardki kabhi bachti hi nahi..mar jati..iska matlab saf hai tumne us din sharab nahi pee thi na..to fir tumne aisa kyun kiya...kyun kiye yeh natak...pehle tum mere samne aae..mere samne yeh jataya ki tum Prem nahi Gaurav Sharma ho..muje yakeen dilaya..uske baad..uske baad mere zariye tum ghar mein aye...sabke ke liye tum Prem banke rahe lekin muje hamesha yahi jataya ki tum gaurav sharma ho...taki tumhare jaane ka rasta hamesha khula rahe...tumhe gussa kyun ata hai jab mein tumhe hath lagati hun to..bura lagta hai...jalan hoti thi..ki mae apne Prem ko bhula kar uske humshakal ke sath pyar kar rahi hun...gaurav sharma ko bilkul bura nahi lagna chahiye..kyunki agar koi or lardki usse pyar kar rahi hai to usme uski kya problem hai...bura lagega to sirf mere Prem ko..kyunki uski patni kisi or ke karib jane ki koshish kar rahi hai...muje pehle hi sab kuch pata lag gaya tha lekin...lekin mein tumhare moh se sunna chahati thi..mae us pyar ko jatana chahati thi jisse muje itna pyar hai...kyun kiya Prem..kyun kiya aisa..bolo..mere sawalon ka jawab do kyun kiya tumne aisa...sirf ek baar keh do ki tum mere Prem ho...mere prem ho..kum se kum apni heer ko to bata sakte the na ki tum uske prem ho..kyun nahi bataya tumne...bolo prem bolo tum prem ho na ho na tum prem bolo na kuch to bolo...
.
.
.
.
.
.
.
.
.
.
.
.
.
.
.
Prem:- Haan Heer...Mein hi tumhara Prem hun..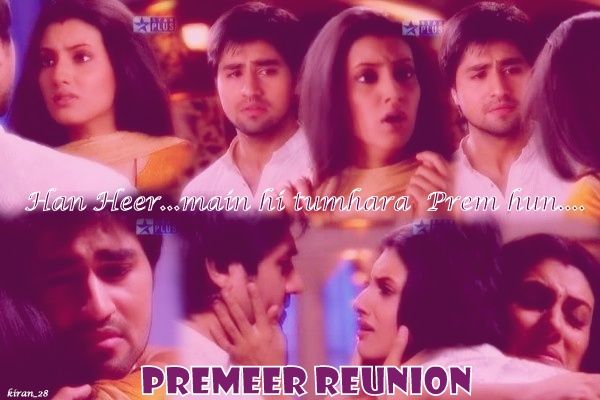 And again Happy Premeer Reunion


Edited by kiran_28 - 28 March 2013 at 9:03am