Aishwarya (Sweet aish)

thank you for being the embodiment of spirit and fire and innocence all in one, in Naina Bharadwaj ... thank you for giving me a believable female lead and a lovable one ... wish we got to see you more ... may you have all joy in life and all success be yours... god bless u ...

Lucky

Hi paro ..
First of all let me wish u a very very happy birthday..Hope this birthday fulfills all your wishes and may god bless u with all the best things and each of your dream may turn true...
I really loved u as naina. We miss u on screen, bahut jyada.Hope to see u very very soon in a new project and in loads of ad's . U should be back with a bang ..hope u will have loads of fun on this birthday ..good luck and love u ...
..a small vm on naina..
and another one on pyaari paro..

Dakshnafan(Rupali)

Hey Parvati!!!

HAPPY BIRTHDAY! HAPPY BIRTHDAY!

HAPPY BIRTHDAY!
Hope you have an amazing day and
may this be the start of a year
filled with love, joy and happiness.
Stay strong, stay positive and
may all your dreams continue to come true.
Best Wishes on your birthday and always...
May God bless you with all the love and happiness in the world, and a very healthy and prosperous future
SSBN was the first show I got emotionally attached with and that was a Unique show.I can never forget Daksh Naina.Your chemsitry with Daksh aka Gaurav S Bajaj is Completely different.And they are an inseprable part of my life now.
You are one of the most talented,down to earth,humble,cute,great human being!! And its a honour to be Ur Fan!
One more thing stay always the same as U r bcoz U r just Pefect!!
May all your dreams come true & this day bring all the things that make you smile.
Wishing a very happy happy birthday once again!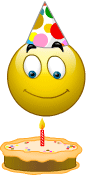 God bless you

sitaksh
i

Many More Happy Returns Of The Day Paro
May God Almighty bless u with lots of success and good health .
May your Birthday be the beginning of wonderful achievements in your life.
Have a great day.


Edited by lucky.m - 05 April 2013 at 10:44am