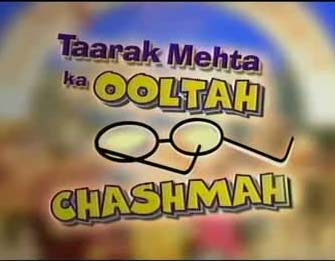 Taarak Mehta Ka Ooltah Chashmah (Hindi: ???? ????? ?? ????? ?????) is a popular sitcom that airs on SAB TV since 28 July 2008 which airs from Monday to Friday 8.30pm IST. The show is produced by Neela Telefilms and the series writers are Raju Odedra and Rajen Upadhyay. It is based on the column Duniya Ne Undha Chasma written by Indian columnist and journalist Taarak Mehta. The serial is based in the Gokuldham Society and the day to day situations which are humorous and lively and accompanied with some message at the end. The television series bears various issues faced by the nation and these concepts are shown through comedc sarcasm. Sometime moral values are also advocated. Example of these issues are "Dependence of Indian Housewives on Domestic Help", "Popularity Of Cricket In India", "Thinking Of Husbands", "Significance of Literate person in the society" etc. It is the most popular TV show in India and in August 2010, it beat Baalika Vadhu to become the most watched TV show in India
Main characters
Mehta family
This is the family of main protagonist Taarak Mehta and Anjali Mehta
Taarak Mehta
He is a journalist and a good friend of Jethalal. He is always hungry because his wife,Anjali(ATM) keeps him on a diet of salads and boiled food. He is the main protagonist and usually ends the show with a speech.
Anjali Tarak Mehta
She is the wife of Taarak Mehta. She is a well educated woman who is a dietician by profession.
Gada's family
This is the Gujarati family consisting of Jethalal Gada , Daya Gada , Tipendra Gada , Champaklal Gada and Sundar, Daya's brother .
Jethalal Gada
He is from Kutch in the state of Gujarat.He is a Gujarati Businessman who always tries to flirt with Babita. He always has fights with Aatmaram Tukaram Bhide. He is afraid of his father Champaklal Gada.He owns the store "Gada Electronics". Jethalal always uses word "nonsense" to Daya( his wife) and use topibaaj to brother of Daya(sala). Jethalal he is funny and lead character in serial and he is habbitial to eat CHURAN after finish his dinner...he always getting problem from his son TAPPU or his wife DAYA or his grand father CHAMAPAKLAL. SUNDAR ( brother of DAYA). always cheat him and push him to pay rent of his taxi whenever he come from AHMEDABAD to Mumbai.
Daya Gada
She is the wife of Jethalal Gada. She controls Jethalal's diet by giving him "Churan" (a powder for the digestion of food). She is the leading character of the show. She unknowingly insults Jethalal in front of others. She is very good at doing 'Garba' and almost hurts nearby people by doing it. She always does garba .she teaches garba to her friends and she very kind in nature.
Tappu Gada
Son of Jethalal and Daya. Tappu is the leader of Tappu-sena and shares a good relationship with his grandfather (Champaklal Gada). He is very mastikhor and hurts bhine with his prags.
Champaklal Gada
He is the Father of Jethalal Gada. He is caring and strict to Jethalal.everyone in society respects him.
Sundar
He is the only brother of Daya Gada. He is a very irritating person to Jethalal and always trying to rip off Jethalal's pocket and doesn't spend his own money.He makes somewhat idea to iangry his one and only 'jija' jethalal. He called jethalal as 'My dear jija ji'.
Bhide's family
This is the Maharashtrian Family, consisting of Aatamaram (Husband), Madhavi (wife), Sonu (daughter).
Aatmaram Tukkaram Bhide
He is the secretary of the society & he is a tutor & runs a tutorial called Bhide Tution Classes in his home. He is very stern by nature and he always leads a simple and honest life. He ensures that he saves every single paisa whenever he can, which shows that he understands the importance of money, this habit of his is laughed by many. In one of the epdhavi Bhide.
Bhide lives by the basic virtues in which he believes. He loves his wife and ensures that he listens to whatever she says.
His relations with Jethalal are not quite good. Bhide hates the naughty behaviour of Tapu and he wants his daughter to stay away from him.
Madhavi
She is the wife of Bhide & makes papad and Achar and supplies them in the society. She always sends her husband to deliver achar and papad for order . she is the queen of papad & achar
Sonu
The only daughter of 'Mr. Bhide',she is a very sweet child who is not only well mannered but cultured as well. She is an intelligent and systematic girl. She goes to school on time, attends all her classes, comes back home, plays for a little while, does her homework, prepares her bag for the next day, prays to God and goes to sleep. Unfortunately her father's insecurities irritate the little girl.Though Tapu and she argue a lot they get along equally well. Mr. Bhide's constant effort that she ties Tapu a Rakhi goes down the drain.She is indulged with good habits.She is the only girl in the Tapu Sena.
Iyer's family
Consisting of Mr.Iyer (Husband) & Babita Iyer (wife)
Krishnan Iyer
He is a scientist from Tamil Nadu. He doesn't like Jethalal because Jethalal always tries to flirt with his wife Babita who happens to be the most beautiful and stylish woman in their society. He doesnt like jethalal.
Babita Iyer
Wife of Krishnan Iyer, She's a Bengali & from Kolkata.
Sodhi's family
This is the Punjabi-Parsi family.
Mr. Roshan Singh Sodhi
He is a Punjabi garage owner and a drunkard .He owns a transport business and also runs a Mandap Decorators service as an ancillary business to support his wife. Mr. Sodhi is a very short tempered and aggressive man. He hates 'Tapu' for breaking the glass of his window unlimited number of times. He is also one of the wealthiest in the society but still does not show his ego and is very helpful and jolly.
Mrs. Roshan Sodhi
A Parsi lady married to a Sardar defines Roshan who also shares her name with her husband. She is a sweetheart and very co-operative. She innocently commits a mistake but never realizes it which turns into a funny light moment. Both Sodhi and Roshan always have communication issues because of the language barrier.
Gogi
Son of Mr. & Mrs.Sodhi. He is also the youngest member of the "Tapu Sena".
Dr.Hathi's Family
This is the family from Uttar Pradesh.
Dr. Hansraj Hathi
Dr. Hansraj Hathi is a doctor who weighs 250 kg, and is very fond of eating. He also keeps falling off to sleep in the middle of conversations. All the society's residents go to him for medication. Most of the time he uses the dialogue 'sahi baat hai' (Translated: That's right.) But the funny part is, he keeps saying that to everyone even with conflicting views. He is a very good doctor. Whenever he compares stuff, he uses food as his examples.
Komal
She is wife of Dr. Hathi. Dr. Hathi and Komal share a very lovely relationship. She never gets angry at any food request and prepares it with love, similarly Dr. Hathi never gets angry with Komal and allows her to take part in the society's activities.
Goli
He is the son of Mr. & Mrs. Hathi. He is the heaviest member of tapusena. He always want to eat lots of food like his father.He is fond of eating and always begs for food. His drawing is very nice but he always makes drawings of food.
Miscellaneous characters
Abdul (Hindi: ??????)
He has a small shop near the gate of the society and is also a familiar figure in the society. In the evening, all the males of the society gather at Abdul's Shop to drink soda.
'Matkaa-King' Mohanlal(Hindi: ????-???? ???????)
He is the kingpin on illegal gambling activity, and hence referred as 'Matka' king by other characters. He lived in GokulDham Society for some times although these days, his character is not shown.
'Patrakaar' Popatlal(Hindi:??????? ??????? )
He is a reporter who came back from Bhopal to Mumbai. He is a single man & always carries an umbrella with him. He is very thin, but always in mood to pick up fight with everyone. His repeatedly uses a dialogue "Main Duniya Hila Dunga" (Translated: I'll shake the world.) and also a word "Cancel kardo" (Translated: Cancel this work) . He works for the newspaper "Toofan Express". Popatlal irritates everyone and that is why everyone ignores him.
Kerry
She played a brief role of a foreign tourist who met Jethalal when he visited London.[3] While spending time with Gada family, Kerry (played by American Kari Irwin) starts loving the Indian culture and stay there with the family from Navratri to Diwali. The family also goes to Ahmadabad with Kerry to celebrate Navratri, during this time, Patrakaar Popatalal falls in love with her, and tries to get married. But later it is revealed that Kerry was already in love with another man named Nilesh. After knowing this Popatlal helps them get married.
Rita Reporter
Rita reporter in the society is a journalist of a channel "Kal Tak" . Any problem in the society, Rita reporter is there to take a report on it and telecast it live world wide. She always harasses every one by reporting the society's problems to the whole world.she is a typical media person and makes every small happening a breaking news and always favours women power. Always fights with Patrakar Popatlal over issue of Print media vs electronic media.
Pinku
Pinku is a member of Tappu Sena. But the TV show never shows his parents. In Parent-teachers' meeting, Anjali Mehta had to come as his guardian, since his parents were absent. However its never disclosed during the story, why his parents are absent, so two assumptions can be made both are working parents and leave home early.
both parents are abroad, and Pinku stays in India.
Nattu Kaka(Hindi: ???-????)
Nattu Kaka's full name is Natvarlal Prabhashankar Udhaiwala. Nattu Kaka is the manager of Jethalal's electronic store, which is called "Gada Electronics". He is a very talkative person and Jethalal doesn't like him. Most of the time he tells Jethalal to increase his salary, but of no avail. In spite he is working in the store he many times takes decision on his own which Jethalal does not like. Nattu Kaka many times uses the fear of Bapuji to convince Jethalal for many tasks. Sometimes even Sundar gets his work through Nattu kaka which increases expenditure of Jethalal and Jethalal doesn't like this.In the recent episode, its shown the Nattu Kaka used to live in Unaai town of Gujarat state and used to work as a female actress in 'Bhawai' (a form of traditional dance and drama in Gujarat state of India.)
His wife stays in Ahmedabad, while he works in Mumbai. That's why he has to goto a Bhojnaalay (???????-dining house) everyday to get his meals.
Bakaa(Hindi:-??? )
He is a friend of Sundar (who is the Brother in law of Jethalal)
Bakaa refers Jethalal as 'Party'
He is always shown eating paan-masala.
When Jethalal's family visited Ahmedabad, Sundar had given the task of arranging the return train-tickets to Bakaa, but he forgot it, and due to that, Jethalal's family was forced to come back to Mumbai via Taxi. But Mr. Champaklal suffered backpain due to long taxi travel and he got angry to Jethalal. (a routine strategy to generate humor, because Jethalal's father always blames him even for the mistakes by other people.)
In the Holy episode Bakaa is shown dancing like Rajesh Khanna who was a famous actor in old times in Bollywood.
Bakaa also gets to color Babita during the Holy celebration while Jethalal is forced to watch it from the balcony and this greatly enrages Jethalal.
Episode Specific Characters
Nikhil-bhai (Hindi:-???????? )
During the 'IPL Match visit' episode, He promises Jethalal to give IPL cricket Match tickets.
But he never said that he'll give it for free, hence his man, later asks Jethalal to give Rs.33,000/- for 11 tickets.
Satyavaan (Hindi:-???????)
In 'the Saree Sale' episode, he sells defective sarees to the ladies of Gokuldham society.
Cast
Shailesh Lodha as Taarak Mehta
Dilip Joshi as Jethalal Gada
Disha Vakani as Daya Gada
Bhavya Gandhi as Tipendra Gada
Amit Bhatt as Champaklal Gada
Mayur Vakani as Sundar
Neha Mehta as Anjali Mehta
Mandar Chandwadkar as Atmaram Bhide
Sonalika Joshi as Madhavi Bhide
Gurucharan Singh as Roshan Singh Sodhi
Jennifer Mistry Bansiwal as Mrs. Roshan Sodhi
Azad Kavi as Dr. Hansraj Hathi
Ambika Ranjankar as Komal Hathi
Tanuj Mahashabde as Krishnan Iyer
Moonmoon Dutta as Babita Iyer
Shyam Pathak as Patrakar Popatlal Patel
Samay Shah as Gogi Singh Sodhi
Jheel Mehta as Sonu Bhide
Kush Shah as Goli Hathi
Priya Ahuja as Rita Reporter
Ghanshyam Nayak as Nattu Kaka

Alliance of Characters
Sodhi & Bhide
In many episodes, when Bhide and Jethalal run into fights, Sodhi always takes side of Bhide.
Sodhi addresses Bhide as 'oye Bhidu', to show his affection, however Bhide doesn't like this nickname given to him.
Jethalal and Tarak Mehta
Jethalal refers Mehta as his 'best friend and 'Fire-officer'
In every episodes, whenever and wherever Jethalal runs into trouble, he immediately contacts his friend Mehta.
However, its not a one-sided friendship, because in one episode, when Mehta ran into trouble with local-goons over his alleged remarks over 'Menaxi Detergent Powder', Jethalal had given wrong home address of someone else, in order to prevent the goons from coming to Mehta's home.
Tappu Sena
consists of the children of the residents of Gokuldham society.
They always help each other even if it requires them to do some criminal activities like hiding Gogi in order to make his photo come on new-channel as missing person.
Daya and Madhvi
Both have common values and can be classified into orthodhox saree wearing ladies. When it comes to going to parties, swimming- both same opinions & embarrassment.
Anjali, Babita, Roshan & Komal
All 4 as modern,fashionable, English speaking ladies.
Popatlal
He has no alliance with anyone, and everyone in Gokuldham society gets irritated due to his habit of "canceling" every thing he dislikes.