Suhasi - Jaisheel
CELEBRATION OF SUHASHEEL'S JOURNEY IN NACH BALIYE
Suhasi has charmed every parent with her character portrayal Abha in Yahan Main Ghar Ghar Kheli and currently playing a smart bahu in Aaj Ki Housewife Hai.. Sab Jaanti Hai which every parents wish to have a daughter like her. Suhasi has been married to her college sweetheart of 10 years, Jaisheel. Jaisheel on the other hand is new to this industry and is the brother of famous tellywood actress, Drasti Dhami.
Dancing is Suhasi's passion and she looks up to Madhuri Dixit as her dancing idol. When she informed her interest to join Nach Baliye, her husband Jaisheel Dhami agreed. Another point to note is that Jaisheel is a non dancer and he is an engineer and stock broker. He however wanted to make his wife's wish come true and he joined hands with Suhasi for Nach Baliye.
They started off in the competition as a sweet and endearing couple but slowly started climbing towards finals with each wonderful performances and judges have predicted them to be in the finals many times.
Now lets have a take of their memorable performances in their journey so far in Nach Baliye.

Salsa Dance
Suhasi-Jaisheel or also known as Suhasheel started their dancing journey with the song 'Senorita' with a Salsa Dance themed.
The judges loved their chemistry and Terence also said that the duo had raised the bar in the competition.

Folk Dance
Suhasheel's second dance was the folk dance with the song 'Aa Ante Amalapuram' with some comedy element which made Shilpa laughed. However during the landing in this song, Suhasi had a ligament stretch and there is when they started facing difficulties.

Romantic Dance
Their next act was their dance for a romantic song 'Raabta' with a concept of not seeing each another through a wall and longing for each another. Suhasi also got emotional to see Jaisheel getting praises for his dancing skills.

Rock n Roll
Their next dance was for Rock n Roll themed dance for a song titled 'Julie'.
They did not received very good comments for this performances and was asked to give better performance the next week.

Fire Act
They were back the following week taking risk by dancing with fire. At one point of their dance, they were also blindfolded and swinging the fire balls. One mistake could cost them a lot and the judges praised them for taking risk and they are taking the competition serious.

Mirror Act
This is when everyone's opinion on them changed. The performance which they got standing ovation from all the three judges and a BINGO.
Both Jaisheel and Suhasi dressed in traditional and danced to the song where Jaisheel plays Suhasi's reflection in the mirror and each judges gave superb comments on the concept, choreography and the execution. Drasti Dhami also came on this episode to give them support.

Hip Hop Dance
After giving a mind-blowing act the previous week, Suhasheel gave a Hip Hop dance and that too dancing on the treadmill. However the judges expectation had gone higher after their mirror act that they want something much better.

Dhak Dhak (Bollywood Theme)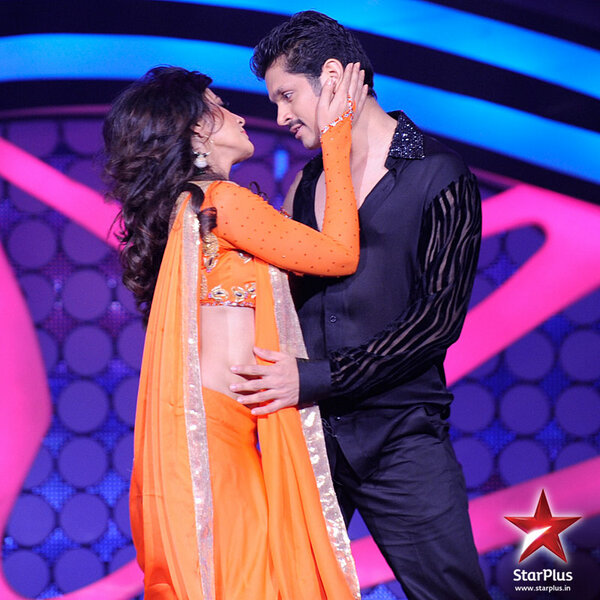 Suhasi is a big fan of Madhuri Dixit and if asked her on what is her dream, one of it would be dancing with Madhuri. Suhasi got the chance to dance to Madhuri's famous 'Dhak Dhak' song with Jaisheel portraying Anil Kapoor for the Bollywood week. One of the judges was Saroj ji who also choreographed the original number with Madhuri. Saroj ji said that this was better than the one she chereographed and also said that Suhasi was looking very sexy.
If that was not enough, Suhasi and Jaisheel was given Saroj ji's signature RS100.
The performance was also loved by the guest of the day, Randeep Hoonda and Additi Gupta who came to promote their movie.

Rakta Chatritra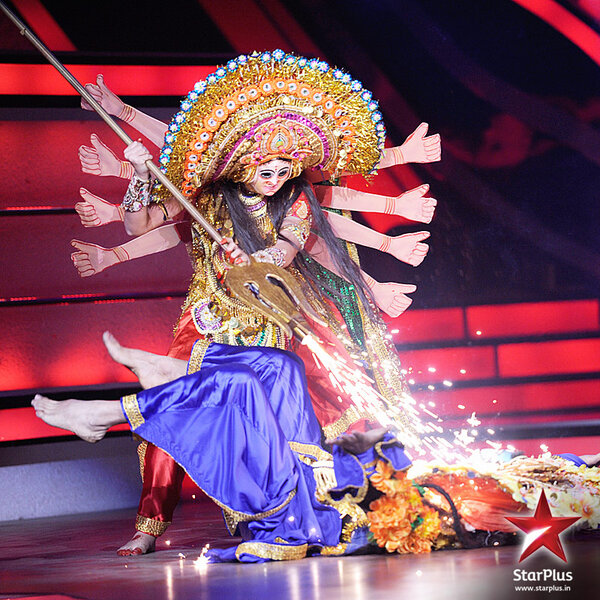 Suhasi and Jaisheel did this devotional act with Suhasi donning the durga ma and Jaisheel doing the asuran role. They were applauded for the concept and Saroj ji was again impressed with the dance giving them 11/11 and again gave them Rs100 each.

Garba Dance
Suhasi and Jaisheel was high on energy with this number and all the judges loved this performance and start considering them as the possible winner. This act gained them 32/33 being their second highest act score.

Romantic Theme
They danced to a romantic track this time from the movie Fashion using a chair as a prop which the judges didn't really liked and found it 'cold' after giving their super high energy Garba dance the previous day.

Pulikali Theme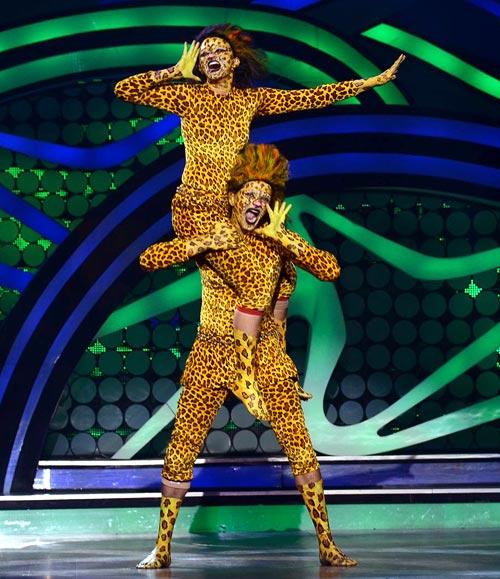 Another dance which the judges didn't liked as the found the choreography and execution went wrong and this performance didn't gained them good marks.

Judges Challenge
Each couple is given a challenge by the judges and the challenge that was given for Suhasheel was for Suhasi to do a traditional dance and Jaisheel to do something different. Suhasheel danced for 'Bindaas' song where Suhasi performed Kathak and Jaisheel performed Tap dancing to the same song. The judges applauded their effort especially Suhasi for her traditional dance and Terence also said that she looks like Aishwarya Rai's younger sister. Jaisheel was also praised for keep coming close to match Suhasi's dancing level.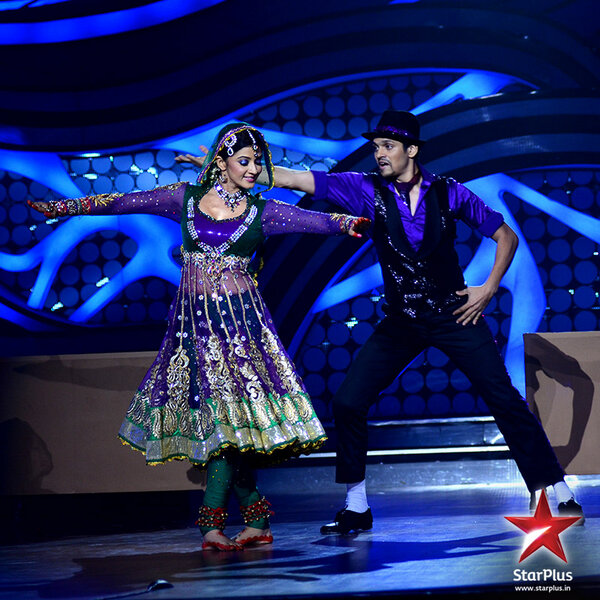 Choreographer's Special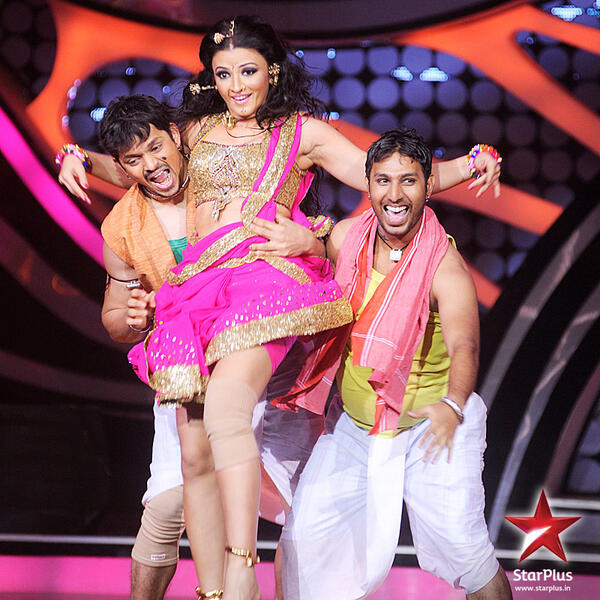 In this chereography special or also known as Teen Tadka, their choreographer is to join them in dancing and Suhasheel chosen to do a mix of item songs.The Judges didn't find it good as Terence felt that Suhasi was not comfortable doing this item song.

Aeriel Dance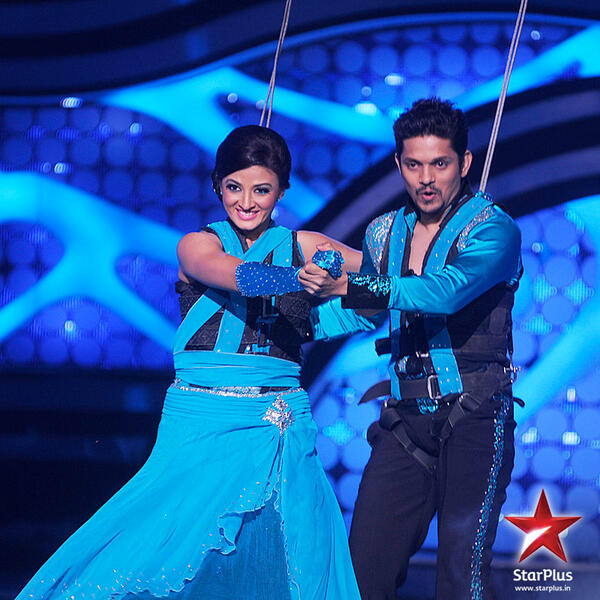 Suhasheel attempted this aeriel act doing a ballroom dance concept to 'Zoobi Doobi' dance and the judges wanted more from them and Sajid even went to the extend of saying that this was their last dance and he was going to miss them despite their beautiful dance.

Light Bulb Dance
This dance is all about the concept and Suhasheel were back with a never been done or seen before attempt of two light's dancing. The judges liked the concept. Despite it, they made it to the final 4.

Traditional Dance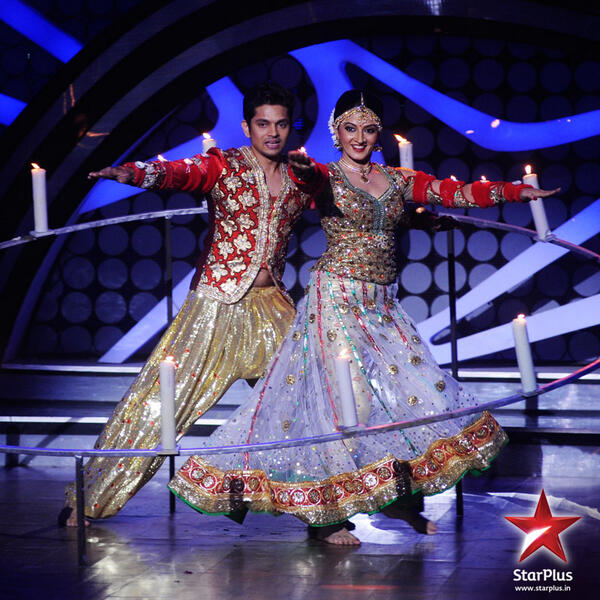 Being their deciding dance for the finale, Suhasheel are back in what they are best in, Traditional. They both danced to 'Manmohini' with diya's and dancing in a candle ring. Terence praised them saying that no one can beat when it comes to Suhasi dancing classical and Jaisheel was able to match her. Sajid also said that this was their best dance till date and Shilpa praised the dance too.
Dance at Grand Finale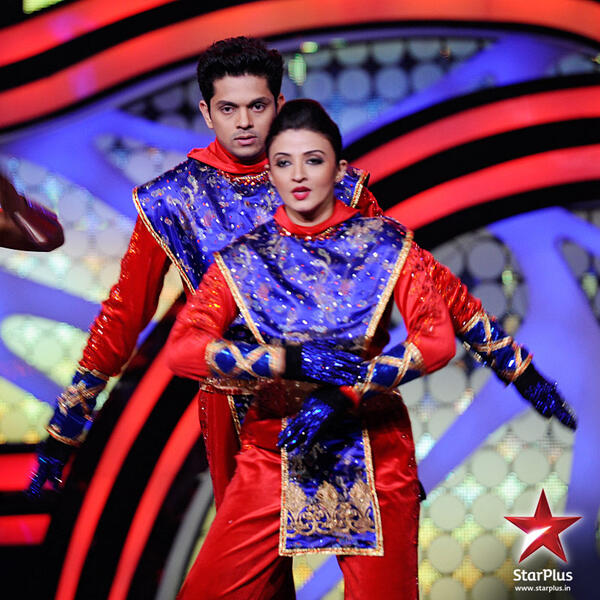 Being their last dance on the Nach stage, Suhasi-Jaisheel had set the stage on fire with their final dance for the song 'Ishqaazade' which Terence said that Jaisheel danced better than Suhasi and Suhasheel also said that if they win, they would love to go on a world tour.

They had crossed many hurdles to make their way into the Final 4 becoming one step closer to Nach Balie Trophy
They may have not won the Nach Baliye trophy but they had certainly won the hearts of many with each of the performances.
You are certainly the winner for us Suhasi-Jaisheel. Without doubt, we be missing all the fun and chemistry between Suhasheel and of course miss seeing Jaisheel dancing as we never know when we will be seeing him dancing next. Neverthless, lets wish them all the best for their future and may they have a happy life ahead always
We Love You Suhasheel


Edited by Visha_Dhami - 25 March 2013 at 4:49am