The success of the BFTP thread is due to the number of contributors who have shown their utmost love and affection and encouraged one another in this journey.
Here's an intro of our contributors,
Alanki and Risha, they are original thread creators
Sia's been a good friend, she gave a helping hand
Following are the names, forming rest of our band
Cynthia is good at doing saute, episode titles are her forte
ArshiHamesha is our teacher, in knowledge no one can beat her
Our thread maker is Indi, her prose is like poetry
With Ami you're a goner, she's got a drool corner
Samin's work is sleek, her reviews are unique
Anita's takes are neat, her sarcasm is a treat
Sohara writes like a breeze, now vms too, for us to please
Our very precious Chalhov, full of songs is her treasure trove
With Supriya, the thread lits, her amazing picture edits,
Katelyn brings in a delicious flavour, Promos and VMs to savor
Ritu does some tricks, with her hilarious picture comics
Ever joyful Wiwy, her riddles are quite witty
Rebecca's reviews are short, but she manages to say a lot
Charlotte highlights the main points, within a few lines
Goofy is the silent reader, but her praises are louder
DSNair, Ragvir, AR Eternal Love, they too are adding to this love
Durga is my name, rhyming is my game
* * *
++++++++++++++++++++++++++++
~ ~ I N D E X ~ ~
+++++++++++++++++++++++++++++
Some of our contributors have been regularly posting their work on the threads. Here is an index of their works.
For impactful analysis and hilarious comments
For detailed analysis replete with symbolisms, connections, pauses
For indepth analysis and the superhit drool corner
For picture stories and songs
For detailed takes and interesting titles
For original poems and parodies
For reviews that make you glide through the air and water
For a collection of promos, vms, sbs/sbb videos
For out of the box reviews of episodes
For amazing picture collages and episodic pictorial edits

soon to be added
sohara's Index
~~~~~~~~~~~~~~~~~~~~~~~~~~~~~~~~~~~~~~~~~~~~~~~~~~~~~~~~~~~
~~~~~~~~~~~~~~~~~~~~~~~~~~~~~~~~~~~~~~~~~~~~~~~~~~~~~~~~~~~
TUM THEEK HO?
'Tum theek ho? 3 simple words, but were made highly popular by IPK. Samin gives us an insight into the use of these words in the show.
Picture credit: ArshiHamesha
The significance of "Theek ho" in ARSHI relationship.
It was a signature IPK dialogue. Who would have thought these two words would be so strong. Who would have thought we IPKKND fans would associate this with our ARSHI. These words in various times and shades would become signature dialogues. Who would have thought words that we speak randomly would now signify the outburst of love from our favorite Jodi. How can we forget their use in all the signature IPK Rabba ves.
Khushi : With all her concern for everyone she very seldom used these words. The only person she used was with Arnav. Not with Ma after dad had a heart attack and not even with Anjali after Shyam left. And I am so happy she never used it with Shyam. Each time those words were spoken by her were also meaningful, as if she could not just hide her concern for him any longer and the love was so overbearing that she just had to say those words. Let us start.
- First Aap theek hain'After Arnav became unconscious and she gave him Jilebis and not after she burnt him.
- The most intrusive _"Aap theek to hain na." When she introduced Arnav to her parents. Loved how Arnav asked her, are your parents happy watching us together and almost cried when Khushi did not answer. That time when Khushi said these words it was as if her parents wanted her to show concern for the person whom she loved a lot when he was missing his parents. She knew that Arnav never broke his promise, and the very fact that he broke that to speak to her again must mean he was not feeling well and probably he will regret breaking the promise so she needed to know whether he was Ok and when he said yes.
- The apologetic Aap theek hain'After marriage associated with different khushi antics.
- The cute "Hamare Aka theek hain ki nehi"-- With love was associated the beginning of mischievous Khushi. So the whole day our Arnav was systematically seducing Khushi and askes her not to sleep. But of course Khushi was also equally concerned to see ' If he could sleep and was OK after the first time they had an entire day close together to themselves with no misunderstandings and fear of goons between them.
Arnav: He can not say sorry, he can not wish happy birthdays but he will ask that Tum theek ho from Khushi and not even once to La. Of course our Arnav bitwa's Tum Theek ho is also an overpowering of his emotions which he shows only to di and Khushi. The only two people ASR used them was the two most imp people in his life- Khushi and Anjali.
- The first "Tum theek ho" : After he realized for the first time he loved Khushi, after the farmhouse accident when he almost lost her. The reaction he obtained was so negative that he was skeptical using them for the next three months
- The second "Tum theek ho": After she apologized to him because of burning him. It meant to him, he could again let down his guard and say the words he wanted to ask so much because he had hurt her. He wanted to know if she has forgiven him for leaving her alone on the middle of the road as he had forgiven her for all her sweet antics and burning him. Not to mention the start of active showing of " Hiding main Loveria to each other."
- The apologetic "Tum Theek ho." : When she became sick and he was filled with guilt for punishing her for loving him.
- The concerned and angry "Tum theek ho.": After Khushi breaks down learning Shyam's deception. This one he just had to ask not caring what was the outcome, how it would seem out of place for him to others, the very first time Anjali, Payal and even La see how concerned Arnav was for Khushi when she was upset.
- The mean "Tum Theek ho": Let us forget this one
- The gloating, "Tum theek ho": When challenging Khushi that she was afraid in Payash Sangeet. He was positively gloating.
- The sultry, "Tum theek ho": During Payash havan after she kissed him in front of everyone; she had to show him she just could not stop herself from kissing him when he had kissed her, seduced her during teri meri dance, gloated her to kiss him and esp when her heart beat was going on overdrive.
- The "Khushi tum theek ho" : When he was confused of Khushi's Khurapati dimag and Sanak the night before attempted suicide.
- The emotional " Tum theek ho": When they were both kidnapped and he had just saved her from abuse. The only time when Khushi said no after he said- Tum theek ho. The only time he did not hesitate to ask, the only time he was sure he could ask her, the first time after he said, "I love you" and the result was ballistic- ARSHI hug.
- The concerned, "Tum theek ho" after the kidnapping: Again he started to hesitate to ask her, because probably for the situation in the house, or probably concern if she was still on brink. After all just the night before they had broken down in each others' arms because they had been afraid of losing each other, of wasting time, because they had been on the brink of sanity for a long time, for the fear for each other which they thought they would never see, and the fear that they would not trust each other or stay together when everything comes in open, for having to go through all Shyam's slanders and Di's suspicions.
- The amused "Tum theek ho": Before leaving Khushi in Gupta house and singing "Aaj mausam hain suhana".
- The seductive "Tum theek ho na." Do I need to remind anyone'of course not. It was the telephone conversation on the day of marriage asking about the night before. I was thinking of a lot of other emotions with that, "Tum theek ho na" but would leave that with you.
- The hilarious, "Tum theek ho": After we were introduced to Khushi's Mr Bankelal. I was wondering if all of you know and endured ARSHI moments and Mr Bankelal when this side of Arnav came out.
- The inquisitive, "Tum theek to ho": When getting confused about Khushi because of her actions around him and Aarav and before seeing the DNA report.
- The sarcastic concern, "theek ho": After Basket ball match. I was almost jumping thinking," OK he is still concerned about her a lot. He is just being ASR". By that time I was starving for Rabba ve.
- The telepathic, "Tum theek ho," when khushi falls during Mrs india track practicing. He knew she was upset with him, he knew she had refused his help, he knew he was Joru ka Gulam, he also knew he loved her, he also knew and just knew something had hurt her now and he had to call to see if she was OK.
The major bloopers in Mrs India and Shitall track was that the Tum thik hoon was not associated with Rabba ve.
Do you wonder why we all say IPKKND gave an aura of love. Let us just ask these two words from out loved ones. I had not for a long time, had not even thought of asking. Have you? No wonder I think I learnt love from ARSHI.
~~~~~~~~~~~~~~~~~~~~~~~~~~~~~~~~~~~~~~~~~~~~~~~~~~~~~~~~~~
~~~~~~~~~~~~~~~~~~~~~~~~~~~~~~~~~~~~~~~~~~~~~~~~~~~~~~~~~~
How sweet is Khushi? Samin lets us know about it as Khushi takes her sweet revenge on Arnav.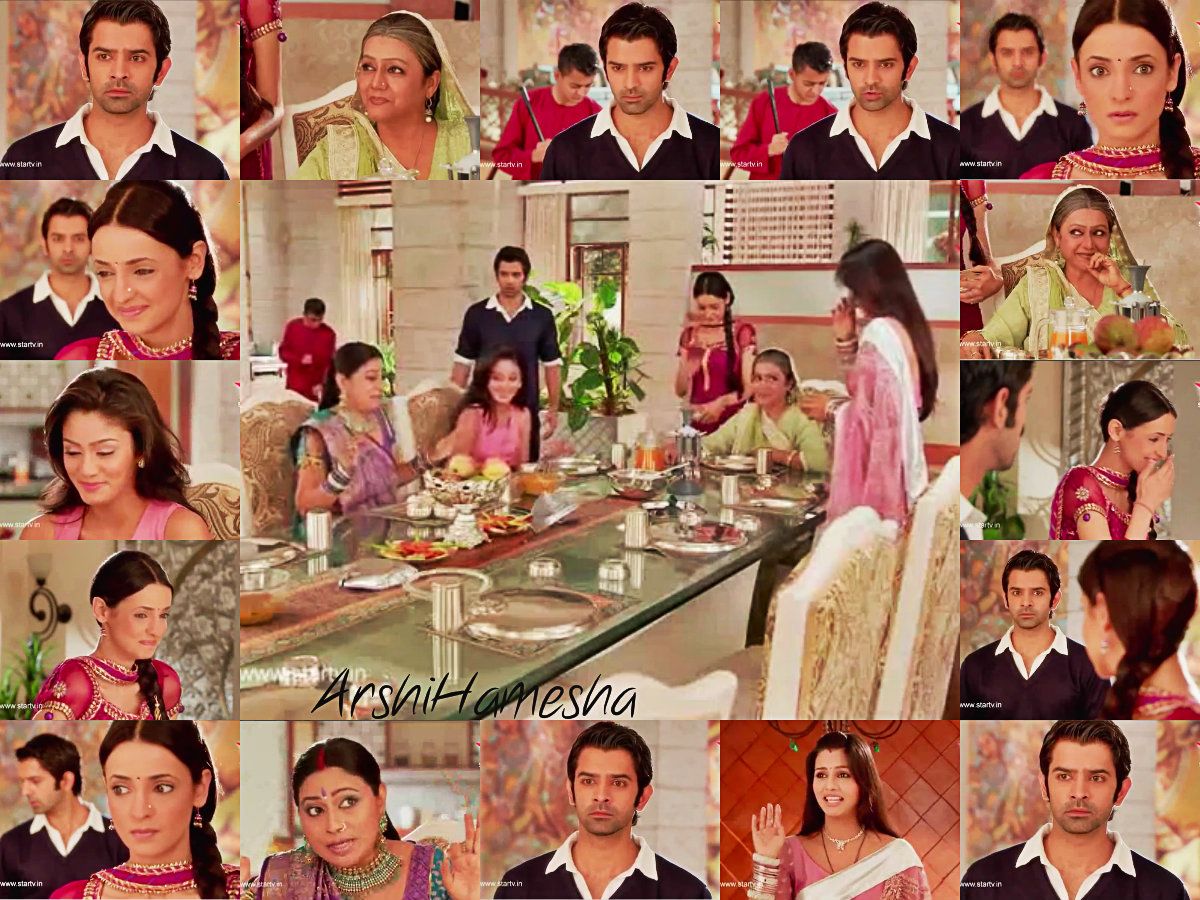 Picture credit: ArshiHamesha
Sweet Revenge
(by samin6)
Episode 72 and 73 :
This is one of my most favorite episodes.-Guess why: Because I fell in love with Khushi.
Before that I liked her but love definitely was in this episodes.
If I were Khushi I would rhyme, " I am too sweet for myself, I am too sweet for myself, I am too sweet for myself."
Was thinking , For Khushi- Revenge is a dish best served sweet. Now thinking of,
"Sweet Revenge,"
who really would have thought that instead of
Revenge
our darling Khushi wound focus on the
sweet
part.
See how
-- For damaging the car she uses one type of a crystalized sugar-
sugar cube.
-- For embarrasing Arnav bitwa in front of client - she used of all the songs--
Jalebi
Bai??(of course her favorite sweet)
--For making Arnav bitwa a laughing stock she used --
Mango juice
(by far the most sweet natural juice).
--For burning Arnav-- She used hot
tea
( if I am not mistaken people still put sugar in their tea).
Guess why she used so many sweets in her revenge-- Because she herself is sweet and second- Arnav bitwa's - Techniki Kharabiya, the very first one she came to know of was- Diabetes aka
sugar ki bimari.
So inspite of his tej dimag- Mr Arnav bitwa should have realized that Khushi had not broken his laptop.
Reason-- His laptop is not sweet, too bland for the taste of our cute sweet Khushi.
Now another point of embarrassment for Mr Arnav bitwa. When he was young he used to ...LOL... at night in his shoes
, that is why Mami said- did you leave your shoes in the washroom and Anjali said- I thought your childhood habit has returned
. By the way Khushi was almost going to hit the point because -santre juice kind of looks more like ...LOL... then mango juice
And for us all ARSHI lovers, I was thinking why Khushi did not throw the job at Arnav's face when he was super rude and arrogant with that laptop accusations, and then realized, " Because our sweet Khushi also loved Khadoos Arnav, and last time I checked Love is the sweetest emotion a human can have.- right."