Nidah
May this birthday brings you ,
happiness prosperity and joy.
Wishing you a birthday that is filled with fun and party.
Happy Birthday My Princess Parul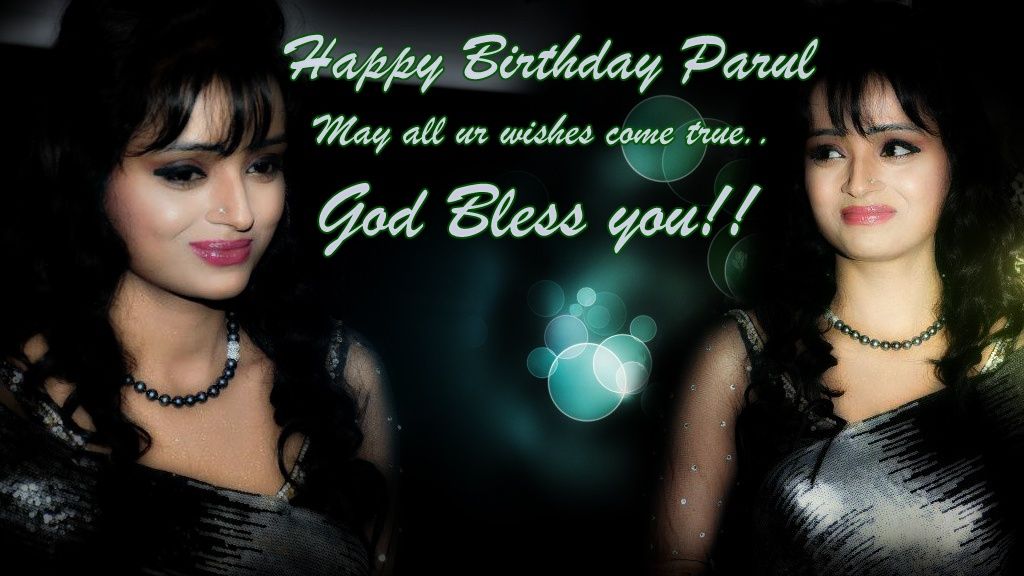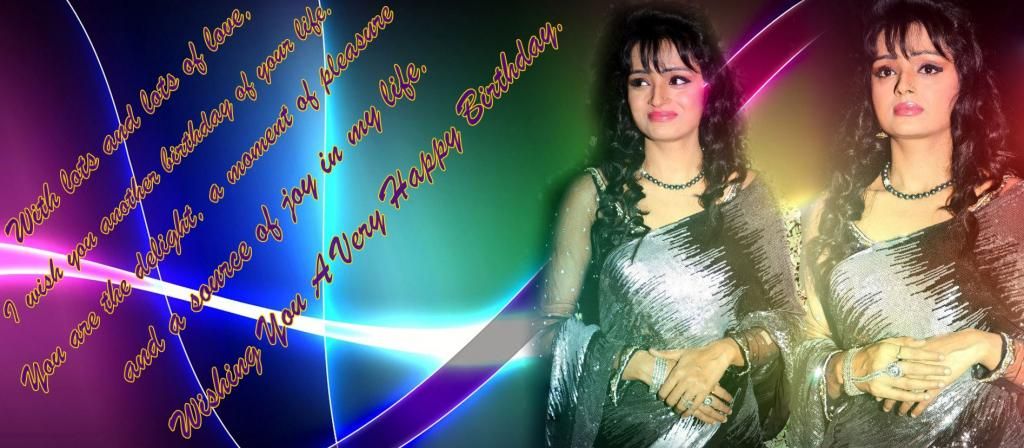 Mihai Adrian Moga - Happy Birthday Parul!!!

Kanubhai Patel
hi parul wish you happy birthday...god bless you

Nazima Banu
-Wish you happy birthday...parul

Anjum Sk
-Happy Birthday My Beautiful Angel

Zoya Malik-
Happy Bday parul

Sachin Yadav-
Wish u very happy birthday sweet heart

Rohit Masram-
Many Many Happy returns of the day...have a best wishes paru...:-):-)):->

Mansi Singh
happy bday beby

Jitendra Singh
-
Saath Agar Doge Muskrayenge Zarur,
Pyar Agar Dil Se Karoge
To Nibhayenge Zarur,
Raah Me Kitne Kante Q Na Ho ,
Awaz Agar Dil Se Doge To Aayenge Zarur...

Rahul Chauhan-
JanamDin Ki Hardik ShubhKamnayein ...Hamesha Swasth Raho Vyast Raho Khoob Safalta pao ...Om Sai Ram

Mariana Radu-
Your fans from Romania love you and wish you all the best, good health and may all your dreams come true...We want you in a new show with Kinshuk ...Kinrul -best jodi from indian television...Happy Birthday dear Parul ! ...We love u

Simran Shriya-
Angad Obsession A very very Happy Bday Princess..
God bless you nd gve u alll Happiness in your life.
Love u!

kmfan_2
Salekh Fan
Happy Birthday Pretty Princess Parul Chauhan May Allah bless you with health, happiness, success and a long life...Ameen!

Rodica Stroe-
i wish you my dear Parul ,happy birthday,many,many return of the day and i love you so much.god bless you

Jesna Jasmine-
Wish you a Very Happy Birthday My Beautiful Angel
May God bless you with a lot of Happiness and joy !!!
Love u my Sweet heart

Mythily Lily
A very Happy B-day Princess.. May god bless you with a lot of happiness and joy... Love you my angel.

Smriti Chawla-
wish u a very very happy b'day parul

Prashu Singh-
Wish u all the best for ur happy life...

Yashoda Sharma-
happy birthday parul.

Saji Mole-
happy birthday parul

Prema Megalmane
Many Many Happy Returns of The Day Paru

Fan Sara Khan-
Happy b-day . God bless

Siham
-
Dear parul i wish you an amazing Birthday and may all your dreams come true ... but i'll be a bit selfish today i want to wish something tooo and i hope that with this new year begining for you it brings you back to us in a serial because we are missing you VERY VERY much and since 2010 we didnt see you in a lead role when everyone is coming back only your face is missing and TV is just DULL without you please whisky come back to us LOVE YOU and a happy birthday once again

Martin Aura
Happy Birthday Parul!!

Lindi Ajvi
happy birthday to you happy birthday to you happy birthday to PARUL happy birthday to you

Monica Dutta
Wishing World's Most Preetiest Girl a Very very HAPPY BIRTHDAY . God Bless u my Princess . And May u get all Happiness and Success in ur life . Hope to see u Back with Rocking Show on Ur Bday . Love u my Sweetheart

Surbhi Maheshwari
My wishes and blessing for you this day,
Just have fun and enjoy your day,
Birthdays come once in a year,
So spread the joy with a loud cheer,
Happy birthday! Parul



Bhupendra Sarkar
Wish u a very very happy birthday my beautiful angel and luv u alot and pls come back soon on tv.

Sandia Bharath
Happy birthday my angel hope u have a fantastic day and all your wishes come true.
Krithika
Happy Birthday to one of the most beautiful women on earth!
May your day & year be filled with Blessings.
Happy bday! I hope you have the best bday! Be happy and keep that beautiful smile you have.


wadi..doll

Happy Birthday To the Princess Of Telly World!! Many Many Happy Returns of the Day !!
I wish you luck, happiness and riches today, tomorrow and beyond.
Baar Baar ye dinn aaye Baar baar ye dil gaye tum jiyo hazaro saal yahi hai aarzoo Happy Birthday Toyou Happy Birthday to you .. Allah aap ki har wishes Fulfill kare aur aap ko saari Khushiya de jis pe aap ka haq hoon ..
Missing you So Much Please Cum Back Soon! Without you TV is Boring .. Please Come Back SOON Parul! Love You !

CrazyFans1