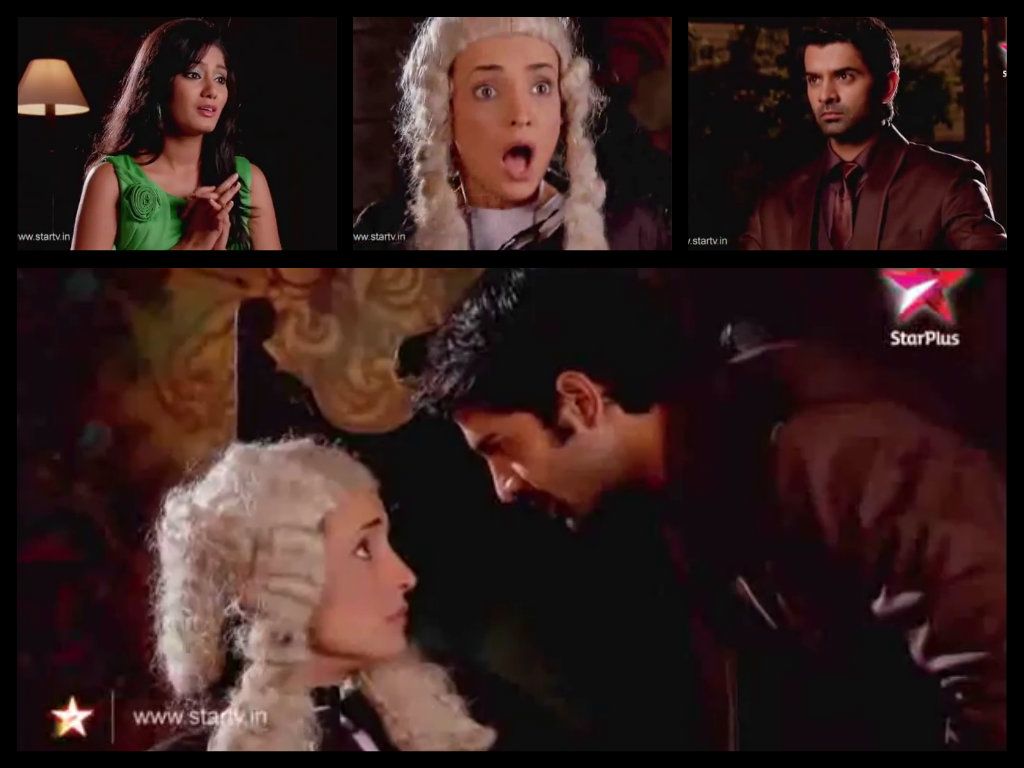 this man intimidates the daylights out of her, even in her dreams, he makes her so weak. "Tumhe to dara sakta hu (i can scare you though)"...UFF!
The next day, at the breakfast table, Arnav's heart skips a beat hearing Khushi's name
, soon after he gets up to leave for work when La tries to stall him "the thing is,if you leave that chamkili will be here." La spills the beans on Khushi's deal with Anjali "she won't see your face, she'll come after you leave and leave before you come"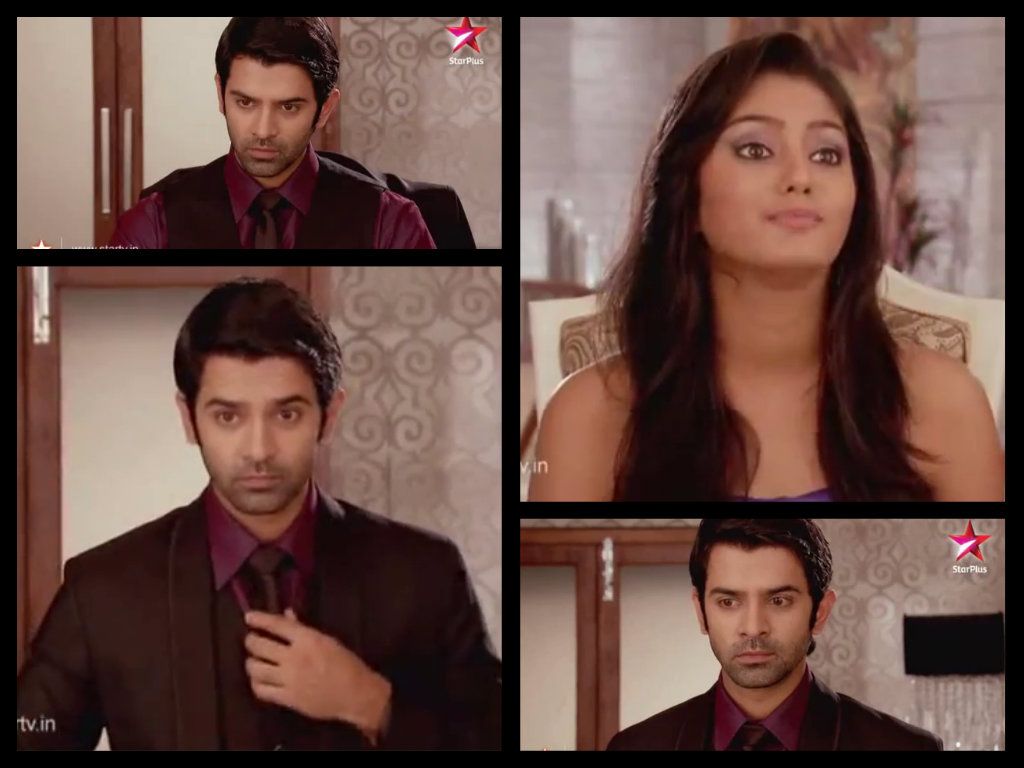 This bit of information enrages Arnav, camera zooms in, eyes widened, eyes moving left to right and ofcourse the music of ASR. For someone
who doesn't want to see this girls "shakal (face)" he sure seems bothered by her not wanting to see his. Isn't this arrangement supposed to help him out?
Arnav in all of his rage walks towards the door to leave while Khushi just stepping in. they spot each other, game on! now for the epic walk:
she is eating her channa and angry at him for forcing La to live with him and he is bothered by Khushi's deal
Arnav :"Iski himmat kaise hui, mere hi ghar mein, mujhe naa dekhne kis shart rakhne ki?"
translation: How dare she come into my house and make a deal not to see me?
Khushi: "Kaisa aadmi hai? jo kisi ladki ko zabazasdi bina shaadi kiye rakh raha ha " as she's about to cross him she whispers, "bina shaadi ke saath saath rakshash"
Translation: What kind of a man is he? forcing a girl to live with him" ..."unwedded and a monster"
He over hears her and a sexy "What the!" falls out, scaring Khushi and she decides to run...straight into the pillar. they both stood there hurt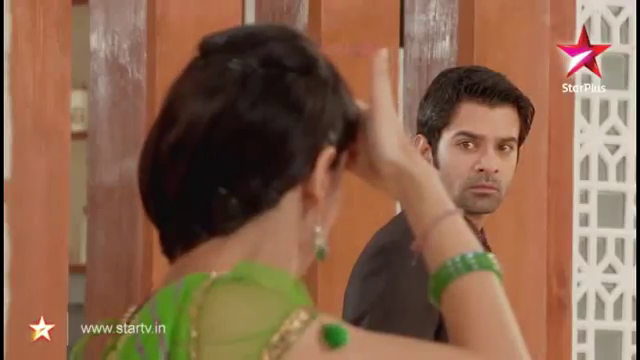 Today is Janmashtami, the birth of the supreme Lord Krishna,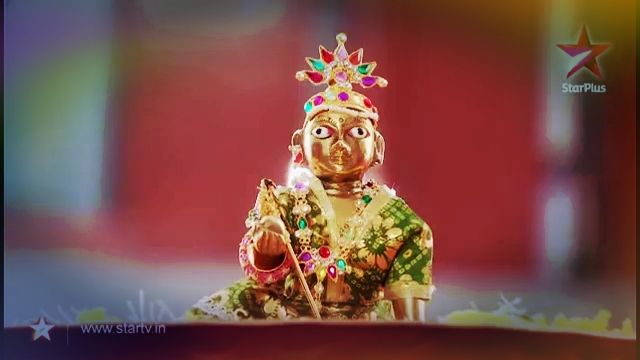 The way IPK writers told this story through Khushi was magnificent. my words can not do it justice.
Since La was having trouble understanding (shocking!)... Khushi uses examples and tacticts to make her understand. "Pretend Anjaliji is Devki." ASR makes quiet and entrance.just as she gets to Kans, Devki's ruthless brother.As Khushi unknowingly points to Arnav calling him "Kans mama!" ...ooops, her hiccups signals her of his presence. Her eyes widen with fear and she looks up, sure enough he's there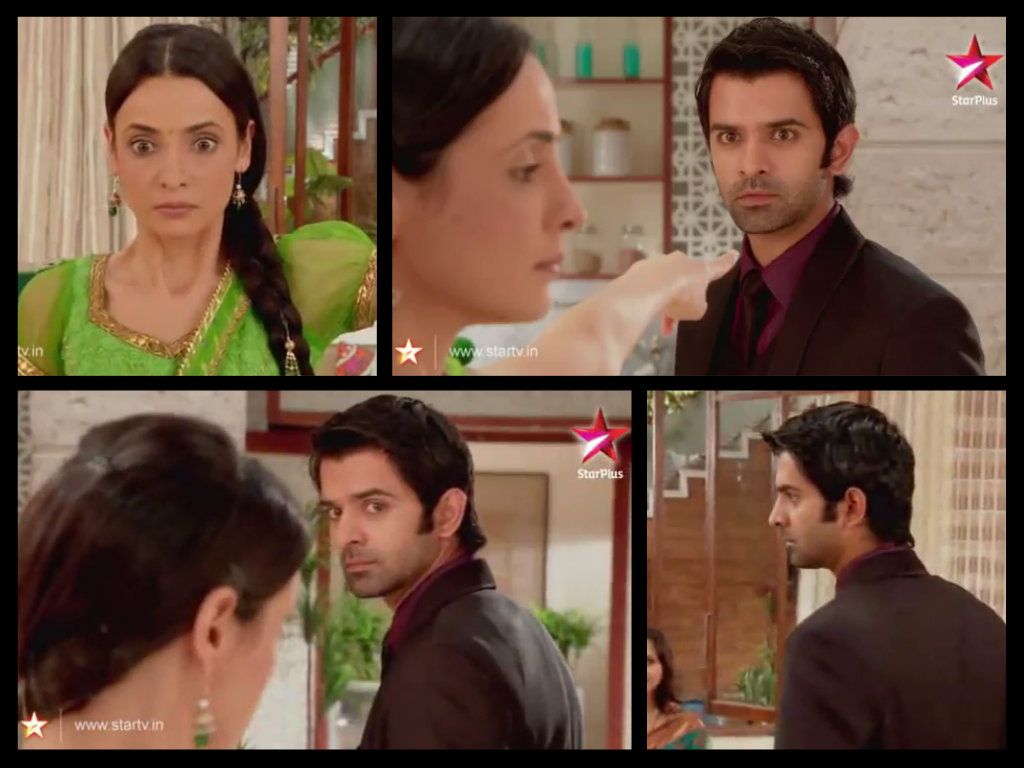 More than anger, she hit a nerve. Even if it was unintentional this time, Khushi's name calling,the ones that suggest he's a monster really get to him. Earlier this morning after the "epic walk" and now "kans"...both times left him hurt.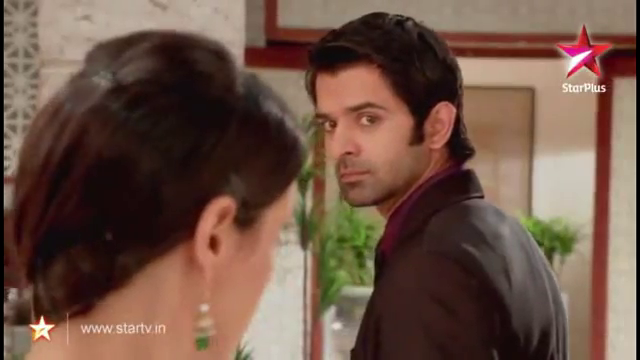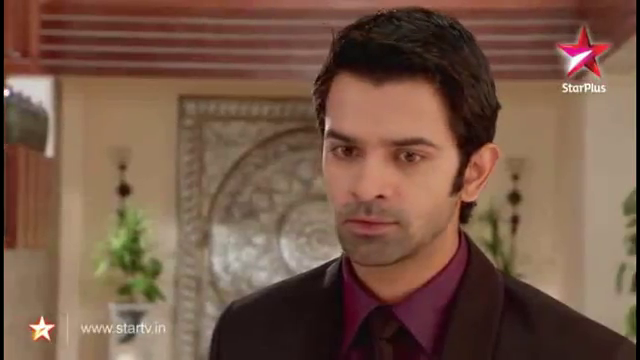 He tried so hard to explain to her that he is not a monster, it was important to him and it's still important despite his rakshas mask to driver her away. Other than the "gurur" part he is nothing like kansa, and would die a millions deaths but NEVER treat his sister the way Kansa did. Infact, IMO though he doesn't believe in the higher powers, if there is one higher power rooting for him up above, its Lord Krishna, whose biggest lesson to mankind is Karma, selfless deeds without "fal ki aasha (hope of fruits baring meaning selfless deeds with no strings attached)". As a business man he may be selfish but as a man, selfless to the core. Later we see a touching scene with him outside the mandir helping and putting a smile on a little girl, is that not worth a thousand prayers chanted inside the mandir? we also learns that he donates generously to the hospital. He knows his rights and wrongs and sticks by them . He never did any of this to show to anyone, and till now it never bothered him what others thought of him...but with Khushi, it matters
Arnav leaves to go pick up the stuff for the evening puja, he calls the house where noone is around except Khushi (thank you DM!) "hello"
Arnav in full ASR mode, especially after being called names twice today "kaun? (who's this?)"

Love the little nok-jok that followed, and watching Arnav get mad because Khushi was right about the elaaichi...and his phrase "agar tumhari inquiry khatam ho gayee ho (if you are done inquiring...)" such a husband thing to say isen't it?
Also noticed in the back of Arnav, red chunnis and the same yellow/orange flowers that were there during teej at the mandir. Maybe the CV's didn't mean anything by it, but it reminds me of their deep connection at teej, and the constant pull towards each other, which is present here also. and all the "Reds" of course signifying their union. during Teej, he broke her fast and now she's well on her way to becoming his spiritual wife...IMO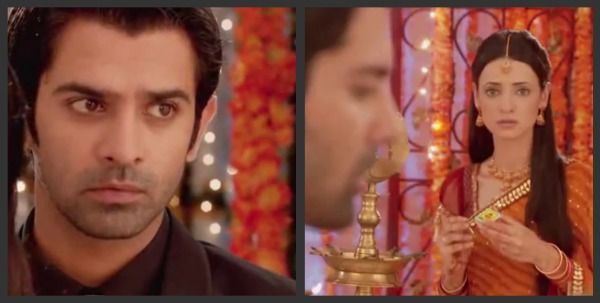 Arnav comes home and right away feels her presence...no doubting this time!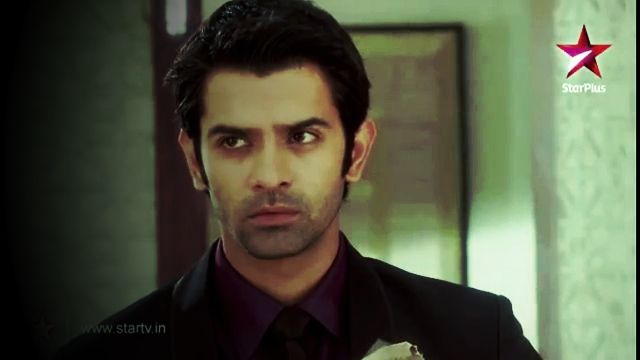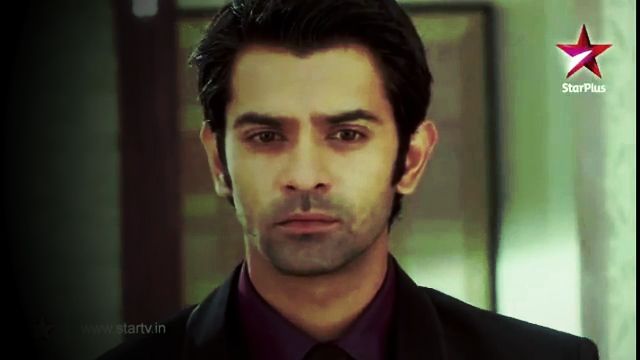 He becomes so helpless when this feeling takes over, it leaves him no choice but to just "mehsoos" and taker her in. She feels him too,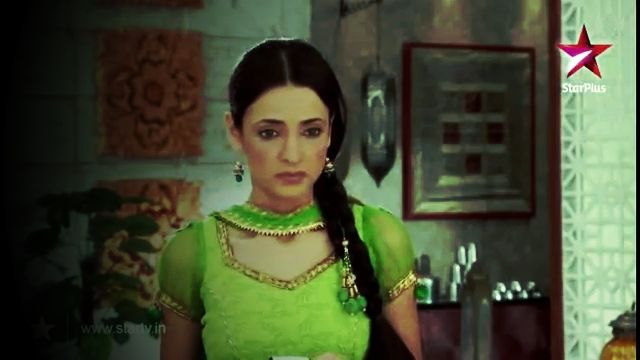 and perhaps just as helpless but still a bit better at shaking it off. so she does and proceeds to hand La's forgotten phone, she slips on something Mami spilled earlier, but he catches her on impulse
, even if means flinging half of all the purchases..."Rabba ve."
edited/added: A yellow hankercheif joyfully flies down. In the spirit of Krishna, i can't help but think how his signature clothing color is yellow. I have no choice but to take this yellow piece of cloth as his blessing for these two eternal lovers.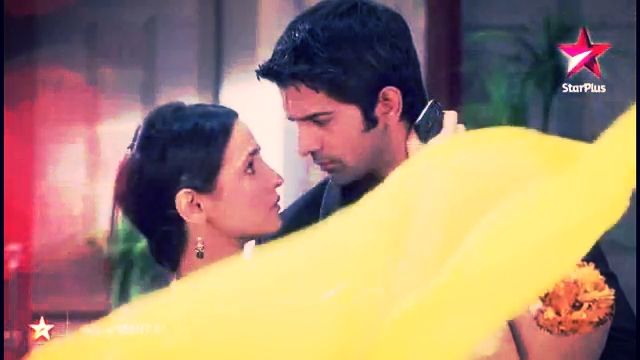 I love that they are Rabba veying at the same spot they did their epic walk against each other this morning. Rabba ve makes them forget everything. when they do snap out of it, he realizes the damage this KKG has causes and is about to yell at her but is saved by Anjali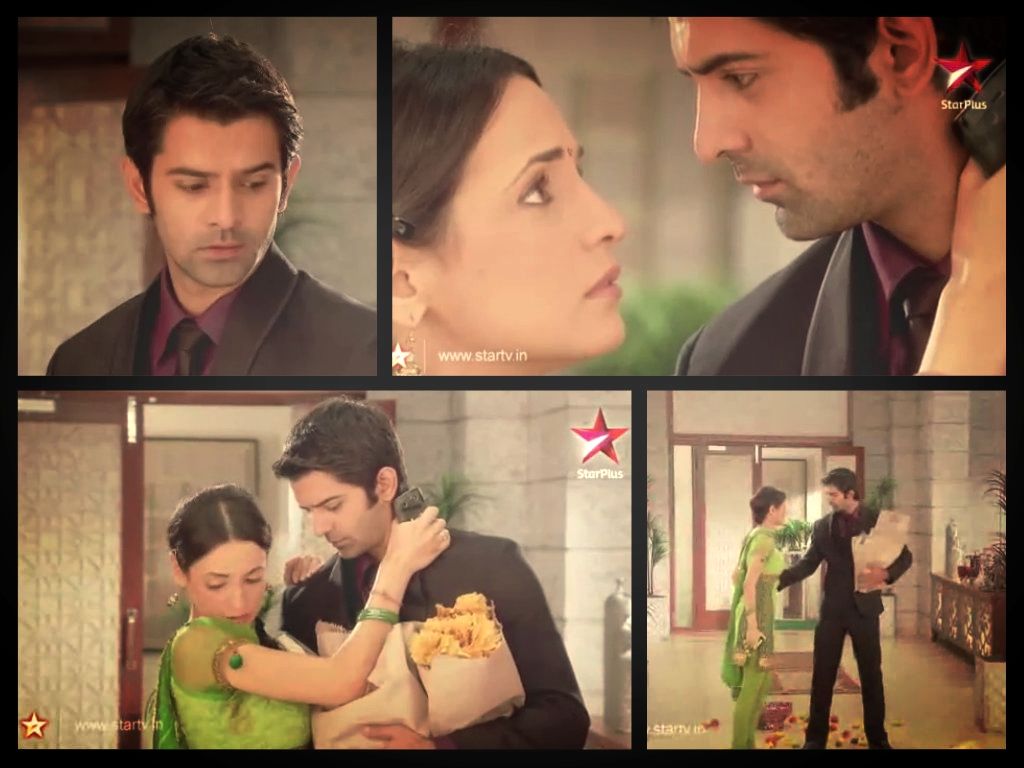 ASR finally gets a chance to act out his frustrations of the the day (her deal to not see him, and name calling twice) when he over hears Khushi asking Anjali to talk to her, about leaving early for the holiday, after a little back and forth between Anjali and Khushi, he jumps in
"Di aise logon se aise baat nahi karte, overtime ke paise offer karo, shokh se rukegi.(Di, that's not how you talk to these ppl, offer her overtime, she'll gladly stay)"
Fiesty Khushi is back! "Anjaliji, i'm talking to you, but remind your brother that not everything is baught by money"
"yah right, everything buy you!" he fires back. Anjali begs him to stop, but its Naani to the rescue, "don't try to use your business lanuage in this work, beside you already have too much responsiblity, leave this to us"
Love this scene, Naani stands besides Khushi favoring her (in every way), while Anjali is neutral, smack in the middle, and Arnav stands on the opposite side, "against" Nani, "against" Khushi. It'll be Nani's win at the end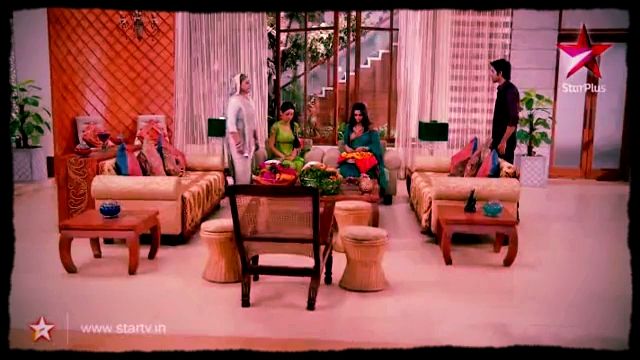 Naniji invites Buaji and Payal to celebrate Janmaashtami, bechara Snakewa his luck shows no sign to turning
Interesting last scene as Mami fuels La's fire against Khushi. "u phatti saari ki entry hui zabarjast aur tumri? zabardasti" what a dialogue from mamiji accidentally but brilliantly points out it was never meant to be with La and always meant to be with Khushi...she advises la "planning karega padi"...uh oh, these two are up to no good.