-polly_03-
Everyone at Awaz India congratulates Navika on her successful sting saying that she deserves to be in Project Talaash. Anu is super impressed with her. Daddaji loses the election ticket and is forced to return back amidst slogans. On the other hand, Rimjhim aks Mohan to take her back to Bhopal as no one will ask about her mother there. Megha tells Jiji about Rimjhim being a motherless child and Jiji tells her that it might be God's own way to convey motherly love to the child through her. Here a furious Daddaji canes Beera badly for his foolish acts. Beera doesn't let Ragini apply medicines on his wounds and leaves for the Rabdi Center to meet Navika.
A furious Ragini calls up Navika and tells her to be beware of her brother. Navika reaches the Rabdi Center and Beera realizes that she's actually his "kaali billi". He gets mad on Navika for breaking his trust but she stands firm on her words saying that she did nothing wrong by bringing out Daddaji's real face in front of the world and showing him the mirror. She asks him to differentiate between truth and lies within himself and leaves. Beera is visibly affected by her words and decides to leave home to find his own identity by getting out of Daddaji's shadow, after a lot of introspection. Both Ragini and Daddaji fails to stop him from leaving. Next day, Megha comes to know from her students that Rimjhim has left school. She messages Mohan about the same and he tells her that Rimjhim's decision can be changed by her alone. Daddaji sends his goons to bring Beera back.
When they try to drag him back forcefully, Beera resists and they beat him up, but not for long as Mohan appears to save him. . He calls up his team who start recording and the goons flee, not wanting to crop up more issues for Daddaji. Mohan asks Beera if he could drop him somewhere. Beera replies that he has nowhere to go and because he had been defamed for being with the wrong people, no one is going to trust him with a second chance either. His words leave a huge impact on Mohan and he takes him in his team. Anu tells Navika that she is officially in Project Talaash now but Mohan is leaving. Mohan introduces Beera as the new team member to her. She refuses to trust him but Tommy informs that all information provided by him about Daddaji turned out to be true. Megha sends the "kanha" dress to Rimjhim by courier. At Mohan's home, the maid Gauri tries to convince Rimjhim to stay back, but fails. Rimjhim receives the dress and is super happy.
Mohan comes home with Beera and she thanks him for the surprise. Mohan denies sending her any dress. They find a card inside and realize that it's from the dance teacher. Rimjhim asks Beera about Kanha and Yashoda and he explains the story in brief adding that "mamta" is "mother's love for her child". Mohan tells him that Rimjhim doesn't have a mother. Rimjhim asks the maid if she would get to know of mother's love if she becomes kanha and the maid says yes. Rimjhim asks Guru to unpack everything and Mohan sends a thank you sms to Megha. Nanhi receives a call from Mohan and leaves for office. In Awaz India, Mohan briefs the team about the operation to be performed to nab the kidnapping racket. Beera points out that all the dates on which the kids went missing were Fridays. Mohan assigns everyone their roles and tells Navika that she will have to act as husband-wife with Beera and have a small kid too.
Navika argues that the kids might go missing due to their parent's carelessness too. Mohan asks her to find the required proofs. Nanhi decides to do the sting alone on the next day itself. At school, Rimjhim finally lets go of her fears and completes the dance by concentrating on Megha's hand. At night, Navika falls down from her scooty and injures herself when she was leaving for home. Mohan and Beera rushes to her help. Mohan reprimands her for her rebellious nature and ties his hanky round her wound. But a glimpse of her vulnerable side makes him wonder how Nanhi is doing. At home Megha nurses Nanhi's wound. .Next day both Mohan and Megha get ready for the function. Nanhi arrives at the Indore station dressed in a burqa and Tommy as a porter. Soon Beera joins them as her husband. Mohan arrives at the function and the principal announces his name as M.A.Bhatnagar. Megha tries to get a glimpse of him but gets distracted by her assistant. At the station, Beera annoys Navika with his antics.
He gets a call from Daddaji who scolds him for joining hands with the enemy. Beera tells him that he did it to learn the difference between right and wrong. Beera and Navika gets back to the waiting room and sees a sweeper there. They try to draw his attention to the baby considering him to be a potential kidnapper. Beera receives a call from Tommy and he goes out of the room and calls Navika to join him. Navika asks him if Mohan got to know about their whereabouts. Tommy replied in negative. They go back inside to find the baby missing. Tommy informs them that they only saw the sweeper go out with a sack. She runs behind the sweeper and Beera calls up Mohan to inform him about everything.


-RD-
This has to be the bit between Mohan and Navika post Mohan spilling the details of their sting as part of project Talaash...the way he told her that she was the investigative journalist was just

-Fari-
There were a few scenes this week which could have featured in this category easily but again, RJ's adorability and vulnerability has made the following two scenes make the shortlist. First scene touched our heartstrings in 25th Feb episode when Rim jhim had a huge fight in school which put her off and rendered Mohan and Guru unsuccessful in cheering her up, while the 2nd scene made its mark in the 28th Feb episode, where Megha sent the "Kaanha" costume for Rim jhim which clinched the deal for no-move back to Bhopal.
Both these scenes had that poignant factor to it that stirred our emotions. Rim jhim is a child who clearly pines for Mother's love and agonizes over the lack of it in her life. This is one of the wonders that only something like maternal love can manage to do in this world. Even though, little Rim jhim has never ever experienced this beautiful nurturing love, is strong enough to put a brave face on her deep-buried yearning for it, but still it forms so much a part of her being that she cannot stand anyone raising / pointing fingers at it or making crap talk in the name of her mother. Hence Mohan and Guru, especially Mohan was seen doing his very best to bounce back his daughter's mood with a piggyback ride through the house and then a march past dance with ghungroos. Little did he know that his empty-stomach state would do the trick and cheer the little fairy back to light up his existence.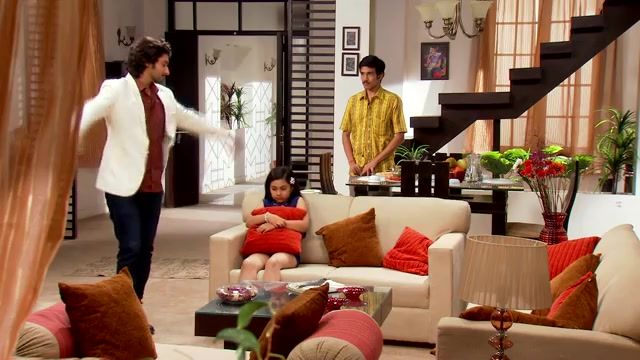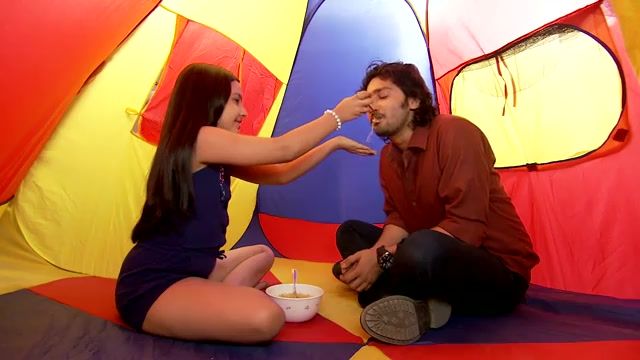 28th Feb
was totally heart-rending as we witnessed little Rim jhim's earnest wish to know and experience the nurturing love of a mother. Its said that If you want to try to understand what God's love for you feels like, just step back and feel a Mother's love for her children,--or your Mother's love for you'that's as close as you will get to understanding God's love for you. As soon as Rim jhim got satisfactory answers to her sweet questions, she announced to a cliff-hanging Guru ' "Dude, we are not going anywhere till the annual function, I shall definitely become a Kaanha, just you wait and see!" We smiled as wide as Mohan did at that moment, with a warm fuzzy feeling melting our hearts away.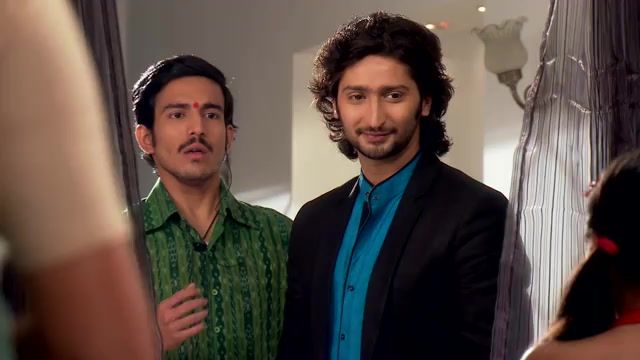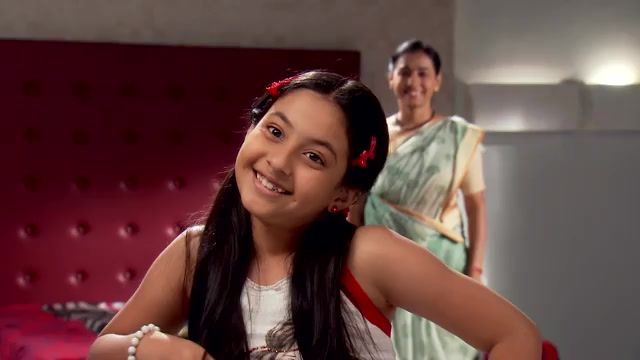 -CheetahsTopper-
This week's bheja fry scene goes to the one where Beera carves
sahi (right) and galat (wrong)
on a table and throws a knife upwards to differentiate between right and wrong.. I haven't seen a more bizarre scene than this.. How did this knife help Beera to realise that wrong is wrong and right is right? What if the knife fell on "galat" instead of "sahi"? Would Beera had believed that right is wrong and wrong is right?(Confused? You now know why it is the "Bheja Fry" scene of the week)

-Lekz-
Rimjhim wakes up to find Mohan at her bedside. She hugs him close and breaks down, insisting they return back to Bhopal where no one would bother her with questions about her mom. Swamped by emotions he couldn't process, Mohan hugs her close rocking her trying to soothe away the pain. The skyline of his world, the world he built up brick by brick seemed crumbling little by little. His eyes welled with tears as he sat numb unable to console his daughter.
Rimjhim's vulnerable state brought back painful memories of Addu, as uncontrollable sobs shook Megha and tears ran down her cheeks. Jiji Bua walks in to console a distraught Megha. I have always felt the reason Megha never quite missed her family was Jiji Bua.
Megha's question 'How can anyone live without a mother ?'was heart wrenching.
How true. Life is never the same, ever.Jiji bua assured Megha whatever happens, happens for a reason, that Rimjhim came in as her student is a message from the almighty to fill the vacuum in both their lives.
So ja chanda raaja so ja chal sapno mein chalnind ki pariya pehan ke aayi pairon mein paayaltujhko apne narm paron par lekar jaayengi sone ka ek des hai jiski sair karaayengi
A soul crushing number at the background as Megha remembers Addu. At the other end Mohan tries to cheer Rimjhim, carries her on his shoulders bringing her to the table for supper. He ties up the ghungroo and tries out khatak steps'tripping as he waltz hoping for some reaction from Rimjhim. Megha pulls out Addu's clothes fondly remembering every little aspect, as fresh sobs shake her.

Dharati se kuchh dur kahi, saat samandar paar aakaashon ke bich hai sapno ka sansaarwoh jamin hai pyaar ki, waha sirf pyaar hai mere chaand ja wahaan tera intjaar hai

Guru and Mohan bring food for Rimjhim, who realizing Mohan is also hungry relents, pulls Mohan into the playhouse, sharing food with him, finally cheering up bringing smiles back to Mohan's face.

Jin pariyon ki husn par jannat ho kurbaan unn pariyon ke des mein hoga tu mehmaanhai nayi kahaaniya jo tujhe sunaayengi tere saath naachengi, tere saath gaayengi
Megha picks up Addu's cricket ball recollecting his craze for the game, his gift for her which read 'I Love Mom' ...every little thing taking her thoughts back to her lost son, grieving where he would be and in what state.
Undoubtedly the saddest scene of the week, Mohan and Megha grappling with their grief, wondering where it all went wrong. No one can change back the inevitable, the pain of Rimjhim losing her mother, Megha her son, these are profound.
Life makes no guarantees, but whatever happens today there will always be a tomorrow.