JaiGanesh ShivaOm
Hi all, I'm Sia.
I have got this privilege of updating the Written version of the show for
Mondays
and
Fridays
.
I would like to thank you all for giving me this opportunity.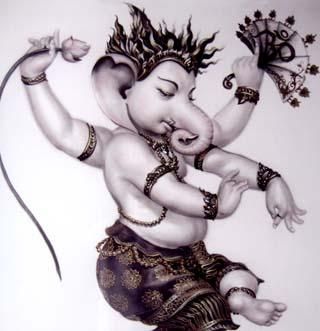 Devon Ke Dev Mahadev15th Feb 2013 : 'Site selection for foundation. Dashanan back to square one!'




The great devote Dashanan overwhelmed in devotion falls to the feet of Shiva ... He says that his life is blessed this day, what more does a devote wants than meeting his deity.
Shiva replies that he resides in the heart of his devotes. Shiva feels happy that his earnest wish of coming to Kailash has come true.
The forehead painted with
bhasm
being every inch of a devote to Shiva, Dashanan again bows his heads to the feet of Mahadev, who blesses him.
Then Ganesh unveils the model which Dashanan had made or Parvti-Parmeshwar's home.
Seeing the model everyone feels excited and Ganesh adds that its made by Vastukar Dahsanan, the model is ideal and well planned as per Kailash.
When Ganesh asks for starting the construction as per the model. Shiva says since they all are going to live in the house, they all have to decide for it.
To this AS agrees and so do all. Parvati ma tells Dashanan that it is because of him that everyone has a smile on their face and happiness in heart. Dashanan replies that she just need to order him for bringing out the model in real.
An excited Pavati devi asks Mahadev if they could start the work at once.
Then Dashanan asks Mahadev if he could examine and chose a suitable place at Kailash for the foundation and disha poojan.
To which Parvati ma replies that he could start the work and Nandi would escort him around Kailash, as no one would know the soul of Kailash more than him.
Dashanan now has his expression changed, he feels how could a slave like him go with him, couldn't she send someone equal him like Ganesh or even Kartikeya.
Nandi humbly asks Dashanan to come with him.
Back at the ashram Nahus's place, the asuras again attack a sleeping Nakush.
(Yeh rshmi, kali zulfian!)
Is what the nightmare Nahush's mother sees!
When Nahush walks up hearing his mother's cry, he asks her the reason...she says that its nothing and makes him sleep off.
Then she goes out only to find her dwarpalak (door keepers) sleep while standing!
She comes back to her room and then herself that when Mahadev and Parvati devi are there why is she still afraid.
She also has a fluctual thought that if the dream comes rue..what would happen...and the reality is just that Hund is still alive. She then decides to get Nahush married (Bal Var
) as all things narrow down to his marriage.
Back at Kailash.
Dashanan and Nandi walk on the paths of Kailash..and they stand at one place, when Dashanan shot lists that spot to be an ideal place for the construction of the house.
But Nandi doesn't approve as they will have to cut the plants there... Dashanan tells that it is inevitable. Nandi agiain says that Mahadev wouldn't want those plants to be cut as the are very dear to him, so much so that he has names them.
Dashanan has an indifferent expression.
Then again they move on... they go to a rocky plane, Nandi then says that at that very place Mahadev goes for meditation and those rocks too wont be moved from there.
Dashanan's expression of being indifferent grows...but he controls.
Nandi then puts his hand on his shoulder saying that he is in a big trouble as Kailash is the home of nature and anything that is going to be harmed and that wont be acceptable by Mahadev!
Dashanan takes off his hand from his shoulder..
A mean Dashanan says "You aree Mahadev's slave, so serve him; And leave the work on Mahadev's greatest devote, I'd definitely build a house on Kailash! "
Then they stop by meadows with greenery and water falls around; Dashanan says that this would be the place were he'd put the foundation.
On the other end.. As Mata Parvati walks at Kailash she finds Nahush's parents arrive.
Nahsush's father says that he couldn't get the opportunity of meeting Mahadev and her at the ashram..and he got to know lately about the invite of hers.
Parvati devi welcomes them to Kailash...Mahadev would be there on Kailash and he'd feel good to meet them both.
Nahush's father tells Parvati devi that he has something to say.. he puts forth his worry for the security of his son Nahush especially after the attack at the ashram.
Parvati devi reminds them of Mahadev and her assures of protecting Nahush.
He says that she does know how difficult it is to re assure a mother...
Parvati ma asks for a solution for it, so as to take off the doubt from her mind.
He replies that they want Nahush and AS to get married ASAP!
The mother says that Hund is on the lose, there can be an attack anytime.
She says that she wants Hund to be killed and for that their kids have to get married.
Parvati devi replies that its not possible,as Naush is still a child.
The mother says that the world knows as Jagat Janani and Pravkriti is hers..so its very much possible for them to make Nahush grow a few years older.
The fathers says they are her devotes first then their relations..
And he doesn't want his wife to die of the tension!
Parvati devi says that she can only tell anything on that, only after she discusses the matter with Mahadev.
The parents feels relieved hearing this.
Parvati devi then goes to Mahadev...seeing her worried Mahadev asks what's the matter..Parvati devi the plight of Nahush's parents and besides there is only one way out.. which is Nahush and AS's marriage.
Shiva questions, how could the marriage happen when they both are still so young.
Parvati devi says Nahush's parents plea of making Nahush a few year young.
Shiva cuts in and says that its impossible and against the nature!
Shiva : Its unnatural
Parvati devi: We are nature
Shiva: Then how can nature do something against its own self! How can it break ts own rules.
Parvtai devi: That's the only option left; neither they can kill Hund nor they can see Nahush's parents worried.
Mahadev : The consequences would be destructive. Thus I dn't agree to this.
Precap:

Parvati ma says to Shiva that they could make Nahush young with their powers..
Shiva says isn't there any significance of mental growth!
Parvati ma replies, they could give him the boon of wisdom..
Shiva says that Nahush's inexperience will bring out troubles in Nahush's and AS's married life!
Voice Over
:will Mahadev agree Parvati ma's request.
Thanks for reading the WU
Have a nice weekend!
Regards
Sia