Originally posted by OnlyHope
:.:MESSAGES:.:


-Stutz-

Happy Birthdayyy Nikammi!!!! *badi wali jhappi*
Aaj toh special shikaar kiya hoga nai? Hahaha! Birthday hai Valentines Day hai.. Big party na?
Which animals are coming for JS' party :p paaltu hai ya sab teri tarah junglee.. Lol

ok ok.. I'll keep mum.. Phy has rotten my brain and sense of hunor :| Have a LOVELY day JS! Have an amazing year and wishing you all the happiness in life!

It has been a year since I have got to know you..and the memories are nothing but amazing! Your friendship I cherish, your help I respect! You're seriously a gem <3 *gets sentimental* lmao!

Can't wait to meet you! M cominnnggg :D

gift you've got already.. Toh abhi k liye bye :* ILY! Muah!

-Stuti
HAHAHAHA! Nikammi! I'll definitely get you back for the JS joke! Watch out!
I've already replied you earlier, but I'll do it once again just to show my love.
Thank you SO much for double the wishes, and your personal gift too, LOVED IT <3 you're my special Bob! Can't love you more for everything SB!
Come back jaldi, I can't wait to see you in a few months either & ace 'em exams and please please leave FB for sometime!
Love youuu more

-RD-
Dear (Soni Kudi
) Sonia
In the soft gleaming night of stars
May all your dreams come true
May every star of every night
Bring love ,joy , health and loads of success to you
Happy Happy Bday !!!!
Best Wishes
Pooja
What's Soni Kudi?! Pooja, I honestly think the Jungli Shikari name is enough for me here!
Anyhoo, without the new name, thank you sooo much for the wishes Poo! <3

Visha_Dhami
Dear Sonia,
I've known you for sometimes now. Such a sweet girl with a sweet name but scaring others with the name Predator
How lucky you are that your Birthday is same date as Valentine's Day
I would like to wish you a very Happy Birthday and Happy Valentines Day. May god bless you always.
I could not make you a gift in time but you can always drop me a PM if you want a creation. Have a Great day ahead
Thank you for understanding my dil ki baat Visha! Actually for my birthday, I did get lots of gifts and surprises, but nothing for Vals Day. But it's all good! At least I had all the attention
It's all right! Your good wishes, dil se, is all I want and need! Amen! Thank youuu!
*Khushii*
H
e l l o ! ! ! JS!! Humari J u n g l i S h i k a r i .
Many many happy returns of the day
May God bless you with all the happiness you deserve and you find yourself a
pati
soon
Erm yea... one more year went by. Did ya even realize?
Hope you have many more new and great memories to add.
H a p p y B i r t h d a y a g a i n a n d e n j o y t h e d a y =D
Loads of love,
Khushi.
Ps: burdened with school work. Gift baadmein
Gift ke liye no need! I only need everyone's good wishes for me! Going through some tough times here. No food at home
Kush, you're such a darling, love the way you treat everyone in an equal manner! It's been a great journey knowing you, hope it does get better with a whole load of memories to come in the future! Good luck with your studies too! Love youu!
KS_Shreya
Happy Birthday Sonia!!! May all your wishes come true!!
Thank you Shreya!-Deepali88-
Happy Birthday Sonia
Wish you many many happy returns of the day
May all your wishes come true on this day and may God bless you with lots and lots of love ,success and happiness in life ...Enjoy this day to the fullest .
I wish you to celebrate all the wonderful things That makes you so special, not just on your special day, But on every day of the year!
Joy is what I wish for you
Success in everything you do
Hope all your dreams come true
And luck may not leave you.
May this birthday be just the beginning of a year filled with happy memories, wonderful moments and shinning dreams..
Lots Of Love and Hugs
Deepali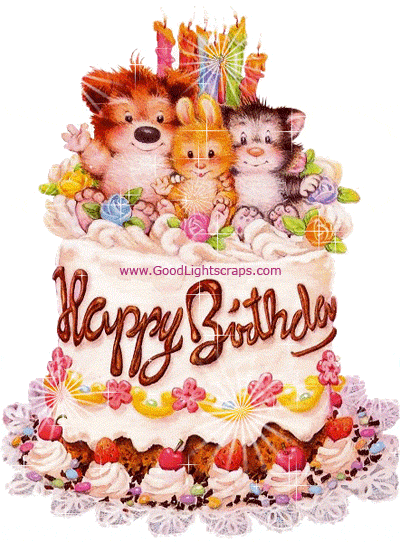 Deeps! Mein tera kya karuuu? Itne saare gifts? Thank you so much! You never forget anyone's birthday here! I hope I don't miss out on yours too :P I'm messing, I would never! PS- I also though you were 88 born like Fairy! Just thought of confessing it here
Once again, thanks a million for the wishes hun! <3

swethasyam08
Dear Sonia!!!
Wishing u from my bottom of the heart a Very Happy Birthday
Here's a small message for ypu on ur special day
Wishing you happiness, To welcome each morning,
Wishing you laughter, To make your heart sing.
Wishing you friendship, Sharing and caring,
And all of the joy, The birthday can bring!
Happy Birthday!!!

With love

Swetha
Thank you for the kind wishes Swetha, amen, much appreciated! :)
-Ravjot-
YOUUU!
Yes you! No not
you
,
you!
Sonia! Yes you! Predator ji!
K I have no idea where I'm going with this
I thought I'd be all cool and send an awesome-yet not creepy type message and I was on a roll. Until I realised I can't type and kept pressing backspace and forgot what I was gonna say
Anywho! Happy burday
Hope you have an awesome pawesome (I would've used a real word and said possum but that's an animal and they kinda..look...scary...). Hope you get a big giant cake and *hopefully* no one cakes you
Happy Burday once again!
-Ravjot
Ravs Di, you never seize to amaze me! I've always been your fan and you've finally arrived! Tbh, I'd always eves drop into your conversation with others, and laugh at how funny you are.
You're message is just TOO awesome! Thank you for sparing some time to wish me, I feel honored!
Smileyface
Happy Birthday Sonia! Hope you have a great day and year! May your year be filled with lots of happiness and smiles and you get everything you wish for! Even though we haven't talked a lot its great to have you as a BC buzzer! It's really a pleasure working with you in BC and hopefully we can interact more!! Eat lots of cake and send some to me as well ;)
much love
hershi
Hershiii, my new new new friend + senior at BC. Hello ji, hope all's well. Don't worry I won't put too much buttering in my words. Thank you for the wishes! You're such a darling Hershi!
-Ridzzi-
YOU GIRL.
Kitne ka shikar kiya predator ji?
Well ji, Hello ji, Hi ji, Pehechana ji?
Let me cut of this Ji ji crap and get to the point. So what are u doing?
Reading? good good!
Okay, i tried being crazy, WHICH i cannot meri PS
So without anymore madness and being meano mean, here's wishing u a MANY MANY HAPPY RETURNS OF THE DAY!!!!!
So enjoy your day and have greaaat fun.
Haaapppy Birthdaaay! *tight hug*
My gift is pending. I'll make and post it soonie<3
Love Yooou!
Your CC
I'm MAD at you. Where are you? Na koi khat, na koi telegram, kuch bhi nahi! You've become so much less active! I miss you meri CC! Teri bak bak, and everything! I miss my good old friend who I first spoke to years ago!
Thank you SO much for the wishes, gift ke liye sirf remember me in your prayers!
Love youuu and come back soon!

-Rasmi24-
Happy Birthday Sonia
Many Many Happy Returns of the Day
May God Bless You
love
Rasmi
Thank you Rasmi! :)


DUGGUlicious
Side by side or miles apart
True friends are always close to your heart
Whether you're turning five or fifty-three
You know that I'm a true friend because you're here beside me
I'm here, right now, on your special day
So lets give a cheer for you, hip, hip, hooray!
Happy Birthday Sonia
Many Many happy returns of the day
Hugs&Love
Parm
Thank you Mrs. Hrithik Roshan! Appreciate the poem and your wishes!
DevvivekAshNi


Pyar Ke Din Aya Aapka Janamdin, Khushiyan Khoob Laya Aapka Janamdin, Pyar Ke Mausam sa, Behka sa, Chehka Sa, Apke Swabhaav Sa..!
Ye Pyaar Ka Din, Hai Sirf Aapka, Sirf Aapka!
Jeevan Me Jiyo Aap Aaj Khusiyan Nayi, Pyar Banke Mehnke Aapke Rishte Sabhi, Aapko Bahut-Bahut Badhaiyan Aapke Shubh Din Ki, Aapke Janamdin Ki...
Aapka Har Din Ban Jaye, Uhi Kuch Pyara Sa, Dil Me Bhi, Pyar aur Aapke Jeevan me Aapki Khusiyan Hazaar.

Happy Happy Birthday Sonia
, here's my gift to you, I made a Poem for you. I hope you would Love it.Though We both dont know Each other but for me, your Happiness on your B'day is important. I would Like to Know you & your Review to my Creativity.

Also, wish you a Happy Valentine's Day, Sonia!

Best Regards, be Happy Dev


Haha, you're funny Dev! Thank you so much! Amen to your wishes!


gk_09


Happy Birthday Sonia
May all your wishes and dreams come true. May this coming year bring you loads of success and happiness in your life. You're an amazing person to work with! Really glad to have you on the team.
Have a blast. Make sure you save some cake for the Newsroom!
Gurprit
Those words coming from you really mean a lot Gur! I hope I really am an asset to BC, looking forward to a whole lot of more memories ahead with everyone. Thank you so much Gur!
Jenifer.
Happy birthday, Sonia!
May all the dreams you dreamed, hopes you hoped and wishes you wished all come true. And may all the cookies you receive be all delivered to me.
Have a fantabulous one!
HAHA. The last line took it all Jenifer! Thank you for the wishes! On my birthday, I felt I should ask for some cookies? Oh well
I might slightly start to think that Jot is not "thee hitler" after all
Yuvika_15
"Happy Birthday Sonia" Hope u have a wonderful day and all your wishes come true! keep working hard...im sure u will do reali well! take care hun
Lots of love from
Yuvika
Yuvvsss! Meri teacher, role model and guide! Thank you for wishing me a million times! I did have a great one indeed! Thank you for sparing some time for me, and good luck with all your stuff! If I ever need any help I'll def. come back to you!
Thank you so much to each one of you, for sparing some time out to wish me. This meant a lot!
A special and biiig thank you to Amna, Pratsy & Trouble for make such outstanding sigs and all over gifts, they're all gorgeous and I will soon use them in my dabba!