Happy birthday Gia manek,
today it is 18 February that means that it is our Gia Birthday :)
we fans Wish all happines and Luck in lifee we lovee yooou sooo much < 3
Giaa Manek is an actress on Indian television who played the lead role in the series Saath Nibhaana Saathiya on Star Plus. She was replaced on Saath Nibhaana Saathiya due to 'a violation of her contract' by participating on the reality show Jhalak Dikhhla Jaa which telecasts on Colors TV. She is currently seen in serial Jeannie aur Juju on SAB TV.
Manek started giving auditions in her college days. She did commercials for Amul and Vatika Hair oil. She had a small role in Na Ghar Ke Na Ghaat Ke before her TV debut in which she played daughter to Neena Gupta and Om Puri. She first auditioned for Rehna Hai Teri Palkon Ki Chaon Mein but was not selected for the role. Her second audition was for Saath Nibhaana Saathiya, which she won.
She participated in the Celebrity Dance show Jhalak Dikhhla Jaa for which she was kicked out of Saath Nibhana Saathiya. Giaa Manek was replaced from Saath Nibhaana Saathiya because the Star Plus Executives did not want her to participate in Jhalak Dikhla Jaa-Dancing with the Stars as it is going to be aired on a rival channel.
Currently Giaa is starring in the soap opera "Jeannie aur Juju" which is running on SAB TV, in which Giaa's co-star is Ali Asgar. She is playing a character of a Jinn.
Text By: zabo
Gia B-day wishes:
@.. Jeannieaurjuju1111
happy bday to giaa manek and many many happy returns of the day and god bless giaa manek and she will prosper more and best of luck for her every achievment

@..Sabreen_06
ok my wish for gia here it go
Gia Happy birthday to u
many many happy returns of the day
May God bless u sucess in every stage of life,and long life with full of happiness
Enjoy ur day with loved one's
love u so much gia
@..Saibalrouth
On your birthday, I wish you absolute contentment, pleasure and delight
I hope all of your dreams and desires come true
May each hour and minute be filled with enchantment
And your birthday is full of merriment!
Hope exquisite surprises come your way
To make your Birthday a magnificent day
Smiles and amusement, pleasure and applause
Fresh contentment that stays throughout the year
Hope your birthday brings all these and more
Filling life with surprise and joys in abundance!
So on this very unique and special day
I would like to say to you
I hope you always come across pleasure
No matter what you do
A new candle on your cake each year,
Well there's no need to show displeasure
Be delighted that you have adequate potency
To blow all the candles out!
Wishing you your happiest birthday yet
A birthday too extraordinary to ever leave your mind
So many wishes and smiles
Special birthday prayers and wishes
Have a happy birthday
I hope that all of your birthday wishes come true
May you have a great time today and find happiness
In everything you do.
Happy Birthday from the heart
With Love and best Wishes,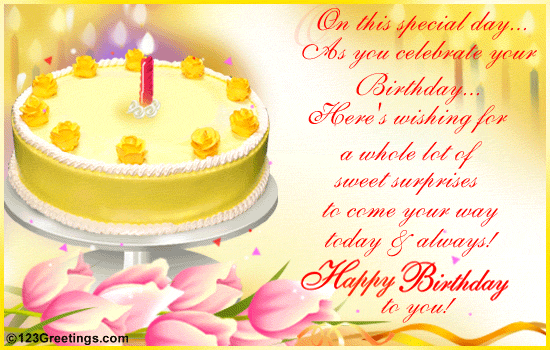 @ani_p
You are like an angel because you've touched the life of every person you've met. You deserve the best and the most special of Birthdays so that you can touch the lives of a thousand more people. Happy Birthday! Giaa
Love u Loadz
Hugs and Kisses


Arnisha xx
@Dharmaluvgiaa

On your birthday, may you
experience joy
On your birthday, may you
experience love
On your birthday, may all your
dreams come true
On your birthday, may all your
desires be filled
As you wish upon a star, your life
be starlight
As you wish upon a star, your life
be star-bright
As you wish upon a star, zillions
of stars gaze over you
And a wish upon a star, made
come true
Happy birthday, to a beautiful
soul
Happy birthday, to a wonderful
you
Happy birthday, to a gentle soul
Happy birthday, to a great you
Happy happy birthday to a once
in a lifetime kind of person
Happy birthday to you Giaa Manek.
@Nihira-fan
Wish you a Very Happy Birthday Gia!!
I hope that your day is blessed with happiness and joy!
May your Birthday be filled with smile,sunshine,love and laughter!
Have a Awesome B"day!!
From,Nihira.
@gmsaurabh
On this special day, I wish you all the very best, all the joy you can ever have and may you be blessed abundantly today, tomorrow and the days to come! May you have a fantastic birthday and many more to come... HAPPY BIRTHDAY!! GIAA MANEK
@ramasuresh78
@Ashleyangelena
Happy Birthday to GORGEOUS, TALENTED, FUNNY,BUBBLY, and AMAZING
Giaa Menek
Dear Giaa,
Here's wishing you a fantabulously happy birthday ! First off let me tell you just how sweet, bubbly, humourous, and friendly I think you are =) You come off as someone who doesn't take anything way too seriously BUT you take your work seriously and are very passionate about everything you do which shows in your presence onscreen.
I cannot begin to tell you how grateful I am that I chanced upon seeing you through JAJ! Because I had watched your previous show SNS and I start loving u from the start.!!!
But ever since I saw you in SNS, and the way you just stole the show with your innocence, naive nature, was the ultimate reason why I started loving you =)
I think I am starting to obsess over you
and it's not healthy but I couldn't care less!
You are one amazing human being, and despite all the negativity, you stand strong and prove everyone wrong!
Here's wishing a great person like you a fantabulous birthday! I hope all your hopes and wishes come true and wish that Jeannie Aur Juju keeps climbing its ladder of success.
If there's one thing I regret, to not join JAJ forum before! But better late than never right?
LOVE YOU SO MUCH
HAPPY BIRTHDAY!
Here's some virtual treats to celebrate!
Love Umna..xx..:D
@Mandy
Happy birthday Giaa many many happy returns of the day, love u very much.. keep making your fans proud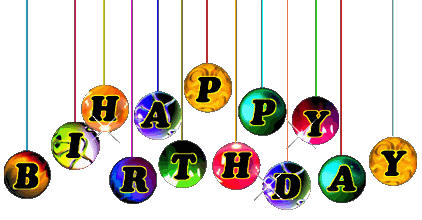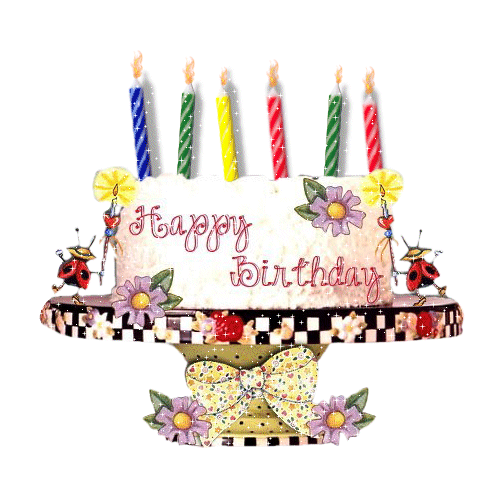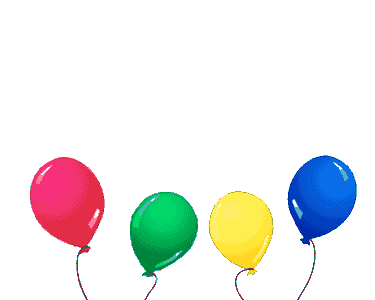 @-GINA-
My Best Wishes go out to the Most grogeous & pretty girl on Indian Television.
Happy Birthday my dear Giaa Manek.
I wish you all the best in life.
Happy Birthday Giaa! I hope you have an awesome day and year ahead of you. Wishing you tons of success for the future and you rock as Jeannie!
Sherry..!!
@priyamvada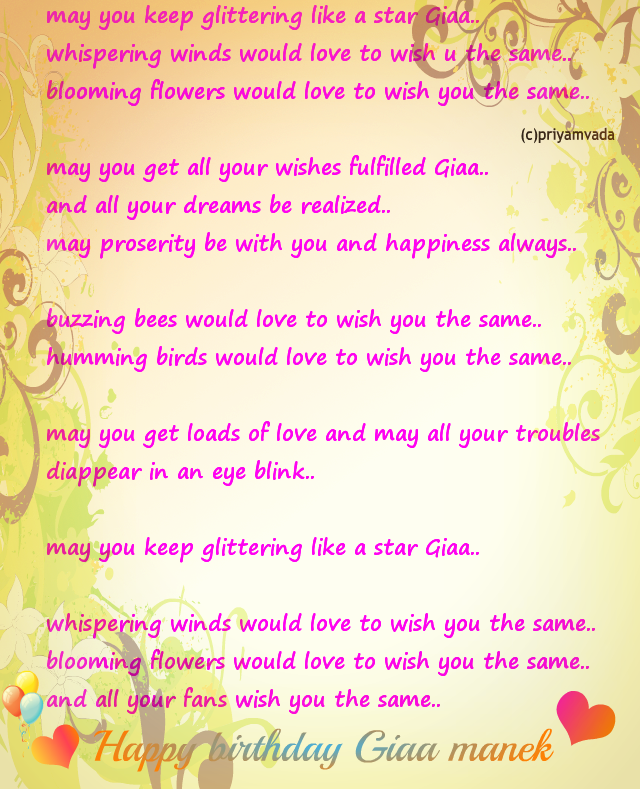 @han89


Edited by .Siham. - 17 February 2013 at 8:33am