Entry 1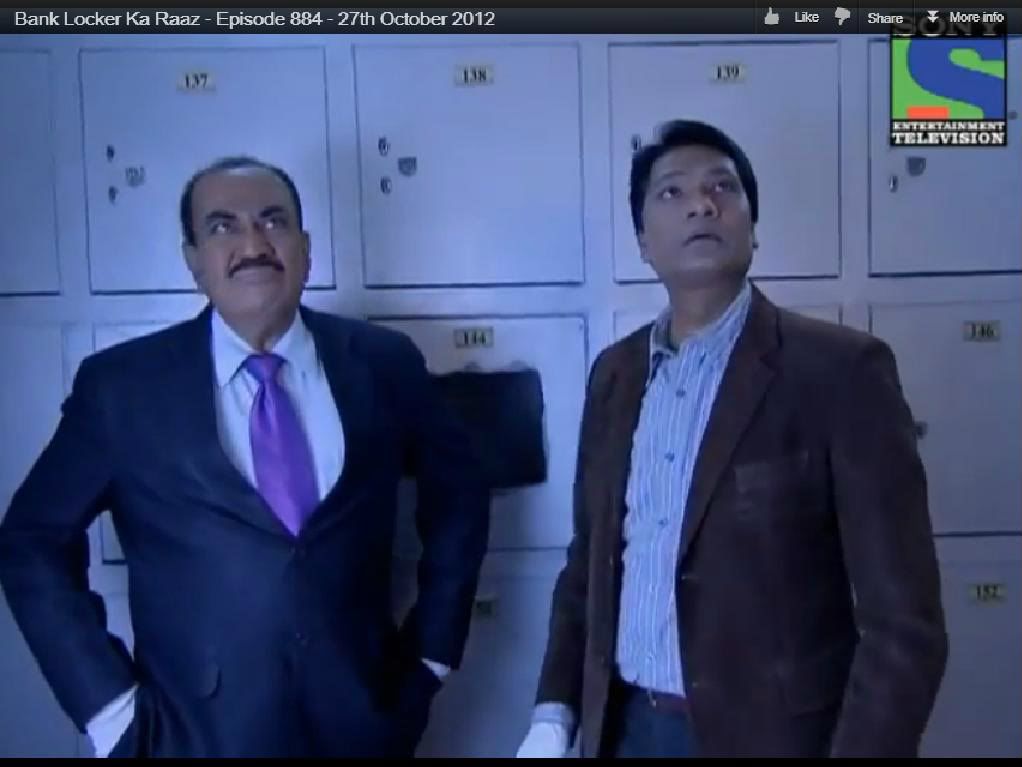 Abhijeet: Kya lagta hai sir? Daya kar payega.
ACP: Mujhe pura yakeen hai ke woh yeh kar payega.
Abhijeet: Sir agar usne nahi kiya toh yeh bomb phat na jaaye.
ACP and Abhijeet look up at this. The bomb was ticking over their heads and the only way to save everyone was to disarm it. But the remote to disarm it was on the roof.
Abhijeet: Aur agar yeh bomb phat gaya toh bahut logon ki jaan chali jayegi.
ACP (repeated): Mujhe pura yakeen hai ke woh yeh kar payega.
Up on the roof, the man with the remote to the bomb was holding some hostages. Daya saw this from the other building and decided to risk it. He hooked himself to an electrical wire connecting the 2 buildings and jumped. He made it across and banged into the man with his feet. Picking up the man...
Daya: Remote kahan hai?!!

Man: Nahi doonga.
Daya: Nahi dega?!!
*bang...Daya delivered a hard punch into the man's stomach*
Man (laughing): Sirf do minute bache hain. Jitna marna hai maar le. Tere ko remote main nahi doonga!
Daya: Acha nahi dega?!!
Daya pulled out his gun and pointed it at the man's head. That just made the man laugh more.
Man (laughing): Maar do. Acha hai. Phir toh bomb kabhi nahi disarm hoga.
Daya: Yeh tumse kisne kaha ke main tumhe maaronga? Main toh sirf tumhare anje panje dheele karonga.
Daya fired one shot into the man's arm. He yelled out in pain.
Man: Maar lo goli. Main nahi doonga remote control.
At this moment, something glinted, which Daya saw out of the corner of his eye. He pushed the man aside and stepped over to the glint and found that it was the remote. From behind, the man banged into Daya, but Daya simply shot the man in his foot and then disarmed the bomb.
Daya (on phone): Abhijeet, maine bomb disarm kar diya hai.
Abhijeet (on phone): Haan Daya. Ho gaya hai. Ab bureau main milte hain.
Abhijeet, ACP, Daya, and Sachin are having a conversation when DCP Chitrole comes in.
Chitrole: Uss aadmi ko goli kisne maari thi?
Daya: Maine.
Chitrole: Tumhe pata hai ke usne hum par case kar diya hai.
Daya: Toh?
Chitrole: Toh maine tumhe suspend karne aaya hoon.
Everyone is shocked. Daya simply nods and starts to leave. ACP calls out from behind.
ACP: Ruko Daya. Chitrole sir agar aap ko kisi ko suspend karna hai toh khud ko ki jiye.
Chitrole: Kya matlab hai tumhara?!!
ACP: Aur nahi toh kya. Humne itne logon ki jaan bachi hai. Daya pe usne case toh kar diya hai lekin yeh case hum hi jeetenge kyun ki sab bata sakte hain ke Daya ne jo kiya woh zaroori tha.
A few moments of silence and finally DCP Chitrole breaks it.
Chitrole: Pradyuman tumne ek baar phir aapne iss officer ko bacha toh liya hai lekin main bhi dekhta hoon ke kab tak bachte rehte ho.
ACP: Jab tak main hoon inhe aap ki taraf se koi taklef nahi mil sakti hai.
DCP Chitrole leaves in the same huff in which he came. Abhijeet and Daya turn to ACP Pradyuman.
Daya: Sir...
ACP (cutting him off): Daya, tum aur Abhijeet sirf CID ke officers nahi ho, lekin mere parivaar bhi ho. Tum dono ko kuch nahi hoga. Kabhi nahi!