Lawrence, Kansas: 22 Years Ago
A dog barks in the down the street from a two-story house. Inside the house, Mary Winchester carries her older son, Dean, into the into the nursery to check on Dean's younger brother, Sam. Dean kisses the six-month-old Sam goodnight. Dean runs over to the doorway when his father John, comes in. appears; his father scoops him up in his arms and asks if he thinks Sam is ready to toss the football around yet. Mary and John leave, turning off the lights behind them. Sam wiggles around in his crib, staring at the mobile above him. As he stares at the mobile, it starts to turn on its own and the lights flicker.
Mary is sleeping but wakes up when she hears Sam crying on the baby monitor. She discovers that John isn't in bed with her. She goes down the hallway looking for her husband and finds a man standing over Sam's crib. Mary thinks it's John and asks if Sam's hungry, and the man shushes her so she leaves the room. As Mary walks down the hallway, a light bulb begins flickering. Mary taps the bulb to get it to work, and then dismisses it as a malfunction. Going downstairs, Mary finds John asleep in his easy-chair. Realizing they have an intruder, she runs up to Sam's room, screaming and waking John up. He runs up the stairs to Sam's room. However, Mary is nowhere in sight and Sam is fine. As he checks on his son, John notices drops of blood falling from above. He looks up and sees Mary suspended from the ceiling, bleeding from a gut wound. As he looks on in horror, Mary's body bursts into flames. As the flames spread, John grabs Sam and runs out of the room. He gives Sam to Dean and tells him to get his younger brother outside, and then runs back to the bedroom to save his wife, but it's hopeless. John runs outside and gets Dean and Sam away from the house as it goes up in flames.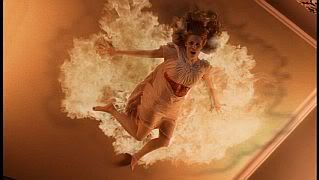 Later, the Lawrence firefighters deal with the blaze and the EMTs take out Mary's corpse. John and Dean are seated on the hood of John's 1967 Impala, and John comforts his younger son.
Stanford University: Present Day
Jessica Lee Moore checks on her boyfriend, Sam Winchester. She asks if he's ready to go to the college Halloween party, but Sam isn't enthused, saying he's not a fan of Halloween. He finally gives in and they go to the party, where Jessica boasts to their friend Luis about how Sam scored a 174 score on the LSAT. Sam says that he has an interview with Stanford Law School on Monday. Luis asks how Sam likes being the "golden boy" of the family, and Sam says that his family doesn't even know about his score or interview. Jessica tells him that she's proud of him, and then pulls Sam in for a kiss.
Later Sam and Jessica are sleeping at their apartment. Sam wakes up when something or someone makes a noise. He goes to investigate and attacks the thief, concealed in the shadows. Sam finally gets the upper hand and discovers that it's his brother, Dean. Sam wonders why he came in person, and Dean says that if he had, Sam wouldn't have picked up. Jessica comes in and Sam introduces her to Dean as his girlfriend. Dean tries to flirt with her and she goes to put something on, while Dean says they have private business to discuss. When Sam says that he doesn't have any secrets with Jessica, Dean says that their father has disappeared during a "hunting trip" and Sam asks Jessica to wait.
Once they're alone, Sam says that Dean can't expect him to just show up and expect Sam to drop everything, and notes that John has disappeared before. Dean says that John has never been gone this long, but Sam reminds him that he swore he wouldn't go hunting again. He wonders if Mary would have wanted a life of weapon training and monster hunting for them, and says he wants a normal life. Sam says that John was the one who told him to never come back if he went to college, but finally agrees to hear his brother out. Dean shows Sam some Internet printouts about their father's last hunting trip and newspaper stories about a man's disappearance in Jericho, California, the most recent in a series going back over 20 years and all on the same stretch of road, Centennial Highway. John went to check it out three weeks ago, while Dean was working a voodoo case in New Orleans. Finally, Dean shares a voice mail from their father that ends with "be careful, Dean. We're all in danger." There's a woman's voice whispering "I can never go home" concealed in the static. Dean insists that Sam come with him to California to track down their father, and Sam finally agrees. He says he has to be back for his law school interview on Monday, but Dean is unimpressed. Sam goes back into the apartment to pack, and tells Jessica that he's leaving, claiming John is on a bender. He assures her that he'll be back for his interview on Monday.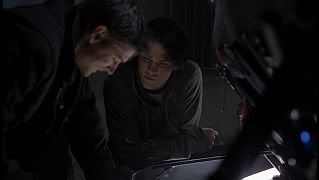 Jericho, California
On a highway, teenager Troy Squire is driving home, and making excuses on the phone to his girlfriend Amy for why he can't meet with her. He spots a woman dressed in white walking along the highway. Troy pulls over to the side of the road to talk to the woman. The stereo in the car quits working. He asks the woman if she's having car trouble and she asks him to take her home. Troy asks her where she lives and she gives him an address. Troy tries to stare down her cleavage and tries to strike up a conversation with the woman, and she bares her legs and asks if Troy thinks she's pretty. She invites him to come home with him, and Troy eagerly agrees. They arrive at the address and find an old, abandoned house. The woman whispers "I can never go home." When Troy looks away for a moment, the woman disappears, leaving nothing but a fading handprint on the windshield. He calls out to her without getting a response and then walks toward the house and looks in the window. A bat flies by Troy's head, scaring him. He leaps into his car and drives heads back to the highway.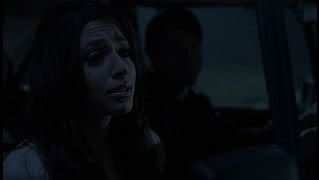 As Troy drives down the highway, he's unaware that the woman is sitting in his backseat at first. When he finally notices her, he crashes through the barricade on a closed bridge. As the car comes to a halt, Troy screams in agony as blood splatters the inside of the car.
Dean and Sam stop at a filling station while Dean reminds Sam of how they run credit card scams to finance their trips. As they leave the station, the brothers argue over Dean's choice in metalhead music. As they arrive in Jericho, they come across police cars blocking off the bridge where Troy died the previous night. Dean reaches in the glove box and uses fake U.S. Marshal IDs to talk to the local deputies and ask him about the crash and the man's death, as well as the pattern of similar deaths. Deputy Jaffe admits they have no idea what's going on. The deputies, one of whose daughter Amy was dating Troy, start to get suspicious of Sam and Dean. As the brothers leave, Sam warns his brother that they're on their own because the police don't have a clue. As they go, Sheriff Pierce arrives with two FBI agents, and the brothers hastily leave.
In town, the brothers find Amy, who is putting up missing posters of Troy. They claim to be Troy's uncles and take her and her friend Rachel to a diner to ask some questions. Amy explains that she was on the phone with Troy right before he disappeared. The girls tell brothers of a local legend involving a mysterious female hitchhiker, and whoever picks her up disappears forever. Sam and Dean go to the Jericho public library and find a story about Constance Welch, who inadvertently let her children die in the bath. She drowned herself in a nearby river, throwing herself off the same bridge where the police found Troy's car.
That night, the brothers go to the bridge and wonder if their father was there on the same story. Dean says it might take a while to find out what's going on, and Sam reminds him about his interview. In response, Dean says that Sam is going to have to face up to who he really is: a hunter. Sam insists that it won't be his life, and that Mary is dead no matter what they do. Dean angrily grabs him and throws him against the supports, and tells Dean not to talk about her like that. As Dean turns away, he sees Constance standing on the bridge railing. They watch as she throws herself into the river, and then run to the railing. The Impala starts by itself, even though Dean has the keys, and speeds toward them. They leap over the railing and Dean falls into the river, while Sam manages to grab the bottom of the bridge to hang on.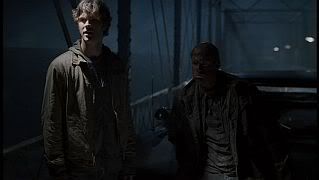 Short on leads, Dean and Sam go to a motel to check in. The clerk informs them that someone else with the same (fake) credit card took a room for the entire month. They break into the room, figuring it's John's, and find hundreds of newspaper clippings and a ring of salt sealing the room against spirits. The clippings are about Constance's victims, and there's no indication of a pattern connecting them. There's a reference to a "Woman in White" which they figure refers to Constance. Dean figures that John would have destroyed the corpse and banished the ghost, but Sam concludes that she has another weakness. They figure that John went to talk to Constance's widower, Joseph Welch. As Sam looks around, he apologizes to Dean about his earlier comments on John's obsession, and Dean accepts. As Dean goes to get cleaned up, Sam finds a photograph of himself, Dean, and John on a "hunting trip."
Sam checks his voicemails while Dean goes to get some food. Outside, Dean notices the clerk pointing Dean out to the deputies, and calls Sam to warn him. Jaffe and Hein come over ask where his partner is, and Dean feigns ignorance. They check the motel room, but Sam has slipped out the back. The deputies arrest Dean and take him in, and Sheriff Pierce points out that he was in a room with clippings of missing victims. When Dean points out that he was three when the first disappearance occurred, the sheriff figures that John started the whole thing, and Dean's working with him. The sheriff has John's journal, which contains Dean's name and a pair of numbers.
Sam goes to see Joseph Welch, who recognizes John from the photograph. He says that John was there working as a reporter, and tells Sam the same thing, that Constance is buried in a plot behind the couple's old house. Joseph confirms that he never married again, and refused to live in the house where his children died. He tells Sam that they had a happy marriage, though Sam doesn't believe him. He explains to Joseph about several different occurrences of the "Woman in White" and how each of them follows the same basic story: a husband cheats on her wife so she drowns her children. The woman then kills her children, kills herself, and then haunts the earth searching for unfaithful men to kill. Joseph finally admits that he cheated on his wife but insists she never would have killed her children, and tells Sam to leave.
At the station, Dean continues to deny any involvement with the disappearances. Sheriff Pierce is called away on a 911 shots-fired alert but handcuffs Dean to the table first. Once he leaves, Dean is able to get loose of his handcuffs using a paperclip. He escapes the station by climbing down the fire escape and manages to grab John's journal in the process.
Sam is driving down Centennial Highway when Dean calls and congratulates him on the fake 911 call that he placed to draw away the police. They compare notes and figure that John went to Welch's old house. Dean tells Sam that John left Jericho without his journal, something he never would do normally. As Sam drives, he spots Constance Welch on the highway ahead of him. He drives right through her and brakes to a stop. Constance is now in the backseat and demands that Sam take her home. When he refuses, Constance locks the doors and drives the car telekinetically.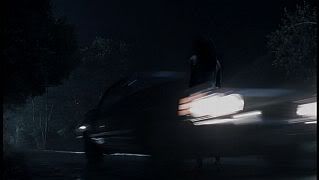 The Impala arrives at the old Welch house and Constance whispers that she "can never go home." Sam realizes that she's afraid to go home, and the ghost appears on the front seat next to him. Constance leaps onto Sam's lap and asks him to make love to her, but he refuses and says that he's never been unfaithful. She tells him that he will be, and then reaches into his chest and starts ripping his heart out. Dean arrives and shoots the ghost through the driver's side window, distracting her. Sam manages to grab the keys, starts the Impala, and takes her home... by driving through the front door of the house.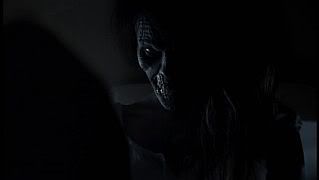 Dean runs into the house to retrieve his brother from the wreckage. Meanwhile, Constance finds the portrait of her and her children. She hurls the portrait to the floor and then pins the brothers to the side of their car with a dresser. As she telekinetically squeezes the life out of the brothers, the lights flicker and distract her. Water pours down the stairs into the first floor and Constance stares in horror as her children appear at the top of the stairs. They whisper "You've come home to us, Mommy," and then appear before Constance. They hug her and she screams as they all descend down into the earth.
Later, the brothers are driving away. Sam figures that the coordinates are latitude and longitude, and indicate Blackwater Ridge, Colorado. Sam tells Dean that it's 600 miles away and they begin to argue over Sam's law school interview. Dean thinks that Sam needs to blow off the interview to help find their father, but gives in and takes Sam back to his apartment. Sam tells him to call if he finds John, and Dean says that they made a good team.
Sam goes inside and finds a plate of chocolate chip cookies on the table with a note reading "Missed you! Love you!" Sam smiles then heads to the bedroom where he hears the shower running. He lies down on the bed and closes his eyes, but drops of blood fall onto his forehead. Sam looks up and sees Jessica on the ceiling with a gash in her stomach. As he stares in horror, her body bursts into flames. Dean rushes into the room and grabs Sam just before the flames consume the apartment.
Later, firemen spray down the apartment and EMTs wheeling out the remains of Jessica's body. Sam is at the Impala getting weapons ready. When Dean comes over, Sam tells him, "We've got work to do."
Courtesy tvrage


Edited by iluvvampires - 16 February 2013 at 11:18pm