EPI 5 Simon said

In Blue Ridge, Oklahoma, Dr. Jennings is walking down the city street when he gets a phone call. He answers it and then sees himself taking a shotgun and cocking it. He smiles and walks down the street to a gun shop. The owner, Dennis, greets him by name, and is surprised when Jennings says he wants to look at a gun. Dennis obliges and gives Jennings the specific shotgun he asks for, and provides him with some shells to check. Jennings loads it up, against store policy, and then casually shoots and kills Dennis. The doctor tells everyone to relax, and then places the gun beneath his chin and pulls the trigger.
Sam is in a gas station restaurant when the vision of Jennings shooting the gun store owner hits him. As they drive through the night, Dean tells him to relax and says that going to the road house isn't a good idea. Sam insists that Ellen could know something, but Dean warns that letting hunters know that Sam has supernatural abilities might not be a good idea. At the road house, Jo is hustling a hunter, Ed, at a video game. She greets Dean when they arrive, and Sam immediately runs back to find Ash. He identifies the town from a bus sign in Sam's vision, but finds no trace of demonic presence. Sam asks him to check on nursery fires in 1983, While Ash works, Jo notes to Dean that Mary Winchester died the same way, and offers to help. He insists that they have to handle it the same way, and figures that Ellen would kill him if he left with her daughter. Ash comes up with a match, and the brothers head for Blue Ridge.
Along the way, Sam explains that Ash located an Andy Gallagher, whose mother died the same way as Mary Manchester. He figures that Andy is somehow connected to the Yellow-Eyed Demon. Andy is unemployed and owes money, but there are no collection agency flags in the system. They have a work address from his last W-2 and go to Blue Ridge, posing as lawyers. They ask at the diner where Andy worked, but the waitress, Tracy, assumes that they're debt collectors them that they won't be able to get any money from Andy, and the ones who have tried in the past just leave town. A friend of Andy's, Weber, overhears them and boasts that Andy can get him into anything. Tracy tells him to go back to work, and tells the Winchesters to look for a van with a barbarian queen painted on the side. As they watch, Sam worries that the he's one of the Yellow-Eyed Demon's children, and that he's a psychic freak. Dean insists that he's not a murderer, but Sam notes that he's killed lots of monsters and isn't convinced.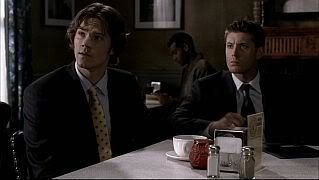 Andy leaves the apartment he's at, wearing a bathrobe. He waves to the woman upstairs, and then casually gets a cup of coffee from a man as he walks by. Andy then shakes hands with Dr. Jennings, who Sam recognizes from his vision. Sam goes after Jennings while Dean sticks with Andy, who drives away in his van. Andy stops at an intersection, walks back to admire the Impala, and then asks Dean if he can have it. Dean immediately agrees, gets out, and Andy drives away while Dean wishes him well.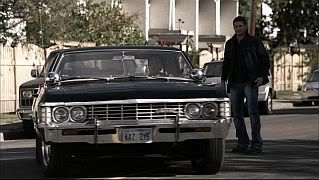 As Sam watches, Jennings gets a call on his cell phone. Sam runs into the gun shop and sets off the security alarm, then slips back outside. He sees a disappointed Jennings walk away and then notices Andy drive by the Impala. Meanwhile, Jennings gets another call.
Dean explains that Andy used mind control on him. Sam looks up and sees Jennings walk directly in front of a bus, where he's crushed to death. As the EMTs take Jennings corpse away, Sam tells Dean that he thought he had saved Jennings, but should have stayed with him.
Andy goes to the diner and tells Tracy that Jennings is dead. He says that he was upset and wanted to see Tracy, and she says that she missed him. Tracy then tells him that the Winchesters were looking for him.
Sam and Dean find the Impala and figure that Andy has to speak to his victims. However, Dean isn't convinced that Andy is a killer. They find his van and break in, and discover that he has the back set up as a swinging bachelor's pad. Sam finds several philosophy books and wonders what the motive was. As they watch for Andy, Sam insists that Dean is guilty, but Dean doesn't think something is right. Andy spots them and asks why they're following him. He commands them to tell the truth and Sam is able to ignore the command, but Dean immediately tells Andy that they hunt demons and Sam is a psychic, and he's scared of his brother's abilities. Andy tells them to leave him alone and Dean has no choice but to obey. Sam gets out and approaches Andy, explaining that he knows what he's going through and Andy's power started a year ago when he was 23. He knows because they're connected, but Andy tells him to leave. Sam persists, accusing Andy of murdering Jennings. As they talk, Sam gets another vision of a woman at a gas station getting a phone call and then calmly setting herself on fire.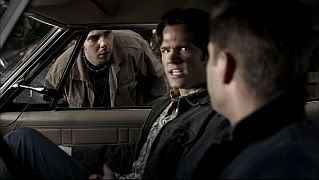 Sam collapses from the power of his vision, and Dean asks him what happened. A fire truck drives by and Dean follow sit while Sam stays with Andy. At the station, Dean calls Sam and tells him that the woman is dead. He points out that it just happened and Andy can't be responsible. Sam and Andy talk, and Sam asks why Andy lives out of a van. He explains that he has everything he needs already, and Sam accepts that he's not a killer. Dean returns and tells them that the victim was Holly Beckett, a single woman. Andy has no idea who she is, but Dean check with Ash. According to him, Holly gave birth to a son on the same day that Andy was born. They confirm that Andy was adopted, and he says that he never knew his birth parents. The birth records are sealed in the county office, so they go there and Andy persuades the security guard to let them in. Sam goes over the files and confirms that Holly was Andy's birth mother, and Jennings was the attending physician who oversaw the adoption. However, Holly gave birth to twins. Andy went to the Gallagher family, while his brother Anson went to the Weems family upstate. He has a local address and Dean gets his photo from the DMV. They realize that they know Weber.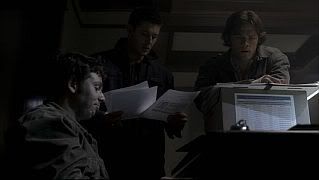 At the diner, Weber asks Tracy how she feels about Andy. he forces her to tell the truth about whether they were serious.
As they drive to the diner, Andy explains that Weber just showed up and forced himself into Andy's life to become his friend. Sam gets another death vision of a sobbing Tracy getting out of a car and jumping off a dam to her death. Dean pulls over and Sam tells him what he saw.
Weber drives a mind-controlled Tracy to the warehouse where he takes all of his "dates." He tells her that Andy will be famous one day, and Tracy can't have him.
The Winchesters drive to the dam with Andy, who insists on going with Sam to protect Tracy.
Weber forces Tracy to strip down to her slip, and then go to the edge of the dam and step over the edge once they're done. However, Sam smashes open the window and stuns Weber, ignoring his mind control abilities and gagging him. Andy tries to attack his twin, and while Sam restrains him, Weber mentally commands Tracy to knock Sam out with a branch. Andy stops her, and Weber explains that with practice he's learned to command minds without speaking. Andy grabs him, but Weber commands Tracy to go to the edge of the dam. He insists that he's stronger than Andy, and that Tracy has to die because she's coming between them. Weber wanted to tell Andy, but the man with the yellow eyes came to him in his dreams told him to wait, and that he has big plans for them both.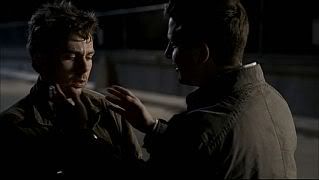 As they talk, Dean sneaks up nearby. Meanwhile, Weber explains that he killed Jennings and Holly because they split them up, and he couldn't let them get away with that. Dean draws a bead on him with a rifle, but Weber senses him and forces him to put the gun to his head. There's a gunshot... and Weber collapses, dead. Andy stares at him in horror, having pulled the trigger.
The next morning, the EMTs take Weber's corpse away, and Andy convinces the police that it was suicide. He glances at Tracy and then walks away, and tells the Winchesters that he never used his mind powers on her before, and now she's frightened of him. Sam says that they have to leave, but gives him his cell number if he needs anything. As they leave, Dean tells him to be good or they'll be back for him. As they go, Sam notes that Andy is a killer after all, but Dean insists that Andy is a hero. His brother objects, figuring that the Yellow-Eyed Demon is manipulating all of them into murder. Dean tells him that they don't know what the Yellow-Eyed Demon has in mind, and all they can do is find it and kill it. As they get in the Impala, Ellen calls Dean. When he learns what she has to say, he tells her that they'll be right there.
When the Winchesters arrive at the road house, Ellen sends Jo out and asks what happened at the hunt. They tell her that it's a family thing, but she informs them that Ash told her about the fire at Andy's house. She figures the Yellow-Eyed Demon is involved, and tells them that it's not just Winchester family business, but war. The only way they can fight the Yellow-Eyed Demon is together, without secrets. Sam tells her about the demon's "children," and they all have abilities. However, he notes that Weber didn't have a house fire in his history, which means there's no way to track all of them.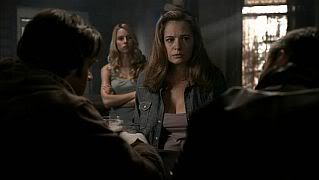 Edited by iluvvampires - 15 September 2013 at 9:15am