In Red Lodge, Montana, a woman runs through the woods as something chases her. She trips on a log and goes down, while a figure in a long coat and hat closes in. The woman finally takes refuge behind a tree and tries to remain silent. When she emerges, the man is waiting for her and decapitates her with a sickle.
Dean finishes repairing the Impala, better than ever, and he and Sam hit the road for Red Lodge, where cattle mutilations and two corpses with severed heads have been reported. Posing as reporters, they talk to the sheriff, who thinks they're joking when they suggest the cattle mutilations are connected to the decapitations. He explains that a rotting cow bloats and looks like it's been cut open, and tells them to get out. The brothers next go to morgue, posing as doctors, and con the mortician into leaving. Once he's gone, they check the woman's head for Satanic marking. They don't find any, but Dean does find hidden fangs. The brothers realize the woman was a vampire.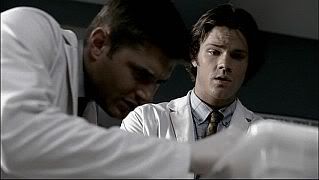 That night, the brothers go to the local bar and ask the bartender, Eli, if there have been any new arrivals in town, a particularly rowdy bunch. He confirms there's such a group at a nearby barn. As they talk, a man listens in from a nearby table. When the Winchesters leave, he follows them down an alleyway only to discover they've disappeared. They ambush him and check his teeth, and he tells them that he's not a vampire. They don't believe him until he proves he has no fangs, and then asks who they are. Introductions are made and the hunter, Gordon Walker, expresses his condolences on John's death. He admits that he killed the two vampires, but the farm is a bust. However, when the brothers offer to help, Gordon says that he wants to take care of it on his own and drives away.
On the docks, a security guard hears a noise outside and goes to investigate. Gordon attacks him and the guard bares his fangs. They struggle and the vampire turns on a saw and slams the hunter onto the loading belt beneath it. As He prepares to cut off his head, Sam and Dean arrive. Sam pulls Gordon away while Dean uses the saw to decapitate the vampire. They go back to the bar and Gordon buys them drinks, but Sam is the only one of the three of them not happy with the fact they had to decapitate the vampire. Dean says that he's been telling Sam to have more fun, and Gordon agrees. However, Sam decides to go back to the motel and leave them to their celebration. Dean and Gordon share stories of how they became hunters, and Gordon relates how he lost his sister to a vampire. After that, he bummed around, learned about vampire lore, and killed the monster responsible. Gordon asks how Dean is handling John's death, and Dean admits that he's not handling it very well. Gordon understands, and says to use the grief and darkness to help kill the monsters.
Sam calls Ellen Harvelle at the roadhouse and asks if she knows Gordon. She says he's a good hunter, but when she learns that Sam is working with him, says that Gordon is dangerous to everyone around him. Ellen tells Sam to move on and let Gordon handle the job.
At the bar, Gordon admits that he likes hunting because it's all black and white, good or evil. Dean points out that Sam doesn't think that way, and Gordon says that he and Dean were born to do it, and Sam is different.
At the motel, Sam gets a soda from the outdoor machine and hears something in the bushes. He goes back inside his room, relieved, and two men attack him. They manage to knock him out. When Sam wakes up, he discovers that he's been tied up. Eli is there and reveals his fangs, but a female vampire, Lenore, tells him to back off. She tells Sam that they just want to talk, and they don't kill humans or drink human blood. Lenore explains that they feed on cattle blood, accounting for the cattle mutilations. Eli objects, saying that they're choking on cow's blood while hunters pick them off, but Lenore is willing to set it aside. She tells Sam that they're leaving that night, and wants Sam to call off the hunt. When he asks for a reason to believe her, she says she'll let him go. Lenore tells Elli to release Sam, unharmed. Eli and the other vampires put Sam in a truck and drive him back to town.
Dean and Gordon go to the motel and try to figure out where the vampires have their lair. Sam finally gets back and asks to talk to Dean alone. Outside, Sam tells Dean what happened and explains that the vampires have "reformed." Dean doesn't believe it and doesn't care, and insists on killing the vampires. Sam figures that Dean is accepting Gordon as a substitute for their father, and warns that Dean can't fill the hole in his life with a bad substitute. Dean hits him, but Sam says that it won't make a difference. His brother says that he'll find the nest with or without Sam's help and goes back to the motel room. Sam follows him and they discover that Gordon has left to find the nest. Dean reluctantly agrees to take Sam along and see if he's right. They discover that Gordon took the Impala's keys, so Dean hotwires it while Sam traces his path back to the nest based on the turns they took.
At the farm, Lenore is packing when Eli says that they have to stay and fight in self-defense. She insists that all they can do is flee, and hope that the hunters will change just like they change. Eli goes to get the others in town.
Gordon drives around the area, trying to find the nest.
Dean and Sam backtrack Sam's route.
Lenore is packing things in the truck when Gordon grabs her and stabs her with a blood covered in dead man's blood. He takes her inside and proceeds to torture her. When Sam and Dean arrive, they find him torturing Lenore for the location of the other vampires. Sam tells him to back off, and Gordon decides to kill her because he figures she won't talk. When Sam tries to stop him, Gordon threatens him with the knife and tells him to back off. He insists that it's black or white, and explains that the vampire didn't kill his sister: it turned her into a vampire. Gordon tracked her down and killed her, and knew about the "peaceful" vampires. He figures that they'll eventually go back to their evil ways, and grabs Sam to prove his point. He cuts Sam's arm and lets the blood drip onto Lenore's mouth. She turns into full vampire mode, and Gordon asks if they still want to save her. She manages to control herself and insists that she won't give in. Gordon backs away, shocked, and Dean tells Sam to get Lenore out.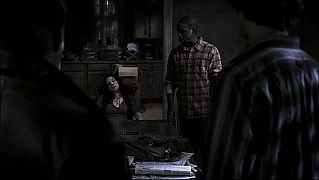 Dean draws a gun on Gordon and says they have some things to talk about. Gordon contemplates his knife and Dean's gun, while Dean admits that he has a hard time believing it but he has to accept the evidence of his own eyes. Gordon stabs the knife into the table, and Dean unloads his gun. The two fight and Gordon grabs his knife back. As they struggle, Gordon says that they're both killers, but Dean refuses to accept that. He knocks Gordon out and ties him up.
The next morning, Sam comes back and assures Dean that all of the vampires got away. Dean tells Gordon that they'll call someone in a few days to untie him, and then hits him and walks out. Outside, Dean asks Sam to hit him to make up for earlier. Sam says he'll take a rain check for later. As they go, Dean wonders if they may have killed other monsters that didn't deserve killing. He admits that he hates monsters because of how John raised them, and Sam assures him that this time, he did the right thing.