In Medford, Wisconsin, the Cooper Carnival sets up shop. A young girl, Nora, laughs at the clowns, while her father admits that he's always hated clowns. His wife tells him to hush and let Nora enjoy herself. As they tour the carnival, Nora notices a clown standing off to one side. She waves to him and he waves. but disappears when Nora points him out to her parents. They figure she made it up. As the family drives home, Nora sees the clown standing on the side of the road as they pass. She tries to point him out to her parents, but they've gone too far past. In bed that night, Nora is lying awake when she sees a shadow on the lawn. She looks down and sees the clown standing below. She goes downstairs and waves to him through the patio door, and then lets him in and takes his hand.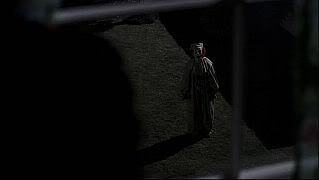 Sam and Dean take the body of their father into the woods and burn it on a pyre. Sam asks if John said anything to Dean before he died, but Dean says he didn't.
One week later at Bobby's junkyard, Dean is working on the Impala. Sam asks if he can help, but Dean angrily tells him to stop checking on him. When he insists that he's okay, Sam points out that he hasn't reacted at all in the week since John died, and that they need to go after the yellow-Eyed Demon. Dean points out that they've got no leads, and the only weapon that can kill it has vanished, but Sam does have one lead. He's cracked the voicemail code on one of John's cellphones and it has a four-month-old message from a woman named Ellen, who said she could help. Sam traces the location and they take one of Bobby's minivans to go to the address: a roadhouse in the middle of nowhere. They go inside and the roadhouse appears empty. They finally find a man passed out on a pool table. As they search the place, a girl gets the drop on Dean with a rifle. he quickly disarms her, but she punches him in the nose and takes it back. The girl's mother, Ellen, has already captured Sam, but knows the brothers as John's sons.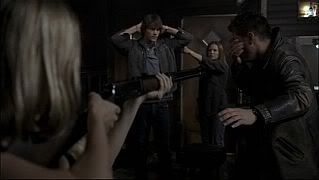 Ellen introduces herself and her daughter, Jo, and explains that she offered to help John with the Yellow-Eyed Demon. When Dean wonders why John never mentioned her, she says that he'd have to ask John, and then realizes that something is wrong. They tell her that John is dead and she offers her condolences, and Dean insists that he's fine. They admit they can't help, but that Ash, the guy on the pool table, can help. The brothers give Ash John's research on the Yellow-Eyed Demon, and Ash recognizes them as statistical overviews. He's impressed that John was able to figure out a way to track demons by omens. Using John's work, he can track the Yellow-Eyed Demon, but he says he needs 51 hours. As he goes, Dean leers at Jo, while Sam notices a folder next to a police scanner. She shows it to him and explains it's a file on recent circus-related murders. Meanwhile, Dean asks Jo how Ellen got involved with the supernatural, and the girl explains that her father was a hunter who got killed. He starts to try a pick-up line on her but gives up, and she admits that she's impressed he didn't try. Sam calls Dean over and says that there's something supernatural involved, and he told Ellen that they'd check it out.
The brothers drive to Medford while Sam goes over the files and explains that what appears to be a clown killed Nora's parents while leaving her alive. The police have no leads, all of the carnies have alibis, and Nora says the clown disappeared into thin airs. Dean can't help rubbing in the fact that Sam is afraid of clowns. There have been similar clown-related deaths in the past, in different towns in 1980 and with a different carnival. Dean figures that it's a cursed object, and asks why Sam took the job when they're after the Yellow-Eyed Demon. Sam figures that John would have wanted them to do it, surprising Dean.
At the carnival, a father takes his son Evan through the fun house, but Evan would rather play with his Nintendo DS. One thing does catch his attention: a clown waving to him through a mirror. The clown disappears, upsetting Evan, and his father assures him that clowns are friendly. That night at home, Evan wakes up his father and tells him that he was right, and clowns are friendly. Evan's father realizes that the clown is in the bedroom, holding Evan's hand.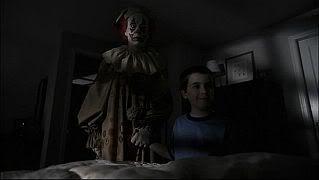 The next morning, the brothers arrive at the Cooper Carnival and notice the police talking to the carnies. A dwarf clown glares at Sam, making him nervous. Meanwhile, Dean confirms that Evan's parents were killed the previous night, torn to pieces. He figures they can scan for the cursed item using EMF, and notices a "job wanted" sign. They go to see Mr. Cooper, the owner, but Dean ends up insulting the dwarf clown and the blind knife thrower. They finally find Cooper, who explains that the police are blaming the carnival for the murders. He quickly realizes that they have no experience, and then talks about his father started the carnival and ran a freak show. He shows them a photo of his father, who looks just like him. Cooper explains that the carnival is a refuge for outcasts, and says that the Winchesters should go to school and get married. Sam responds by intently telling him that they don't want to go back to school, and that they want a job. Outside, Dean asks if Sam was sincere, and Sam admits that he's having second thoughts and wants to do what John would have wanted. When Dean objects, Sam asks if he has a problem, and Dean says he doesn't.
As the brothers do odd chores around the carnival, they scan for EMF patterns. Sam goes into the fun house but finds nothing except a skeleton. He calls Dean and suggests that the curse may have attached itself to someone's human remains. As Dean goes to meet him, the blind knife thrower, the Amazing Papazian, asks him why he's there. He overheard Dean talking about skeletons and EMFs, and warns that they take care of their own. Dean claims that he and Sam are writers working on a story about real-life ghost cases.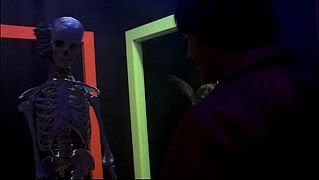 Dean finally meets Sam at the fun house, and they overhear a girl talking about a clown that isn't there. That night, they follow the girl and her mother home. Dean explains that Cooper worked for the previous carnival, the one where the murders occurred in 1980. Later, they watch as the girl lets a clown into her home. The brothers go in and Sam pulls the girl away while Dean shoots the clown with rock salt. it refuses to stay down, turns invisible, and leaps through a window into the night. The parents come in and assume the worse, and the brothers quickly escape. Come morning, they abandon Bobby's minivan and try to call Ellen. As they walk, Sam complains that Dean isn't dealing with John's death. In response, Dean points out that Sam is the one who is trying to make amends by doing what John wanted, but too late.
Sam checks with Ellen and confirms that the creature is a rakshasa, a shapeshifter that feeds on human flesh, can turn invisible, and must be invited into homes to kill their prey. They live in squalor on beds of dead insects, and have to feed a few times every 20-30 years. The brothers figure that Cooper is the rakshasa, and the only way to kill it is with a brass dagger. Dean goes to get the blade while Sam checks Cooper for dead insects.
At the carnival that night, Dean asks Papazian if he has a brass knife. Meanwhile, Sam breaks into Cooper's office but the owner captures him at gunpoint.
Papazian invites Dean into his trunk to look for the blade. Dean discovers clown makeup and realizes that Papazian is the clown and the rakshasa. It smiles and turns invisible, and Dean tries to get out through the door. The rakshasa starts throwing knives at him, and Dean smashes through the door and gets outside. He finds Sam and tells him what he's discovered. Sam gets an idea and goes into the fun house, but a door comes down and separates them. Sam goes to a pipe organ and removes one of the brass pipes. Dean comes in just as the rakshasa pins him to the wall with throwing knives. It starts throwing knives at Sam, and Dean turns on the steam to reveal it. He spots it and warns Sam, who stabs behind him and kills the creature just in time.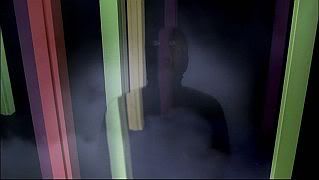 Later, the brothers return to the roadhouse and Ellen tells them that their father would be proud. Sam finally gets Jo's hint to leave her and Dean alone. She admits it wouldn't be bad if she saw Dean again, but he says it's not a good time. Ash comes in and tells them that he's rigged John's system into his computer, and he'll pick up the omens as soon as the Yellow-Eyed Demon becomes active again. He assures them he'll call when he finds anything. As the brothers go, Ellen tells them that they're welcome back anytime if they need a place to stay. Dean tells her that there's something he has to finish.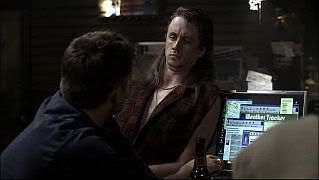 Back at the junkyard, Dean goes back to work on the Impala. Sam admits that his brother was right about what he said earlier, and worries that John died thinking that Sam hated him. He figures that he's not all right, but insists that Dean isn't either. He leaves, and Dean grabs a crowbar and starts hitting cars. He finally tosses the crowbar away, his temper spent... for the moment.