Hello Everyone!


Today is the Best day Ever! As its Sunday! So with Bright Morning Rising Sun! Great Day! A Holiday! Lets start our Day by Wishing our CUTE CUTE Naughty Naughty Lovely-dovely! Doll


Siham



aka Sisi


its Our Darling's Birthday.

Siham , you already know



that How much I LOVE You! We both talk like Mads around in PMs hehe. And share our Thoughts!

Hence, here I grab the Chance to Wish my Closest Friend here with Everyone's Wishes to Wish you...




Very Very Happy Birthday and a Great Year A head. May Today God Gives you Everything you want!


We wish your Wishes get Fulfilled with Joy!



but this is NOT Enough! As i already told u that I have a Surprise then I will Gift you that Shortly!

Everyone Please Wish our Friend on her Birthday




P.S :- There will be Additions in this Post Soon so Watch out and wait.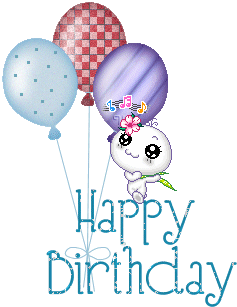 On your birthday I wish you much pleasure and joy;
I hope all of your wishes come true.
May each hour and minute be filled with delight,
And your birthday be perfect for you!

- Cake -



- Gift -

Dear Siham,
It's your birthday! We wish you a happy
birthday! May all your dreams come true!
-Lots of Love -
Best Regards Dev
and
from Pyar Ka Dard Hai Meetha Meetha Pyara Pyara Forum Family .


Edited by DevvivekAshNI - 03 February 2013 at 7:22am