To a person whose voice i've never heard but still rings melodiously in my ears through the laughs we share,
To a person who lives miles away from me but still is the dearest to my heart,
To a person who brightens up the whole space with her presence,
My dearest Rubab...Wish you a Very Happy Birthday!!!
A Birthday without gifts?? Nayy, thats not done.. OK, Here's my gift to u on ur birthday! Its a little definition of our friendship in the AT. Too long to be a one liner,
psshhh.. & u know, I suck wen it comes to writing long para's. Thats always Munnii dii's forte..
But still, its ur birthday
So kindly bear & read thru the entire crazy stuff!
Friends tread lawns holding hands..
Friends love each other selflessly..
Friends spend years sharing love & life..
Yo Rubab.. Dont look at me like
. I know the lines are too purrfecct & cheesy
& i know the magnitude of ur detest to perfect stuff!
So We, the Haraami Bandars
of the VirMaan AT hereby giv a brand new definition to friendship...A much simpler one, Jus like us!!! Here it goes..
For us, Friendship is living life amongst each other thru our very own emoticons...
( Umm...Stop laughing now!
!)
Like, we are happy wen peeps in our AT are
We are sad wen they are
.
We are crazy wen they are
.
We feel
when they are
.
& We, at the AT are a bunch of crazy idiots literally living our life & our friendship thru these emoticons. Thanks to these life savers, we are connected to each other's feelings across the globe.Thats y i say, We share a very unique friendship...
Miles apart, yet close to heart! (Now thats a one liner!
)
Psshhh...I know, that has to be the craziest definition of friendship till date. But courtesyRubab, am officially in love with emoticons now that the wacko in me defined friendshipusing emoticons.
LOL, I gotta be mad!
! But never mind, I can always attribute mymadness to my dearest friend's birthday
Wish u a Happy & Emoticonlicious Birthday Rubab! Lub u always..!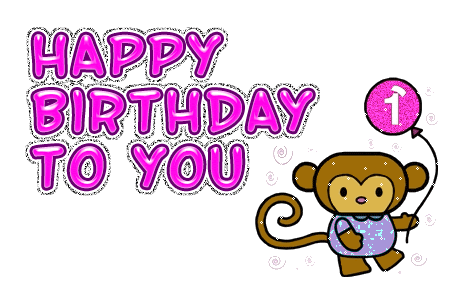 LOL rubab.. Thats Haraami Bandar for u on behalf of NiShal, on ur first birthday as myfriend!! Have a blast & dont forget to throw a party for all @ the AT!
!
That was a card for my masthikor friend!!! now its time for a cake! Make a wish fast!!!
Now keep that smile that came on ur face when u saw this cake and dont let it go anywhere!
Enjoy your birthday!! Let God give u many such birthday to celebrate!!!