Bejoy Nambiar picks unconventional options. In SHAITAN, his directorial debut, he chose relative newcomers [with the sole exception of Rajeev Khandelwal] to relate the story of well-heeled kids, belonging to the upper crust, who get implicated in a botched crime and how it pushes them to commit several lawbreaking acts.
In DAVID, Bejoy's second outing, he introduces us to three Davids. Dwelling in three different places. In three different eras. But the characters aren't linked to each other, though these characters do connect towards the film's resolution. Given the genre of the film, one would expect DAVID to hurl a lot of shockers at you. Sadly, it doesn't. Sure, the tone of the sequences alters constantly, from passion to angst to apprehension to conflict to retribution to vindication, but the film fails to involve you completely. What comes across on screen is inconsistent.
What you eventually carry home is the technique Bejoy adopts to narrate the three stories. But the gorgeous visuals and a couple of enthralling moments aren't enough. A film ought to score as a complete package. That's where DAVID falters!
The story revolves around the lives of three Davids in three different parts of the world in three different eras'
* 1975 London: David [Neil Nitin Mukesh] works for Iqbal Ghani, a dreaded Mafia don. He is a protg who is poised to take over the empire until a revelation changes the course of his future.
* 1999 Mumbai: David [Vinay Virmani] is a musician born into a family of devout Christians. He is a happy-go-lucky teenager who loses all semblance of his peaceful existence when his family gets dragged into a political issue.
* 2010 Goa: David [Vikram] is a fisherman who falls in love with Roma [Isha Sharwani]. The only hitch is that she is engaged to be married to his best friend Peter.
All three Davids are about to take a step which is going to change their lives forever.
I am certain, DAVID would've come across as a remarkable script on paper. But, like most films, it doesn't transcend from an entrancing script into a dazzling motion picture. Bejoy has great vision, no doubt, but the concept loses sheen because there's no connect between the stories. The three tracks go back and forth all through the narrative, which cuts short the drama at several junctures. Besides, the lethargic pacing mars the impact too.
DAVID appeals in bits and spurts, although the film begins on a promising note. The track involving Neil Nitin Mukesh is the best of the lot, followed by the one featuring Vinay Virmani. Again, not all episodes in these two stories are attention grabbing. The third one, featuring Vikram, just doesn't work. It has the potential, but the writer/s don't tap the potential to the optimum. As a matter of fact, boredom and dullness seep into the movie at regular junctures, which is not a positive sign when you're watching a thriller. Even the finale is not as compelling.
DAVID scores high in its technical department. Be it the luminous cinematography or exhilarating sound design or refreshingly different background score, the outcome is top-quality. The DoP comes up with spectacular frames and also captures the intensity that the characters radiate with dexterity. As for the soundtrack, barring 'Damadam Mast Kalander', there's not much to marvel in this enterprise.
The cast is incredibly proficient, with most actors submitting himself/herself to Bejoy's vision. Neil Nitin Mukesh is going to stun a lot of people in this film. He is top notch here, essaying his part with flawlessness. His body language is super. Vikram is a great talent and though his story isn't captivating, his performance is. Vinay is natural to the core and takes rapid strides with this film.
Tabu is admirable, as always. Monica Dogra is striking and the rebellion in her character stays with you. Isha Sharvani is photogenic, but doesn't get much scope to act. Lara Dutta appears in an insignificant cameo. Akarsh Khurana is first-rate. Rohini Hattangadi, Nasser, Milind Soman, Neil Bhoopalam, Nishan Nanaiah, Ajinkya Deo, Satish Kaushik, Prahlad Kakkar and Sheetal Menon -- each of them are skilful in their respective roles.
On the whole, DAVID is more style, less substance. A few moments do stand out, but they are few and far between. Coming from the director of SHAITAN, this one's a mega disappointment!
http://www.bollywoodhungama.com/moviemicro/criticreview/id/549471
David: Hindi Movie Review Posted by: Nabanita Updated: Friday, February 1, 2013, 11:45 [IST] Ads b Rating: 2.5/5
After treating us with the critically acclaimed Shaitan, Bollywood's one of the most innovative filmmakers Bejoy Nambiar is back with his latest offering David. David, a bilingual thriller is set in three time periods with protagonists who share a common name 'DAVID.' The movie boasts of an impressive star cast Neil Nitin Mukesh, Vikram, Isha Sharvani, Tabu that releases in both Tamil and Hindi film industries today. Story The story revolves around the lives of three DAVIDS in three different parts of the world in three different eras. 1975 London - 30 year old David works for Iqbal Ghani, a dreaded Mafia don, who controls the entire Asian community. He is a protege who is poised to take over the empire until a revelation which changes the course of his future. 1999 Mumbai - A 19 year old David is a musician, born into a family of devout Christians. He is a happy go lucky teenager who loses all semblance of his peaceful existence when his family gets dragged into a political issue. 2010 Goa - 40 year old David is a fisherman living in the small fishing village of Betul in Goa. He falls in love with the deaf and mute Roma - the only hitch is that she is engaged to be married to his best friend Peter in 10 days! Bejoy Nambiar successfully creates some gripping and thrilling moments during the 70s and 80s eras. But, some how fails to inter connect the three eras in the film. Spoilers: The plot of the film is too lazy to impress the audience. It might simply leave you yawn and dose off at times. Especially, the biggest spoiler is Vikram's part in the movie, where he falls hopelessly in love with his best friend's fiancee Roma (Isha Sharvani). The era in Goa seems absolutely irrelevant and disconnected from the entire plot. Performances Apart from his great looks, Neil Nitin Mukesh also delivers an impressive performance. We get to spot Mukesh's improved acting skills in David. Vinay Virmani fits well into the character of a middle class musician and does a good job too. Vikram is just outstanding in the film. Isha Sharvani is quite a stunner in the film, while Monica Dogra looks gorgeous. Verdict On the whole, David is a complete 'no no' for those who aren't too keen in spending time and money for dark cinemas.
Read more at:
http://entertainment.oneindia.in/bollywood/reviews/2013/david-hindi-movie-review-103123.html
'David' movie review: Grab your ticket at the earliest
0 Gayatri Sankar

Experimenting with and implementing out-of-the-box ideas aren't as easy as they seem to be. Bejoy Nambiar, who made his inroads to Hindi cinema with 'Shaitaan', which garnered rave reviews, has now come up with a visually thrilling piece of art- 'David'.
Nambiar has an unusual way of story-telling. With 'David', he unfolds stories of the three protagonists of the film who share a common name. The times they belong to are different and so are the places they hail from. With action, romance and comedy in somewhat proportional lengths, Nambiar strikes a healthy balance that doesn't leave you jaded.
Neil Nitin Mukesh (David) is based in London in 1975. Ghani, a dreadful and a very powerful gangster raises Neil and showers him with all his love, something which his biological son is deprived of. And Neil knows how to return the favours. For him, the world starts and ends with his father-figure Ghani.
Nambiar intelligently introduces the other characters. Vinay Virmani (David), who hails from a lower middle class Christian family in Mumbai in 1999, is an aspiring singer. And a notorious yet responsible son that he is to a very compassionate father, dreams of making it big in the field of music.
And then after comes Vikram (David), a fisherman from Goa in 2011. The happy-go-lucky guy, David sinks into alcohol for having been betrayed by his would-be wife. A man, who since then keeps a safe distance from women, confides his feelings to his dear friend Frenny, a small time body massage parlour owner.
Nambiar thoughtfully builds the stories of the three protagonists in his film who are diverse in all spheres- their situations, their dilemma, their miseries and their destinies. Yet in the end, their lives do bear a striking resemblance, for the way they conduct them, leave a strong poignant connect that knows no other language- but the language of love.
Neil Nitin Mukesh looks incredibly handsome in the film. He has pulled of a stunning performance and this character of his will certainly make producers queue up to him for their next. Raw talent Vinay Virmani is impressive and looks promising as an actor. And Tamil superstar Vikram is fabulous. The ladies in the film, though each of them has meaty roles to play, do hold great significance. Monica Dogra (Noor) not only looks gorgeous but also delivers an incredible performance. Isha Sharvani (Roma) has done a decent job but the lady who steals the show is the very talented Tabu (Frenny).
The other characters that had pivotal roles to play have done complete justice to their respective roles. Their realistic portrayals are worth applause.
The juxtaposition of the three stories is smooth and the transitions aren't surprisingly jarring (considering the diametrically different times they belong to). R Rathnavelu, PS Vinod and Sanu Verghese have been quite good behind their cameras and their efforts have paid off rich dividends, for the film looks visually appealing.
The songs are intricately woven with the storyline and are soothing. Remo Fernandes' Goan number will tempt you to shake a leg. And of course the all time hit number originally composed by Sufi Legend Bulleh Shah 'Damadam Mast Kalandar' sees a brand new way of representation.
The film successfully keeps you wondering about what will unfold next, for A Sreekar Prasad, the man with those sharp magical scissors has done a commendable job. The film looks neat, crisp and intriguing. And the climax holds a surprise.
The mise-en-scene is apt and does look every bit realistic. And so do the characters, who look quite familiar and very much unlike the ones specifically designed for films.
Nambair, is perhaps one of those young filmmakers in the country, who believes in delivering something
hatke
. And with his second Hindi movie 'David', the talented filmmaker only promises to bring forth more such creative works on celluloid.
Don't give this film a miss. So do grab your ticket at the earliest and treat yourself with something that's never seen before.
Rating:
http://zeenews.india.com/entertainment/bollywood/david-movie-review-here-comes-another-stunner-from-bejoy-nambiar_127198.htm
Movie review: David
(Action/ Thriller)
Saibal Chatterjee
Thursday, January 31, 2013
inShare
Print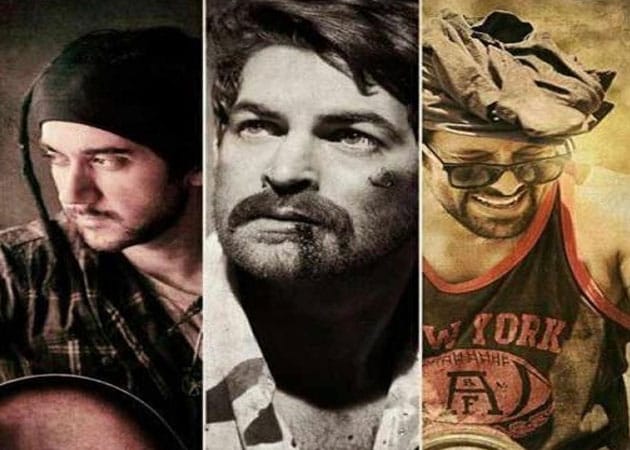 Cast:Neil Nitin Mukesh, Vinay Virmani, Vikram, Tabu, Isha Sharvani, Monica Dogra
Director: Bejoy Nambiar


SPOILERS AHEAD
It is apparent from the outset that the unusual narrative triptych that constitutes David has inherent potential. It is another matter that it is, at best, only partially realised.
Yet, in the end, writer-director Bejoy Nambiar delivers a film that he can be proud of, even more so than of
Shaitan.
Soaring, stylized, scruffy, scrappy and sharp by turns, David is never low on energy.
It plays around with a wide range of emotions, from the extremely intense to the oddly comical, from the flightily romantic to the strictly familial.
It is about retribution, love and forgiveness - that is what each of its father-son stories respectively deals with. As the film repeatedly moves from the sublime to the absurd, it courts the risk of careening out of control. Mercifully, it doesn't.
With a run time of 155 minutes, David tends to be a tad flabby at times. In other words, its pace is anything but consistent.
That apart, the quality of the writing (both in terms of how specific situations are set up as well as in relation to the lines spoken by the less convincing characters) is somewhat uneven.
But there is always room for redemption. Negotiate the sudden leaps back and forth between time zones and stories. Overlook the occasional overstretched passages. And discount the gaps in factual accuracy and logic - mid-1970s London was hardly the kind of battleground for Indian secret agents and enemies of the nation that David would have us believe it was.
Take that in your stride, and the film, taken as a whole, might just make sense.
David displays courage on many fronts. One, none of its three storylines plays out along conventional lines.
The tale of vengeance, shot entirely in black and white and set in a sombre Muslim milieu in Bradford, is anything but your average revenge saga.
The love triangle - it is about a hard-drinking Goan, a younger friend and a dainty hearing and speech impaired girl - flies off at a delightfully whimsical tangent, never to let go of its zany surrealism.
And the thematically strongest, if not necessarily the most riveting, segment of the film - woven around a struggling Mumbai musician's thwarted ambitions and his rediscovery of a misunderstood father in extremely trying circumstances - takes on stark political overtones rooted in the theme of religious fundamentalism.
The stories, set in three different eras (1975, 1999 and 2010), are tenuously connected and the film jumps from one to the other as the three male protagonists, all named David, fight their inner demons over a period of exactly a month.
David is unique also because it is a rare Hindi film that locates itself exclusively in spaces where India's two principal minority cultures - Muslim and Christian - dominate, without the filmmaker resorting to the cliched ritualistic trappings that go with any such depiction of the communities on the big screen.
Interestingly, the only Hindus who are portrayed in David are just fringe players in the tale of a Christian priest and his music-loving son who are assaulted by a marauding mob led by a religious chauvinist (Rohini Hattangadi in a cameo) waging a counterfeit war against 'forced conversions'. For a Mumbai movie, quite a remarkable plot reversal that!
Visually, too, David isn't run of the mill, with each of the three stories projecting a distinct feel, texture and colour.
The black & white slice, in which Neil Nitin Mukesh is a cold-blooded hitman in the service of a patriarchal real estate tycoon who is on India's black list, is a dark, brooding and bloody gangster drama cast in the mould of a noir thriller where sly whispers and quiet gestures are enough to strike fear in the heart.
The Goan segment of the film has a hearty Latino flavour, enhanced markedly by Remo Fernandes' robust rendition of the Konkani festive song, Maria Pitache.
He belts out the number as a sloshed David (Vikram) unleashes pandemonium in a ramshackle shack that can barely withstand the all-out depredation.
The youngest David - the one in the Mumbai musician's story - is played by a dreadlocked Vinay Virmani (who debuted in 2011 with the Indo-Canadian Speedy Singhs).
His Rastafarian look lends parts of the film a Caribbean feel, which is played off against the humdrum trappings of the lower middle class chawl that he lives in.
Neil Nitin Mukesh, in
Johnny Gaddar
mode, delivers a performance that is restrained and yet forceful. Vikram lays into his character with obvious delight and vigour.
Vinay Virmani does not break into a sweat in articulating the anguish and anger of a young man who seeks elusive answers from an insensitive world.
The supporting cast is also a notch above the ordinary. Nasser (as the priest) and Tabu (as a spirited Goa massage parlour owner and David's wordly-wise confidante) make the most of the limited opportunities they are given.
Monica Dogra (as Noor, the girl in love with the London assassin) and Isha Sharvani (the hearing and speech impaired beauty) aren't wasted either.
Especially striking is Dogra's warts-and-all interpretation of a convention-defying woman who loves her man too passionately to care a damn about social and religious niceties.
David has enough sinew to offset its share of flaws. Strongly recommended.
http://movies.ndtv.com/movie-reviews/movie-review-i-david-i-777
Vikram is praised every single where.. just what I wanted..