Hey Guys!

Hinal here! I'm not an active member of the QH forum by any means, but I do love the show! I am a silent reader, and then I got a sudden idea of this OS and had to pen it down...
I hope you guys like it!
Please do comment and give feedback!
I would love to hear your responses! Good or bad
Here it goes! Hope you enjoy it <3
Espresso Love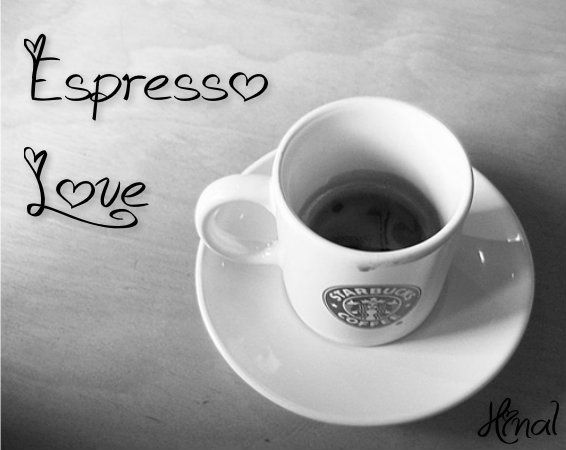 I left the conference room, proud of my achievement and success. I was renowned in India as The Asad Ahmed Khan. Owner of the largest corporation in India. But as I exited the building and walked in the busy streets of downtown Canada, I felt so insignificant, useless, and unimportant
In the crowd, I was just a random person with practically no reason to be happy. My mother had died a couple of years ago because of her depression, which was at its worst in the last couple of years of her life. And my sister was now happily married with Farooq. I was alone, absolutely desolate. No spark of hope was left in my life; and now that I think, perhaps there never was.
Ever since my father had forsaken our family, I had become very bitter. No emotions ever reached my heart, except towards Ammi, Najma, and Ayaan of course. I wasn't that stone-hearted. I wasn't like my father.
I sighed. Ammi was in jannat, Najma was in her metaphorical jannat, and Ayaan was always in his own little jannat no matter what. But then there was me, alone in my own personal hell
I stopped walking as I approached the crossing signal. I rubbed my hands together, as I breathed on them. The coldness stung my hands - but not as much as it stung my heart.
The pedestrian signal turned green, and I began crossing the street, as mechanical as ever.
When I noticed something, or rather, a someone
It was Zoya
Was it really her? No, it can't be. She went to New York, didn't she? What would she be doing here in Toronto?
I quickened my pace to see whether it was her or not. It didn't seem like her though. As far as I know her, which isn't that much, but still, she was like a hyper-active child. The one walking about 20-30 meters away from me didn't seem happy at all. Dressed in very formal attire, the person was walking rather lethargically
I don't think it's Zoya. No, it can't be!
I almost gave up trying to catch up. Until I saw her turn around, entering the convenience store at the end of the street
I saw her face, and was rooted to the spot
It was Zoya!
I really don't know what made me so desperate to see her, maybe the fact that she seemed depressed, or maybe because bickering with her always gave me pleasure (though I would never consciously admit that) but I ran, wanting to catch up to her
I almost reached the store, when she came out. She started walking, and in an effort to stop her from going, I screamed out her name. ZOYA!
I could sense her become conscious, as she hesitantly turned around. I ran up to her, making up for the distance between us
She smiled upon seeing me, though it didn't reach her heart
Zoya!
Tum yaha kaise?
I smiled in response, and for the first time in a long time now, it was a heart-felt smile
Me - Business ke kaam se. Aur tum? Tum toh New York mein rehti ho na?
The smile had faltered away, and was replaced by a sense of discomfort. She looked away and broke the eye contact, and spoke up
Zoya - There's no one in New York for me anymore
I heard her sigh. It was hard for me to fathom that this Zoya was the same one that would always be so hyper and energetic
Me - Tum badal gayi ho Zoya!
Zoya smiled and looked away, inhaling deeply. - Aur tum bhi toh badal gaye ho
I narrowed my eyes curiously, - What do you mean?
Zoya - You know, usually jab bhi tum mujhse baat karte, tum always ghusse mein hote the. Aur ab dekho, talking to me as if we're long lost friends
I couldn't deny that. It was true. Perhaps I had changed
Zoya - How's your mother? Aur Najma? Uski shaadi hui ki nahi?
I spoke over the lump that had formed in my throat, - Ammi jaan died 5 years ago
Zoya - Oh, I'm sorry
Me - No it's fine. But Najma is fine. She is married
By this time, we were now walking along the sidewalks, to no place in particular
Me - Tumne? Tumne shaadi ki?
I don't know what made me ask this question, but I silently hoped that the answer was no... Though I have never admitted it, I had felt for her when she lived with us years ago. Of course not love, but as a friend... That still doesn't explain why I asked that question, but I don't think I have an answer for that as of yet
Zoya shook her head sideways, to indicate a no
Zoya - Aur tumne?
I've never been good at reading people's expressions or anything, but from what I saw, I really thought that Zoya was hopeful for a no from my side as well
I smiled, and responded with a casual No
Me - So what've you been up to in Toronto?
I noticed her trying to avert the subject, when realization struck me; it was all a mask, a facade, a deceptively convincing one. It always had been.
Me - Shall we go to Starbucks?
She threw a quick glance at her watch, and accepted my offer
We walked to the nearby Starbucks, finally getting out of the coldness outside
Me - Espresso?, to which Zoya nodded
I ordered 2 espressos, as she went ahead and got us a table
As I waited near the counter for our order, I glanced towards Zoya. There she was sitting on a table that faced the windows. She rubbed her hands together, as she breathed on them. Her nose was still bright red, despite how hot it was inside Starbucks
Me - Kyun Zoya?
She turned to me swiftly, as confusion engulfed her
Zoya - What?
Me - Why did you pretend to be something you're not? Yaa phir you're pretending now, lekin that seems highly unlikely
She sighed, and even attempted to dissuade the conversation, but I still continued asking her anyway
Me - Is everything okay?
I pressed my hand on hers, which was resting on the table
She looked up, with watery eyes. It hurt, well pretty much stung, my heart to see her so sad, and upset
She closed her eyes then, and put her gloves back on
Zoya - I should go now Asad. It's getting late
Me - It's fine! I'll drop you home. Don't leave
The last bit was my desperation taking over. I wanted to talk to her, to share my worries and share hers as well. I needed her, and from what I could presume, she needed me too
She tried denying the offer, but then again, who could ever argue and win against me? Even she had to give up
She sat back down, and smiled. It was a genuine smile, and it really made things all better again
Zoya - You still haven't changed that much Mr. James Jahapanah Bond
I let out a laughter, and she joined me as well. Finally we began conversing, and soon enough, we were finished our espressos. She used this as an excuse to leave, but I kept her back
Me - How about I'll get us some more espresso to drink, and then we actually start talking?
She was at first reluctant, but then nodded to the suggestion
We then began talking over the 2 cups of espresso, and after what seemed like an eternity, we finally poured our hearts out to each other
We weren't crazily in love for each other, but nevertheless, we both had feelings for each other
It was an espresso love; strong black coffee which wasn't all cream and sugar and milk, but also bitter. Nonetheless, it was enjoyable, and added the ever-needed caffeine in our lives


Edited by basket_101 - 26 October 2013 at 3:49pm