H A P P Y B I R T H D A Y T O Y O U






Joined IF on 25th July 2005


Became a part of IF while searching for Sindoor Updates


Has moderated forums such as, Mamta, Maayaka, Banoo Main Teri Dulhan


Loves to read Fanfictions


Became a part of the Crazycreative team on December the 11, 2011

OMG what does the paper say...
whose birthday...
gosh I almost missed the party
run run sami there are angry fellow Ccs behind
Radha come along lets finsih the thread fast...
ah finally the big party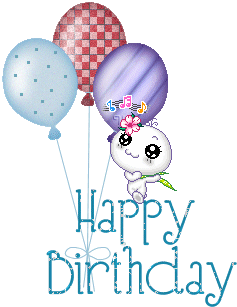 Yuv
i
k
a




Tum jiyo hazaaron saal
saal ke din hon pachaas hazaar
dear yuvi god bless you






On your birthday I wish you much pleasure and joy;
I hope all of your wishes come true.
May each hour and minute be filled with delight,
And your birthday be perfect for you!
~By Joanna Fuchs~


Crazy Style Proposals For Yuvika




Angel-Jot.



If I was a guy and I was proposing to Yuvika, I'd gift her a dozen chappals and promise to buy her chappals all her life if she married me.
But seriously though, happy birthday Yuvika! Hope you have a great day filled with lots of happiness and cake.. and gifts.. and chocolate.. Did you know one chocolate bar has 8 insect legs in it on average? *shudders* Creepy isn't it? But mehhh. What's it matter? Chocolate is chocolate.
So, uh.. Yeah. BIRTHDAY YOU. HAPPY. HAPPY. YOU. BIRTHDAY.



Curdleup



Hey Yuvika. Tu Kain Hai Beh?
Main dhada. LGTL ka dadha
okay okay don't hit me please I love you. :D anddd its a big day for you no? (but didn't you blush?
) I am a very good dhada actor :DD BUT MANY MANY HAPPY HUGS AND RETURNS AND WISHES (did your brain just explode) (mine did)


But still. Imagine me on like a white horse. No no make that brown. (white horses get gandha quickly) a brown horse yeah? with a white sari on and i come galloping to you with the jalebis in my hand (no wait thats for Stuti) with dadha sitting behind me (hes gonna propose not me) AND HE PROPOSES!! I CAN SEE YOU ALL OVER THE FLOOR ALL RED AND SHY.

h a p p y b i r t h d a y.

:D I L Y


Dear Yuvi,
It's your birthday! We wish you a happy
birthday! May all your dreams come true! May the years ahead be prosperous and bring everlasting happiness.
With Lots of Love,
The Crazy Creatives

Credits:
Angel-Jot.
Sami01
-Stutz-
MP_Radha