Posted:

26 January 2013 at 9:31pm

| IP Logged
Hello Amigos !!

Welcome to the Appreciation Threadof CW's hit out show
"SUPERNATURAL"
This is our place guys , to discuss away our supernatural fantacies andour crazyness for the show !
Let the show begin then.. with ourhot Winchester Boys !
About the Show :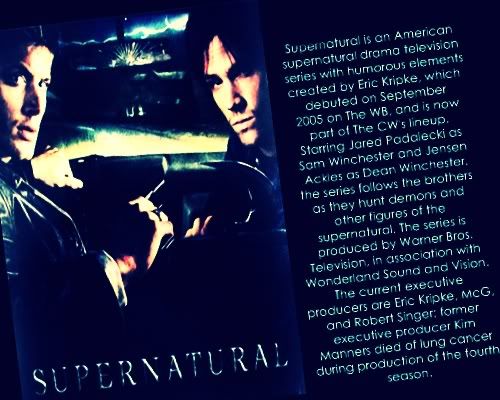 Credits :
Main banner avi - Oblivion (Sahar) About the show and dean layout - herms_angel (Husna) Sam layout - -Seri_KSG- (Sehrish)
Credits for Layouts :

Jensen layout - -nautankidollz- (Dolly)

Jared layout - -AngelSim- (Simrit)

Core Makers : Husna, Sehrish, Dolly, Neha and Kankshita. Emergency Core Makers : Smriti, Zehra and Mona. Khabru's/News reporters :


Edited by -SPNAT- - 15 May 2013 at 9:04am