Salaam Namaste Everyone!
Aaya basant hansata gaata,
rang-birangi phool khilaata.

jhoom rahi hai har daali daali,
kook rahi koyal matwaali.

Gun gun gun gun bhanwara gaata,
titali raani se batiyaata.

Khush ho bachche patang udaate,
wo-kaata ka shor machaate.

sardi kehati ab hai jaana,
mausam lagata bahut suhaana.

aaya basant hansta gaata,
masti ki gaagar chhalakaata.
The CC team
is as always the first to wish you all on the special occasion...
the awakening of mother earth from deep freeze
the blossoming mango grooves
singing of koyals

the green fields of wheat and of course
blossoming fields of sarson
Basant is here..

Basant Panchami is a festival celebrated to mark the end of the gloomy winter and welcoming the vibrant spring.
It is usually celebrated on the 5th Magh (which happens to fall between January and February) which is why its called Basant Panchami
the festival has its root deep in Indian culture
numerous ancient paintings show the celebration of spring festival in ancient India

On this day, people dress in yellow and take part in many celebrations i.e. Kite flying. Yellow is a symbolic colour to this festival as it signifies the brilliance of nature and the vibrancy of life. There is a calm and vibrant feel to the celebrations of basant panchami.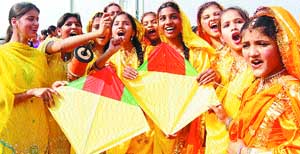 People offer yellow flowers to the Gods and Goddesses and prepare special dishes such as Kesar Halwa. During this festival, the Indian fields are filled with yellow mustard flowers.

The celebration of Basant Panchami is centered on Goddess Saraswati. Saraswati is the goddess of wisdom. She represents the different aspects of learning such as the sciences, arts, crafts and skills. She is said to be calm and collected, often pictured seated on a lotus/peacock, wearing a white dress, symbolizing purity.

Ancient Indian culture emphasized on gaining knowledge though quest and teachers were considered more respectful than even kings.
In such a rich learning tradition children also start their education with blessings of Saraswati on this day.
The festival is really popular northern Indian state of Punjab associating with martyrdom of Veer hakeekat Rai from hands of Moguls.Before partition the main Mela was held on his tomb in Lahore.
Now a days it is celebrated in form of various Mela's in various parts of Punjab specially in Patiala

Western Punjab also celebrates Basant with its vibrant cultural galore of pre partition days.People wear yellow and do patangbazi with spirit of spring in air.

On this special occasion, lets all wish one another and remind one another of the importance of learning, knowledge, wisdom and purity...
Live
Laugh
Love

Credits:
For editing layout: sami, jot, radha
For logos: -Najmeen-


Edited by MP_Radha - 27 January 2013 at 8:42am