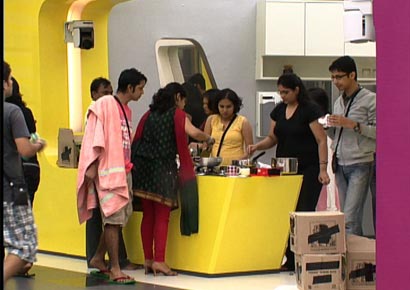 A view of the inside of the Bigg Boss house
The 'eviction set' of the famous television show Bigg Boss was gutted in a massive fire in the wee hours of Friday, due to a short circuit in the house. Before the flames rose out and people noticed the fire, everything at the set was burnt to ashes.
Official sources had earlier said that the entire bungalow (the house where the contestants stay) charred down, however, they later corrected themselves, saying that only the eviction set caught fire.
According to the security guards at the eviction set near the Bigg Boss house in Lonavla, the fire broke out around 2:30 am and everything inside the set was burnt. Since the show's sixth season got over about two weeks ago, there was no one at set. There was no loss of life, but loss of property was 100%.
The security personnel informed police after they noticed the fire, after which, fire tenders were rushed to the spot to douse the blaze.
The eviction set is where Salman Khan used to shoot, interact with the participants of the house and welcome other guests in front of live audience. This was the place where the episode was shot every Friday.
Lonavla Police Inspector Vishnu Pawar said, "The entire set turned to ashes by 4.45 am, even though there were fire brigades from three regions trying to douse the fire. An industrial shed was used to create the eviction set, where the fire broke out."
The CEO of Lonavla Municipal Corporation Ganesh Shete and Local Corporator, Bharat Harpude of BJP reached the accident spot early in the morning while the fire was being doused.