Tears of anger raced down her cheeks, "Apne wo dudh kyun nahi piya Devarji'.Kyun'.."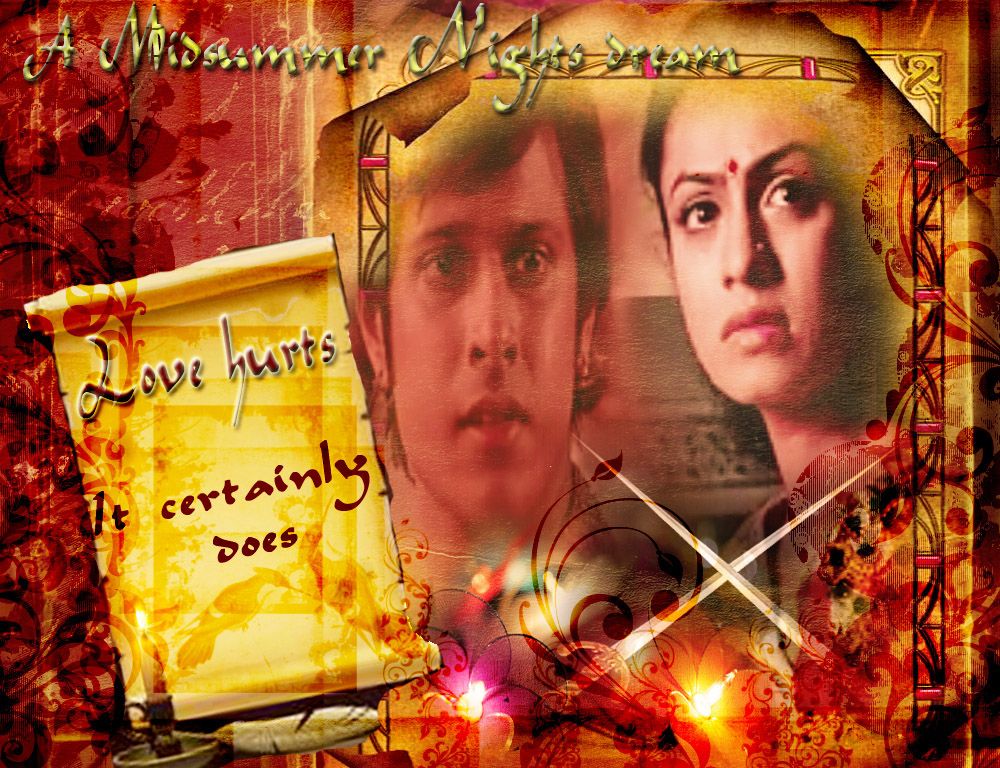 "Gulaal, akhir kya hua hai? Hum aap ka yeh vehvaar samajh nahi paa rahay, itna ghusa, kyun gulaal? Ap kyun khud ko kasht de rahi hen? kya ap is vivah se khush naheen? "He sat beside a crying Gulaal placing his hands hesitantly on her shoulders.
She hunched her shoulders shoving his hand away and stood up and cried , "Khush !! Khushi aur hamara naata bohot samay pehlay hua karta tha rajkumaar Kesaraditya !! aur kabhi aap ne kisi vastu k hriday men bhavnaen dekhi hen?",After walking a few steps away from him ,she turned around staring at him blankly with cold eyes, " Vastuon ka toh hriday hi nahi hota rajkumaar, aur hum bhi is vishaal mehel men padi aik vastu k samaan hen jisay aap jesay raja maharaja apni avashakta k liye le atay hen"
Horror paralysed his limbs, Her bitter words sunk in his ears like poison. He was utterly shocked and he walked towards her, "Gulaal !! aap janti bhi hain ap kya keh rahi hen, akhir yeh sab vichaar aap k man men ayay kaisay, ap is tarah khud ko haani kyun puhanchana chahti hen'.."
She gave him a mocking smile.Her face gleaming in a contemptuous smile "Hamara woh adhikaar kahan hai rajkumaar k hum koi vichaar apne man men laa payen, humne kaha na hum aik vastu k samaan hen aur aik vastu ka vichaaron se koi sambandh nahi hota. Vichaar toh ap jesay rajaon k hotay hen !! bohot khush honge na aap k hamen jeet liya aap ne !! akhir hum aap ka puruskaar jo hen, dusray rajya ko khatam kar k apne rajya men milanay ka puruskaar !!"
Kesar's blood froze in his veins.Never in his worst nightmares he had imagined such hatred and insult. He grabbed her shoulders in anger, "bas kijiye gulaal, akhir ap ko hua kya hai, aap hamara puruskaar? aap hamari patni hen gulaal !! ap kyun apni tulna mehel men rakhi vastuon se kar rahi hen, ap aik manushye hen gulaal aur hamari patni hen, is mehel men ap k maan samman men koi kami nahi hogi, hamaray liye aap ka maan samman utna hi zaroori hai jitna k hamara"
"Kis samman ki baat kar rahay hen aap rajkumaar !!",She pushed him back, " kahan tha yeh samman jab hamara rajya barbaad kar diya gaya !! ",She gritted her teeth, "kahan tak hamara samman jab aap k bhai sa ne hamen bhari sabha men ghaseeta !! kahan tha yeh samman jab puri praja k samne hamara bhavishya likh diya gaya aur hum kuch nahi kar paaye !!",Her condescending words echoed in the huge room.Her tears of pain and years of pent up emotions trickled down her cheeks.
"Is baat se kya matlab hai aap ka? Kya aap yeh kehna chahti hen k yeh vivah aap ki icha se nahi hua? Nahi gulaal, is vivah ka nirnay aap se aap ki icha jaan kar hi liya gaya tha", Kesar's face hardened with anger. His voice and body became stiff and sharp-cutting as a knife.
"Icha aur vivashta men antar hota hai, kintu ap yeh baat kabhi nahi samajh saktay",She spat on his face ,her face turning red with rage and helplessness.
"Kya matlab hai Apka'Is pavitra bandhan ka koi matlab nahi hai'..Aaap aaj tak wo panch varsha purani baat lekar baithi hain..Itni kadwahat hai apke man mein'.Gulaal'us din aap hi ne to ye nirnay liya tha'.phir aaj yeh sab'..",Kesar gulped a huge lump in his throat.
"Nirnaya..haan Humne liya tha Nirnay'.Parantu..apne humein Majboor kar diya tha'Humse humara Rajya,Humare pitaji sab kuch cheen liya gaya'Aur aap kehte hain ki..humari Icha thi yeh sab'.Kahan thi humari Icha Rajkumar.. jab apni puri sena ke saath bina kisi karan k humare rajya par vijay prapta karne chale aye the'..Humari icha tab kahan thi Rajkumar..Kahan'..Batayiye hai koi uttar'.Aaap aur apke ahankari Pita'",Gulaal shrieked in anger.
"Savdhaaan Gulaal, "Kesar raised his hand to Slap her but balled his fist in anger pulling it back, "hum apne Pitaji k Vishay mein ek bhi shabda nahi sun sakte..Aur paanch saal pehle jo hua..uske piche ek wajah thi..Apke Rajya ne Maharaj ka apmaan kiya tha'.Us apmaan ka pratishodh to lena hi tha'Hum apne PITAJI KE APMAAN KO KABHI NAHI SEHAN KARENGE'.Galti hui thi'to dand to milna hi tha'.",Kesar's eyes threw glared hexes at Gulaal'
"Ruk kyun gaye Rajkumar'Mariye humein 'Dand to humein apne de hi diya hai'.Apna sara jivan humein is dand ko hi bhogte hue katna hai'Marna chaha parantu ye bhi apko pasand nahi aya'.",Gulaal fell on her knees, "Sara jivan in bediyon mein ..is ghutan mein humein jina padega'"
"Acha'",the barometer of his simmering temper reached its peak. He pulled her hand harshly making her stand , "Bediyan lagti hain apko yeh'To tod kyun nahi diya in bediyon.. ko jaise kal raat apne solah shringar utar kar phenk diye..to kyun yeh mangalsutra nahi tod diya..Kyun yeh sindoor bhi nahi ponch diya kal raat hi apne'.Kyun Gulaal kyun''",Kesar dug his nails deep into her arms making her shocked .She clutched the long mangalsutra hanging from her neck and thought hard. Why did her hands really shiver and Why she could not break it last night.? She remained silent with her motionless body stiff in her grip.
"Chup kyun hain Gulaal'",His face became red with anger.His nostrils flared, "Hum batatey hain Gulaal ..kyunki ye bandhan atoot hai'.Yeh yuh toda nahi ja sakta Gulaal'Hum apkke pati hain aur aap humari patni..Yeh baat utni hi satya hai jitni ki yeh dharti aur akash'Is baat ko jitni jaldi sweekar kar lengi sabke liye acha hoga. Arey sirf 16 saal ke they hum...jab yeh dor apse bandhi thi'.Aur sirf dor hi nahi bandhi thi..paanch saal pure paanch saal apse alag rehkar humne sirf aap hi ko chaha hai..Har pal har din. '.Humarein man mein sirf aap hi basi hain.itne salon humne sirf aap hi ko chaha hai '",Kesar's voice quivered in the flow of emotions '
"ap ne toh hamesha jo chaha who paaya hai rajkumaar,",She thinned out her lips in a contemptuous gleam, " aur lijiye, aap ki yeh chahat bhi poori hui'." She took hold of her chunar n crumbled it in her fist n threw it on his face, "hum khaday hen aap k saamne, aap k paas, aap k kaksh men, aap ki patni ban kar !!Ek patni hone k natey jo bhi humare kartavya hai hum sab pure karenge'",she yelled loudly all the time crying bitterly, " Batayiye hamen kya karna hai !!Batayiye..Aaaj hum apko wo har adhikar detein hain jo ek pati k hone chahiye.. Kar lijiye hamaray sath jo bhi aap karna chahtay hen !! Kar lijiye apni har icha poori !!"
Prince kesaraditya was hell shocked listening to these words from his wife of five years. He looked at her with utter disbelief in his eyes. He had not imagined in his worst dreams that his wife for whom he had waited for 5 long years would confront him like this n will use such humiliating words for him and his pure and true feelings. He balled his fists in anger n harshly grabbed her from her shoulders.
His voice broke into hiccups and he stammered in anger, "Aap ki himmat kesay hui aisay shabdon ka prayog karne ki gulaal !! aap samajhti hen k hum aap ko yahan apni ichayen poori karne k liye laaye hen !! agar hamaray man men aisay vichaar hotay toh aaj yahan aap ki jagah koi daasi hoti !! aik patni aur aik daasi men bohot antar hota hai !!! aap ne aaj yeh sab keh kar khud apna apmaan kiya hai gulaal, aur na keval ap ne apna apmaan kiya hai balkay hamara apmaan bhi kiya hai !! aap ne socha bhi kesay k hum aap k saath'.. chiii !!"
He felt so disgusted with himself and shook her violently , "aap ne aik patni honay k maan samman ka niraadar kiya hai gulaal, hum un rajaon men se nahi hen jo kisi daasi ko jab chaha apni ichaon aur avashaktaon k anusaar upbhog karen aur jab chaha usay utha k bahar phaink den !! patni daasi nahi hoti gulaal, patni jeevan saathi hothi hai, jeevan sangini !! jis k saath hum apna jeevan bantte hen, jo hamare sukh dukh ki sangini hoti hai, hamaray jeevan k palon ki saakshi hoti hai, who aik mitr hoti hai, aik sameekshak hoti hai, aik sahaayak hoti hai, aap ne toh patni shabd ka apmaan kiya hai gulaal, chiii, kya aap ko apne aatma samman aur garima ki chinta nahi rahi?"
Gulaal yelled loudly pushing him back while Kesar felt as if he she had been struck with a lightening, "Aatma samman !! Kis aatma samman ki baat kar rahay hen aap rajkumaar kesar !! Hamaray aatma samman ki chita toh vivah k mandap ki agni men hi jalayi ja chuki hai !! hamaray aatma samman ki mrityu toh usi samay ho chuki jab aap ka naam zabardasti hamaray jeevan ke saath jod diya gaya !! Hamaray aatma samman aur garima ko yudh ki aandhiyan apnay sath uda le gayeen rajkumaar, ab bacha hai toh bas hamara yeh shareer, aaj is shareer ko bhi khatam kar dena chahtay thay hum !! isay bhi usi agni men suaha kar dena chahtay thay jis agni ne hamara jeevan jala k raakh kar diya !!Parantu lagta hai apko is shareer se bahut hi prem hain'Apni icha puri kar lijiye ..Ye dhong kyun..Yeh natak kyun'"
"Rajkumari Neerjaaa",He grabbed her hair harshly in anger, "Savdhaan..bahut kuch keh chuki hain aap ab bas'Pehle to apne samman ki nahi to humare samman ki garima bana k rakhiye'..Humein dhongi keh rahi hain aap'.Lagta hai kisi ne apko sikhaya nahi ki Apne pati se kaise baat karte hain'..Aaj k baad hum yeh bilkul bhi sehan nahi karenge'.Apke hriday mein itni ghrina hai to aise hi sahi'Aap humein kuch nahi manti to aise hi sahi'.Parantu aap patni hai humari aur is rajya ki hone wali rani..Ab apki icha ho ya nah ho..Yehi apka jivan hai aur yehi apka Ghar'Dand ho ya Khushi'.Ab yehi apki Niyati hai..Samjhi aap..Aur dobara humse unchi awaz mein bilkul baat nahi kijiyega'.Samjhi'.Warna hum apko dand ka sahi artha samjha denge'Humein chunauti dene ki bhul kabhi mat kijiyega kabhi nahi samjhi aap'Patni hain Patni ki tarah rahiye'Humare upar rajya karne ka prayas mat kijiye ",He pushed her on the floor and walked away in anger gritting his teeth.Gulaal rolled on the floor crying bitterly .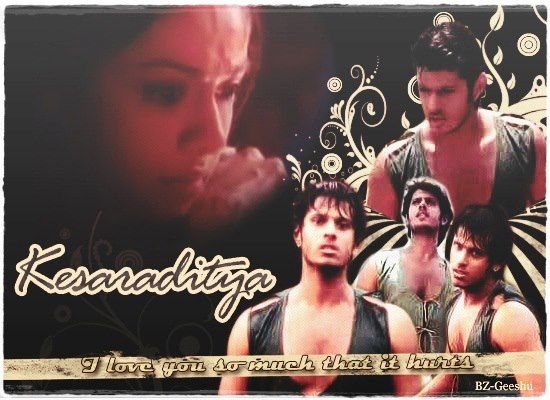 poster credit- my jadugarni geeshu
The desert heat arose along with the heat of the sweltering sun. The warm winds blew hard and the rarefied air gave an impression of an oasis which was actually a mirage amidst the sand dunes. Similarly respite eluded him .He had been pursuing a mirage all these years. The house of his dreams was shattered and burnt into cinders. His heart burnt and with anger he fiercely straddled on his horse racing through the stormy winds of the desert with his face covered with a cloth. Only his painful eyes burned with rage. Her words swooped upon him like a whirlwind threatened to choke him. He rode as fast as he could Kesaraditya was furious. The completely shocking bitterness made his heart wrung like damp cloth .A vice like pain gripped him. The racing of the horse of was so fierce that the momentum did not stop. The oasis in the midst of the desert was right before his eyes and his horse would not stop. It's tapped splashed inside the water and he fell with a loud crash landing in the water. Heat of his body quenched as he banged his fist in the water. But the burning in his heart was too much for him to bear'.It tore him apart. He sat there on the wet ground and wept bitterly Recalling her harsh words which made plunged him into cavernous glooms.

FIVE YEARS AGO ,JYESHTA PURNIMA,1653 PALACE OF RASHIPUR.
She suddenly came in front of him. Her plump lips parted in a wonderful glorious smile, "Humein Kshama kar dijiye Rajkumar'",She folded her hands .Kesaraditya forgot to breathe.The moon had rose full high and she was standing there right in front of her just like she did in the afternoon with her veiled face, apologizing. As if orchestrated he took the remaining step forward and in the spur of the moment ,placed his hands on her pouted lips making her shiver , "Shh '"
"Dhat'",She bit her bottom lip in excitement and fell into his arms. His heartbeat stopped and he could smell the fresh fragrance of juhis '
Her anklets tinkled and suddenly she misbalanced and both of them fell.
Kesar woke up with a jolt, realizing that he had fallen from the bed. He was in an unknown room. It took him some time to realize that he was in the guest room of the palace of Rashipur.After the events of the day, Gulaal's barging in the celebration and everything he had been left so drained thinking about her that he had decided to sleep early. He was sweating profusely and the summer heat coupled with his storming thoughts made him restless. Getting up from the bed still groggy eyed, He moved out towards the balcony aimlessly and stared at the big bright moon shining brightly in the rich backdrop of the sky littered with stars. He had been a wild lion ' a king of his heart ,but the wild lion felt pitiful helpless as if threatened to be tamed by Gulaal-the mighty knight's heart was made to dance at the latter's tunes. Her smile, her eyes and her crystal clear voice ringing in his ears made him more anxious. He shook his head violently to wake up from her thoughts maddening his pace furiously but alas of little respite.
It was bright and beautiful. The night sky' .He glanced faraway and was curious as he saw someone running ,someone in a white beautiful lehenga , Her hair flowing behind her ,and suddenly she stopped to talk to someone sitting on a camel. Barely there two minutes she covered herself with a blanket and walked back. The camel too turned away and moved in a different direction. Kesar was curious as her petite frame was similar to Gulaal. He ran through the flight of stairs leading to the gardens below but was startled to see right in front of her and stopped dead in his tracks. Dazzling in a white lehenga ,her face covered with a veil she stood face to face with him looking equally startled. Before he could react ,she giggled, "Kya hua Rajkumar Kesar. Apko neend nahi aa rahi hai'.humare swagat mein koi kami reh gayi kya'"
Kesar was amazed at her honeyed eloquence and replied flabbergasted trying to hide his blush thinking about the actual reason for his restlessness, "Nahi wo'Yahan ..aaj Garmi bahut hai'..",Kesar almost flipped trying to suppress his laugh at his silly reason .
"HAAHA",her laughter as tinkling of bells reached his ears as she flung herself on a swing nearby and said , "Ab hum yeh chahte hain ki hum apke liye pankha jhalein. Aur lori gakar sunayein..Itni mehnat to hum nahi kar sakte'",She swayed on the swing and Kesar walked towards her and leaned on a tree trunk folding his hands across his bosom watching her accentuated playfulness and free spirit.
He felt embarrassed and stuttered,"Nahi wo bas humara matlab.."
"Arey rehne dijiye..hum to yun hi hansi thitholi kar rahe the'.",Gulaal giggled.
"Wwwo..Aapke Woo'Humara matlab hai wo Meera aur Govind kahan gaye'.",Kesar chewed his lips trying to mask his anxiousness talking to her trying to find reasons not to leave that place.It was atrocious ,a shame to invade her privacy as he realised he actually was standing in the women's section of the palace but he did not want to leave the sight of her. He looked for one reason or the other to continue the conversation.
"Arey'Itni raat ho gayi hai. Wo dono so hi rahe honge'aap bhi na'Aur waise bhi 'Itni raat ko sirf Ullu aur Rajkumar Kesar hi jagte hain haha",She laughed hard.Peals and peals of laughter swinging and leaving Kesar fuming burning with humiliation.
His face stiffened in anger and he gritted his teeth, "Aur aap phir aap kya hain"Kesar rolled his eyes and turned his face away in anger.
"Arey",her lips parted in shock and she ran towards him, "Aaap to bura man gaye Rajkumar'Hum to bas yun hin'Hansi thitholi kar rahe the..Humein kshama..",She folded her hands bowing her head .
"Ye acha tareeka hai..Aaap Rasipur walon ka pehle apmaan kijiye phir'Kshama mang lijiye..Sirf ek shabda hai na apke liye'",Kesar threw glared hexes at her.He knew not why he was angry .Whether it was her jabs at him or whether it was his own restlessness.
"Arey nahi. Hum to sach mein hridaya se kshama mang rahe hai. Apko vishwas nahi hota'hum jhooth nahi bol rahe hain..Sach'Kehte hain Jhooth bolne walon ki naak Chudail kat leti hain..Lekin ye dekhiye. Humari naak to bilkul theek thank hai'.",Saying this and moving her face near to him ,she suddenly lifted her veil and pointed towards her nose. The moment just stopped for Kesar as he forgot to breathe. He felt his pulse leap like a frog and he almost could hear his heartbeats hammering under his bosom. She was fragrant, Just like the fresh morning glory ..pure and untainted like the fragrance of the incense sticks burning in front of an idol. He could now see her in her full splendour. He felt captivated by her earthly splendour as the moonlight bathed her pristine face which she twitched innocently creasing her brows .Kesar felt captivated by her charms completely floored as if he had seen a Goddess unalloyed, untainted by the vices of the world. A goddess whose flawless beauty was untouched and undiscovered by this world. Just pure as the rays of the silver moonlight that glowed in vibrant detail angelic face. A curl was drooping down on her forehead which was adorned with mangteeka and her huge nose ring was touching the edge of her plump lips..
"Kya hua Rajkumar ab to apko bharosa ho gaya na Meri naak to theek hai..Ab to kshama kar dijiye.", Half of her words were beyond Kesar's comprehension as neither his state of mind nor senses allowed him to yet in his heart stirred something small which was about to brew into a storm.
He just muttered, "Hmm"
Gulaal squeezed her eyes sensing his eyes on her and blurted, "Aap aise kyun ghur rahe hain Rajkumar'"
Baffled at his gazing spree and being caught red handed staring at her blatantly he shook his head,"Nahi main wo'He lowered his eyes and suddenly lifted them locking gazes with her and blurted in muffled tones, "Wo aap k khulein balon mein bahut sundar lag rahi hain.
Kesar was gazing at her with wolfish eyes while Gulaal still seemed to flutter her eyelids in confusion, trying to absorb what exactly happened and what exactly he said ?Her look seemed to stir in him a vague feeling that he could not construe. But something definitely made him uneasy.
"Kya ",She twitched her face.
"Kuch nahi hum bas keh rahe the ki. Humne kshama kar diya apko'",Kesar bit his lips in embarrassment.
" Phir Theek hai'."She smiled one of her radiant smiles and leaving Kesar's heart ready to explode with a thud, she walked away and his eyes kept on following her until she collided with someone and her chunar feel on the ground. Kesar saw her colliding with Dushyant who was staring at her.
"Oh Kshama Kijiyega hum bhi na'..",she quickly covered herself and walked away leaving both of them in stupor.

Later that night ,she opened her pages and scribbled with the ink'..with the strokes of a feather. For the first time in her life ,she had met someone who was just like Vasant ,his innocence had touched her the moment he gave her back Meera and Govind gifted by the love of her life Vasant.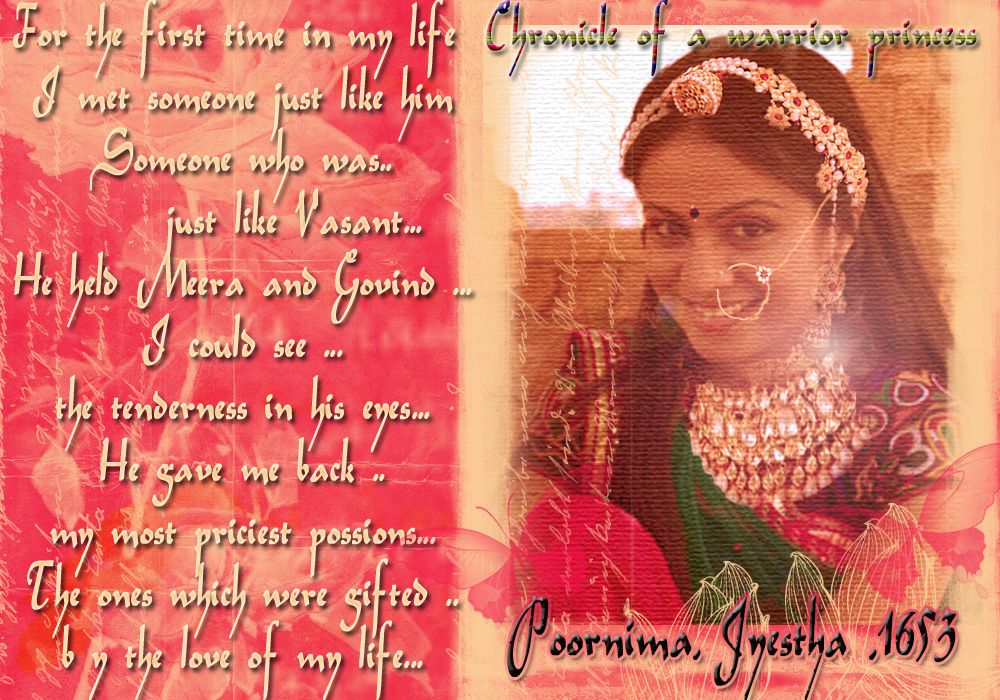 Faraway in the other part of the Rashipur Palace ,He mercilessly grabbed her lips in a harsh kiss imagining Gulaal'
"Rajkumari Nirja k liye Maharaj Yogya var dhundh rahe hain'.",she played with the huge Necklace Dushyant had given her..Talli blushed as he played with her hair,"Tujhe kaise pata'"
"Maine apki ankhon mein dekh liya tha Sabha mein apke man mein kya chal raha hai'",Talli grinned.
"Tu to badi samajhdar hai'",Dushyant showered pearls and gold coins on her and took her in his arms biting her wherever he could.