Romance is in the air...,as our Yash & Aarti move separately living in the little room.
I think these two have a thing for bathroom
, and counting titles..,Well Yashu was in his romantic mode,romancing his Aarti Ji is the bathroom, I wonder if Palak didn't wake up what would have happen. (Pixs below)
Tax is due, and Aarti tax is far overdue
, I wonder when will Yashu get his tax. Yash asking for his tax while washing clothes, OMG! Can this guy get more romantic,
Pic.showing Yashu waiting for his overdue tax from Aarti Ji..
I wish i was Aarti, romancing Gurmeet onscreen, Talking about a very LONG eyelock, Yashu is his sexy black vest & Aarti is her dark pink sari, and there she slip and her superhero caught her before she reach the floor.
(Pictures those breath taking moment in the bathroom).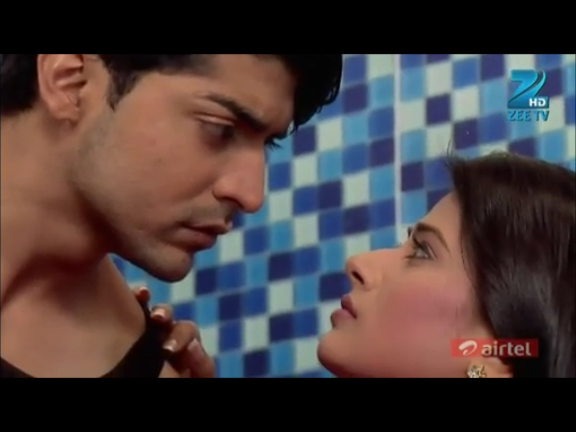 And the last romantic moment was definitely the one that everyone waited to see, that's the moment Yash Scindia those 3 magical words that he also wanted to say, those 3 words that have so many meaning, that 3 words "I LOVE YOU"
I LOVE YOU, Those were the 3 words Aarti longed to hear from Yash.
Hi Readers,Myself, Amanda(Ammy) plan to do the Romantic Moment of the Week like this in every Edition for the new year, Hope you guys like it..