Aap Her Manzil Paaye,
Aapka Har Din Nayi Khsuiyan leke aaye,
Aapka har din khoobsurat ho,
Yahi hai duwa hamaari aapka har din isi tarah khaas ho,
Jan DIn ki Dhero badhaayian...
busybee
Many many Happy returns of the day
Dearest Sakshi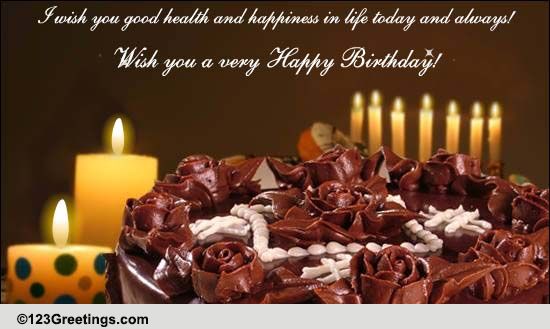 123fiza1
ITS VERY SIMPLE AS I HAVE NO WRITTING SKILLS AT ALLL...
YOU ARE THE ONE WHO ALWAYS INSPIRES ME TO DO SOMETHING IN LIFE..
I AM A BIG FOLLOWER OF URS'.
YOUR SIMPLICITY MAKES YOU DIFFERENT FROM OTHERS ''
I WISH YOU A VERY HAPPY BIRTH DAY SAKSHI JI'
BECAUSE YOU'RE SO VERY SPECIAL, YOU DESERVE THE VERY BEST BIRTHDAY EVER
MAY GOD FULFILL ALL UR DREAMS, ALL YOUR DESIRES IN LIFE '..
KEEP INSPIRING US '..
THAT'S ALL FROM A WELL WISHER OF YOURS -FIZA'
aditi
Aurna_ST
Wish you many many happy returns of the day Sakshi...I am falling short of words to wish you now ...coz you always stay there in my prayers and my conversations . So here's wishing you a bright successful year ahead filled with enormous joy , good health and love from everyone around. You will always live in our hearts. You made us smile with your enchanting presence, laugh with your unlimited jokes and mesmerize with your elegant and charismatic performances

Just stay the way your are coz...I dnt want to change a bit of a thing about you...we love you the way you are !
Wishing you A very happy birthday and may all your dreams come true.
God bless you dear...Have a Fab day on your Birthday!
Veen23
hi...
i am veena...
here i am with my all khurafat...dedicated to my lovly "sakshi tanwar" on her birthday
main ye to nhi kahungi ki main sakshi ki sabse badi fan huqki main janti hu ki mujhse bhi bade bade pagal h duniya me...but i can defently say that i always feel "proud" that i am a "big fan" of "sakshi" bcz she desrve all this love,effection,attention & apreciation...
i always want to say so many things to sakshi but i feel vry helpless qki mujhe adjectivs hi nhi milte uski tareef k liye...she is really beyond of words...in simple & sweet way i can only say that...she is a complete packet of simlicity,brain,beauty & talent with dignity...ufff...i always admire whatevre she done...mtlb itna kamal hota h ki pta hi nhi chalta h ki acting kar rhi h ya real h...awsm...if god give me chance to invent somthing i defently want to invent adjectivs for sakshi...hehehe...taki main uski jam k tareef kar saku...khair ye to possible nhi h...bcz she is outstanding aur uske aage koi word stand hi nhi karta...
on her "birthday"...
i wish god give her looong looong life & all the success ,happiness & whole thing whatevr she need & desrve...here i am with my all kind of creation whatevr i can hope its show my intentions...love u forevr jan...hamesha khush rho...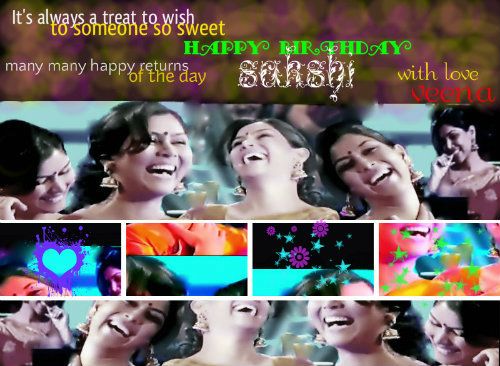 ek tare ki khwahish hai wo tut kar gire tere daman me
ek phool ki khwahish hai wo hamesha mehke tere angan me
ek kambakht dil hai mera jo kabhi meri sunta hi nahi...
uski khwahish hai wo jake dhadke teri dhadkan me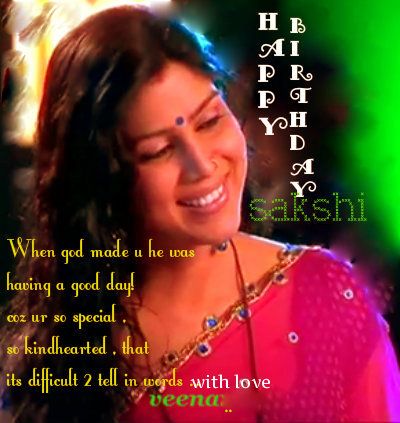 har khusi mil jaye itna asar hamari duao me ho
har pal mehk jaye itna asar hamari duao me ho
zindgi ka aane wala har pal beete hue pal se behtar ho
har dua rang laye itna asar hamari duao me ho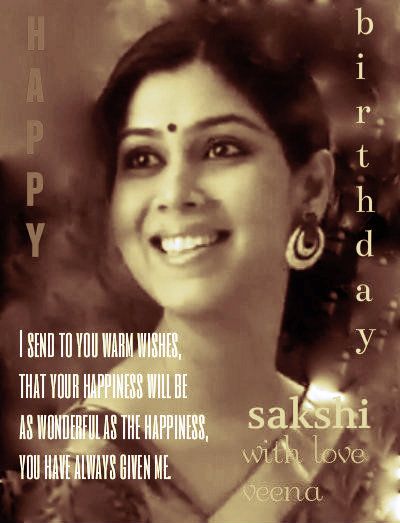 ufff...she always makes me crazy...love u hamesha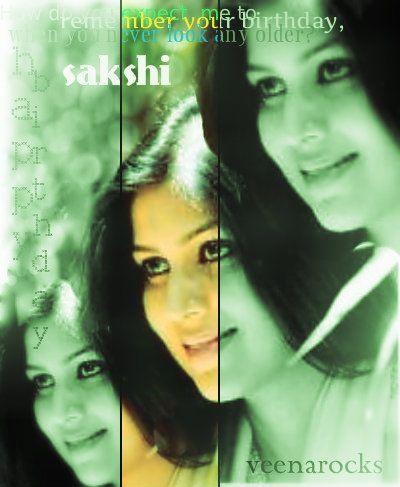 for lovly sakshi...birthday vm
hank u sakshi for bieng there for us...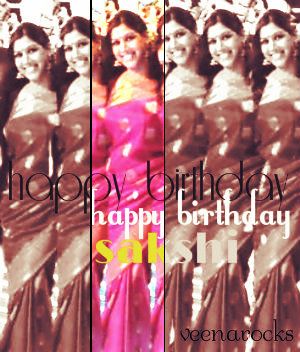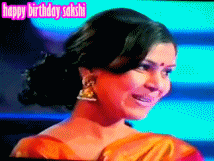 Lipshaa
rampriyarocks
Dear Sakshi di,
God gave a gift to the world when you were born
a person who loves, who cares,
who sees a person's need and fills it,
who encourages and lifts people up,
who spends energy on others
rather than herself,
someone who touches each life she enters,
and makes a difference in the world,
because ripples of kindness flow outward
as each person you have touched, touches others.
Your birthday deserves to be a national holiday,
because you are a special treasure
for all that you've done.
May the love you have shown to others
return to you, multiplied.
I wish you the happiest of birthdays,
and many, many more,
so that others have time to appreciate you
as much as I do.

I want to confess to you that you are the best. Your each emotional scene makes me cry. You act so naturally. I want to meet you. I just hope to meet you soon.
May this birthday bring happiness to you. Have a nice day and enjoy your day to the fullest.

HAPPY BIRTHDAY!!
viny_queen
name2saakshi
saniya9919
Dear Sakshiji,
I love, admire & respect you as an actress as well as a human being.
You stunned us by your acting skills. You just rocked in all the performances you did in Bade Acche Laggte Hain. I want to tell something, you reminded me one of the Sanskrit Subhashitam taught us in Sanskrit classes at school which means that there are nine RASAs (Essence of life) - Shringar (love or/and beauty), Hasya (Joy), Adbhuta (Wonder), Veer (courage), Shanta (Peace), Karuna (Sadness), Raudra (Anger), Bhayanaka (Fear), Vibhatsa (Disgust) in Indian performing arts and the rasa is an emotion inspired in an audience by a performer. You are one of those few artists in the world who made it believable that the one performer who can do best or do justice to all this emotions. You people are real stars who make our life beautiful.
You are a power house of talent & we are blessed to have you in Indian Television Industry.
Many Many Happy Returns Of The Day.
On this special day,
sending you all my loads of love
to wish you happiness, health & good fortune in everything you do or wish
today and always.
luvsakshi
Many more happy birthday sakshi ji ..

May your life will get bloom every day like a fresh flower..
,May god bless with you all health and wealth .
When you potray a character ,That reminds us to real life ..
You are talented and queen of the tele industry...
Every young girl is jelous seeing your beauty at the mids also ...
Don't know what exactly i should ssay to you ..But be happy and keep others happy ..
Love you loads ..
rani.sharma
HAPPY BIRTHDAY TO YOU, HAPPY BIRTHDAY TO YOU!!
HAPPY BIRTHDAY DEAR SSAAAKKKSSSHHIII
HAPPY BIRTHDAY TO YOU!!!!!!!
The iconic and queen of the Television Industry turns a year older today but still it seems as just a day to shower and show you exactly how much we love you and appreciate you even more on this special day of yours. From the moment I saw you on BALH I think I've fallen deeply in love
. Everything about you is just so amazing! That is a true fact. Not only have you conquered the hearts of those who watch you through a TV but also the hearts of everyone you surround. Your caring, loving, playful energetic and thoughtful to all your fans and all your co-actors and not only do you just do your scene and go home you actually take part in making it better whether its with your co-actors or even the team behind the camera. As an actor your very determined and positive but as Sakshi Tanwar the person you're more than that, you're an inspiration to many people old or young. And I love that the most about you. Your active in your career and your just as active out in public whether its helping schools, orphanages, cancer facilities, Women rights or even out promoting for ads or your show and not to forget your engaging in your culture. You're a women of many talents and I am very happy to say that I am a Sakshi Tanwar fan
I wish you all the success for the year ahead. Hope your special day is filled with smiles, joy, happiness, love and lots and lots of laughter. Your smile is contagious so spread the love
Once again wishing the most elegant, gorgeous and dignified Sakshi Tanwar a fabulous birthday!!
We Love you!!!
Lots of love from RaniiSharma aka Ranee all the way from Canada :)
sangautum
Dear Sakshi,
Wishing you a very happy birthday and many more happy returns of the day. May God bless you with all the good things in life and here's hoping all your lifes ambitions are fulfilled.
With love n blessings,
sreev12
Unki hasi mein kuch toh hai jise dekhne par kaafi log ki gum mit jaati hai aur woh log ke chehre par bhi muskurahat aa jati hai. I wish her that her special SMILE is always be with her through out her life both personal as well as professional aspects.
Many many happy returns of the day our expression queen -SAKSHI TANWAR
ST-KSG-DDlover
I come here to wish the most beautiful the most talented & the most gorgeous & the simple & very honest person when i fell sad i see u , ur face then i fell relief U r the person who make me cry who make me laugh U r the person i inspire from U. Wish u very very happy life Ahead wish God blessed u Many Many more Happy returns of the day
xXHoNeYb3aRrXx
[YOUTUBE]http://www.youtube.com/watch?feature=player_detailpage&v=fWkaFTcfINg[/YOUTUBE]
Happy Happy Birthday to one of the sweetest and most adorable graceful girl on this planet.. Sakshi tanwar.. May all ur wishes nd dreams b fulfilled as desired..muahxxx Love u loads
Maria Mars
Dear Sakshi,
HAPPY BIRTHDAY!!!
This is a special birthday wish that comes with love to you. It brings warm and heartfelt thanks for entertaining your fans, It also comes to let you know that you mean a lot to each and everyone of us and your realistic portrayal of Priya has touched us in such a loving way.
Whatever you ask,
May you receive,
whatever you seek,
May you find,
whatever you wish,
May it be fulfilled.
On Your Birthday & Always.
On your birthday, may you experience joy
On your birthday, may you experience love
On your birthday, may all your dreams come true
On your birthday, may all your desires be filled
As you wish upon a star, your life be starlight
As you wish upon a star, your life be star-bright
As you wish upon a star, zillions of stars gaze over you
And a wish upon a star, made come true
Happy birthday, to a beautiful soul
Happy birthday, to a wonderful you
Happy birthday, to a gentle soul
Happy birthday, to a great you
Happy birthday to you Sakshi!!!
May you have a very special birthday filled with everything your heart desires and May all your birthday wishes come true.
May God Bless you with good health, happiness, success today, hamesha and forever.
Loads of love and wishes to the Gorgeous Diva, Queen of Indian Television Sakshi Tanwar!!!.
Credits
Entire Post: Natasha..
Other Information: Wikipedia / ST Fan Page IF
Signatures: Lipshaa