JaiGanesh ShivaOm
Hi all, I'm Sia.
I have got this privilege of updating the Written version of the show for
Mondays
and
Fridays
.
I would like to thank you for giving me this opportunity.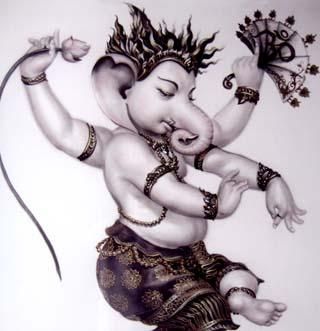 Devon Ke Dev Mahadev4th Jan 2013 : 'Family reunites '
Ganesha along with his sister walks towards Kailash..in the way he narrates his story how Mahadev destroys his arrogance and embeds in him wisdom and calm.
They also talk about Kartikeya.
(How funny na that the girl who is playing Ashok Sundari - the sister of Ganesh.. played the main role - an ardent devote of Ganesh in the movie 'My Friend Ganesha')
Back at Kailash.. Mata Parvati and Mahadev plan for a welcome for both their children... Nandi adds that they should plan for a grand welcome.
Nandi and other Gana decorate Kailash for their welcome.
As Ashok Sundari and Ganesh walks.. Ganesh stops at one point..when AS asks the reason for his act the mice cry that they have understood it! As feels that it is contempt on their part that their friend is in some pb and they are excited... The mice inform that Ganesh has not eaten anything since the day before. AS asks, if the king didn't offer them anything to eat.. they reply that since they are from the bride's side so they didn't eat anything. AS feels touched that her brother has sacrificed so much for her. (GAnnu Bhayya's expressions are A1 supper sugary cute
)
Ganesh then says that he would have stayed hungry till he accomplished his goal of bringing her back to Kailash. AS even appreciates the mice for their efforts.
Back at Kailash PArvati ma makes more modak and in the process she recalls her sweet moments with her only daughter AS.
Then Gannu Bhayya takes out the pot which has the modaks which Parvati ma has made for him and the mice.
The Kailash is all decked up with flowers for the welcome of AS and Ganesha.. and Mahadev, Parvati ma, Nandi and Ganas wait for their arrival.
Parvati ma feels very inquisitive as to why her kids have not yet come.
Ganas climb the tree thinking that they might spot AS and Ganesh coming.. then after some they spot both coming towards Kailash and informs to Mata Parvati and Mahadev.
They go to Kailash and Parvati ma is overwhelmed to see them.
AS pays her reverence towards her parents...and tell her that they missed her.
Gannu bhayya says that.. they have forgotten him as his sister came.
AS says to her father that she has learnt this day one thing that people take the path of penance and meditation after their worldly life..instead if they take the path of penance /meditation early in their life.. their life will be of great stature.
Mahadev feels proud of his daughter.
Gannu bhayya informs them that he has put the proposal of AS's for Nahush, so they should make necessary arrangements.
Shiva says that whatever is AS's wish is their's too... but they have to wait it up.
Ganesh says that he feels worried what if that moment never comes?
Meaning if Nahush never grows up?! says Ganesh with a naughty glint in his eyes.
AS and Gannu have fun playing around at the Kailash and the parents feel happy to see this.
They have waited for so long to see that scene at Kailash.. that happiness can never be replaced or paralleled by anything in the world.
Mata Parvati feels the dearth of Kartikeya..Shiva consoles her saying that he would fulfill her wish. And he would himself go and get his son back to Kailash.
Kartikeya feels hurt reminding himself of the words which he said to AS when she come to visit him.. that Mother and Father wont need another son when they have him.
As he feels hurt remembering all this..he hears a familiar voice call his name. It was his Father Shiva..he runs towards his father and pays his respect by touching Shiva's feet.
They hug (hayee what a handsome Dad and son pair this is
)
Shiva asks how he is.. Kartikeya says that it is all because of his blessings.
Kartikeya asks about his mother.. Shiva says that she misses him and AS too.. and so does his kid brother Ganesh.
But his mother is very desperate to see him... Kartikeya feels happy hearing this..
Kartikeya tells his complaints that when Ganesh arrived at Kailash nobdoy informed him about it neither did they invite him to Kailash.
Shiva explains his son that the void which was created in his mother's life after distancing him has still not filled even after having a son and a daughter. When Parvati saw AS and Ganesh play she misses him being at Kailash
Mahadev tells that there was a reason for which AS and he were not invited & informed about Ganesh's birth ie they both had an aim which they had to fulfill and if they would have been invited there would have been some halt in there pursuits of reaching their ultimate goal.
For anyone there eyes have equal importance and value as they have it for their hands.; similarly for any parent all their children bear equal importance.
Coming to him, he is their first son and no one can replace or take his position in their heart.
Kartikeya asks his father some time as he wants to officially farewell and thank everyone .
Kartikeya feels reassured.
--------------------------
Precap:
Ganesh is very excited to meet his big bro.
Mahadev to Parvati ma... Kartilkeya has not accepted Ganesha's arrival and that there is need/ no need of him at Kailash (couldn't hear the exact words here.)
Indr again pokes Kartikeya that my be Mahadev has by now said that they dn't need him at Kailash anymore ortherwise on the name of war they didn't even invite him for Ganesh's arrival.(Looks like he doesn't have anything better to do than vexing up Kartikeya )
Monday will be the day when Ganesh and Kartikeya meet for the first time
-----------------
Thanks for reading the WU
Regards
Sia