Welcome Friends!
We are stepping into 2013. Yesterday we said Goodbye to 2012.
Its a new year and a new beginning.
Lets celebrate this new year together and
wish for a happy and safety year ahead.
Time to take a moment to recall all happiness
Remembering how they enrich out lives
We reflect upon who really counts
As the fresh and bright new year arrives ...
Today as new year starts and old one ends,
we contemplate what brought us joy and lets step into the new year of 2013
as we think of our love ones and our friends ...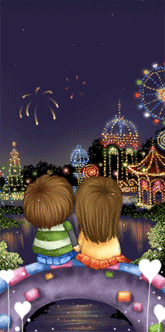 *We will open the book. Its pages are blank. We are going to put words on them ourselves. The book is called "Opportunity" and its first chapter is New Year's Day.*~ Edith Lovejoy Pierce

*Every new year people make resolutions to change aspects of themselves they believe are negative. A majority of people revert back to how they were before and feel like failures. This year I challenge you to a new resolution. I challenge you to just be yourself.* ~ Aisha Elderwyn

*Let this coming year be better than all the others. Vow to do some of the things you've always wanted to do but couldn't find the time. Call up a forgotten friend. Drop an old grudge, and replace it with some pleasant memories. Vow not to make a promise you don't think you can keep. Walk tall, and smile more. You'll look ten years younger. Don't be afraid to say, 'I love you'. Say it again. They are the sweetest words in the world.* ~ Ann Landers

The Upcoming New Year Is A Perfect
Time to Forget Sorrows and Remember
Good Things in Life. Happy New Year.

Life Comes Only One Time,
So Live Life to the Fullest and
Enjoy Every Moment. Happy New Year.

Its Time To Welcome The Fresh
New Year With Fresh Hope,
Fresh Expectations, Forget The Past Just
Think About Ahead. Happy New Year

May The Every Moment Of Coming
New Year Brings Happiness And
Prosperity In Life, Enjoy The Every
Moment Of Life. Happy New Year.

New Days, New Time, New Moments
Ahead Are Waiting For You, May
These 365 Days Light Up Your Life,
Happy New Year.

May Your All Dreams Come True In
This Coming Year, Hope You Get
Everything You Wanted In This In This Year.
Happy New Year

May Success Kiss Your Feet,
Happiness Prevail On You Like
Clouds And Love Embraces Your Life,
Happy New Year.