JaiGanesh ShivaOm
Hi all, I'm Sia.
I have got this privilege of updating the Written version of the show for
Mondays
and
Fridays
.
I would like to thank you for giving me this opportunity.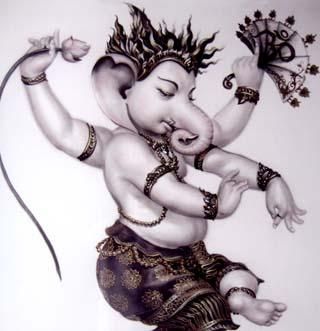 Devon Ke Dev Mahadev28th -Dec-2012 : ' A Random day of Shiva's Family life & Daruka's terror'

Last Friday of the Eventful YEAR 2012
So Thodi masti to banti hai!


Glamorous Daruka lifts all the forest region up in the air and lands it on the ocean..
Brhma dev worriedly to Vishnu dev "Daruka is meddling in the issues of nature; she is breaking the limits of land and water... Things will get imbalanced in the nature"
Vishnu dev says that as the boon is given by Adi Shakti, only Mahadev can do something about it at a right time.
Dearest Gannu bhayya is playing Hide and Seek with Gan, Prayt and his mice friends...
One of the Prayts finds Ganesha, but he pretends that he has not found him yet... so does the others do.
Ganesha finds this out and says that he doesn't want to play the game.
Then Parvati ma observes this and asks him about the reason.
Ganesha complains that firstly those people don't know any other game and that too they are not playing it well.
To which Mata tells him that they love him.. He replies that he as no interest in such games. Amused to see Jagat Pita and Mata's son (The first family) is getting board as he doesn't have a game to play..
Then Mata gives him a ball...
(Now don't tell me this is gonna be
Like
Sri Krishna's dance/ defeat over the Serpent)
Ganesha asks what was it.. Mata replies that its called a Ball and when she throws it in the air the one who catches it first is going to be the winner.
Ganesha runs at the speed of light and gets it back.. (Looked like I'm watchin TVD
)
As Mata Parvati awaits for her son.. she finds him in front of her in a blink of eye lid.. She feels surprised.
Ganesh at the same time feels the game is very entertaining.
Daruka says that she feels vexed with lazy people and people who only depend on God and never do a work in their life. (Lady Dabang or Lady Robin Hood
!) whatever one may call, she is resolved in her decision that she would make those people work bring them to the forest which she has air lifted onto an ocean.
She says to make a city on that taboo she would make those lazy people work. She also adds that Island would become a head quarters for Asur powers!
Mahadev observes this.
Back at Kailash Ganesha and his friends play seek the ball... they all come back palpitating after finding the ball..
Again he throws the ball and the ganas, Prayats feel tired searching the ball every time.
Ganesh is also tired of waiting for them... Then they find the ball and gets it back to Ganesha.. He asks them why did they take so long to bring the ball is it the case taht they are disinterested in playing with him!
They reply that its the case and that they are extremely tired of playing since morning... Ganesha again gets upset and goes away from their..
In some city as the saints walk in they are stopped by some Asuras and are taken to the Island... Then as a few people were taking a box containing jewellery to donate it to God.. even the are stopped saying that God doesn't need these..
They create havock in the lives of devotes by not letting them pray one of the devote takes Shiv ling with him while he was taken as a prisoner... Shiva observes this.
A pouting Ganesh goes to his father and sits beside him..(Cutest scene)
Shiva asks his son why was he so quiet.. he went to play with his friends.. how did he come back so soon? (Mohitwa is supper muwhw
)
Ganesha says his problem forth his father that everyone either by love or pamper always tries to make him win! And Gan Prayt get tired soon.
He wishes that anyone of his age would play with him it would be great.
If there is no struggle for the game there is no fun!
He also says that there is no one at Kailash of hisa age.. when Paravti devi goes there.
(lolzzz kid are so innocent!
)
Ganesha asks his mother that as she has given him Birth can't she do the same for his siblings too?
Parvati ma replies that he has siblings.. Kartikeya and Ashok Sundari..
He asks where are they.. how has he been so unknown about them?
He questions where are they why didn't they meet him yet.. they didn't even attend his Birthday celebrations!
Deva De Dev Mahadev says to his little one that Kartikeya is doing his duty of protecting the world from asuras, and his sister Ashok Sundari in order to reach her aim is in deep penance.
Shiva says that Kartikeya would meet him after the war... Shiva adds that he did not call Kartikeya on Ganesha's birthday cause Kartikey might get distracted from his aim.
He then says "my brother Kartik would someday come then I'll meet him; but I'd myself go to meet my sister Ashok Sundari, so that she doesn't have to leave her penance"
Mata Parvati says that the forest is very far away how would he go alone.. Ganesh replies that he his their son and nothing would harm him.. its just that she has to take care of his food,
Ganesha feels very excited to go and meet his sister along with his mice friends.
Daruka terrorizes the normal people by bringing them to the Island...
(She looks like a Glamorous- female version of Gabbar sing- Not so cool!)
She threatens them if they follow orders they would be safe.
Daruka says that they would gets happiness not by penance or rest but by hard work.
She further adds that without hard work they dnt have the right to eat food.
One of the abducted members say that they would not take part in building a city for the asuras.
No sooner she hears this she gently grabs a sword and turns around in the same pace.. she slits his throat by the sword. She also says that more number of people are gonna be adding soon.
The guy who takes the Shiv ling with him cries "Save us Mahadev!" when they are being taken to work for the asur city
_ _ _ _
Precap:

Monday Daruka's terror continues on the devotees...
Shiva says to Parvati ma that he already told her that a boon can always become a curse for the world.. this time he would take some action and the unjust would no longer be endured by his devotees.
Thanks for reading the WU
Regards
Sia