Part 12
Kisha in the buddy cafe. Both are happy with each other.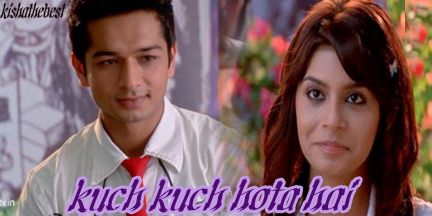 KD: Kiya aj coffee date pe chalogi?
Kiya: Kitne bj?
KD: 7 bj tak.
She got angry n called the camera,
"Dinner ka nahi poch sakta tha, 7 bj... Thoday
time baad to dinner ka time bhi hojata hai"
KD: Kya hua?
Kiya: Kuch nahi mai ajaungi.
Kisha got ready for their date. KD reached there n Kiya was also ready
but at the last moment her sister stopped n asked her to stay at home
b/c her friends are coming n Kiya's mother also said that she insisted
a lot but her mother was not agree that she'll go out. She was hurt she
wanted to go but what she could do. Then she called KD but his no was
unreachable. KD was already at that place n he also planned a surprise
for Kiya n the surprise was Candle light dinner. Kiya tried to call him but
again his no was unreachable. Then she spent her time with her sister's
friend but her mind n heart was on her date with KD. Then Anya's friend
gone she checked time it was 10 p.m. Then she again called him. KD
was moving out from the cafe, he was angry, his phone rung without
seeing no he picked the call.
Kiya: KD sorry sorry sorry sorry... Wo mai ana chahti thi...
Without listening to her he cut the call n moved to his home. She again
call him but this time he cut the call by himself.
Next day In RA. kiya stopped KD. KD stopped.
KD: Kya??
Kiya: KD I'm sorry. Mai janti hoon k tum..
KD: Janti hoti to ati.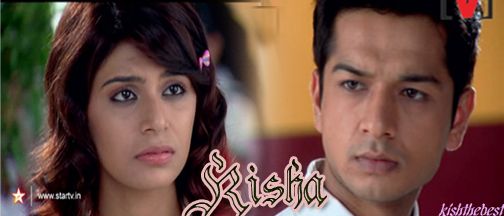 Kiya: KD plzz Sorry. I know k tum ne wo coffee date bht pyar se plan ki thi.
KD: Sirf Coffee date nahi thi Candle light dinner bhi tha.
Kiya: Kya?
KD: Han romantic candle light dinner, hum dono k ly.
She was about to say something but he moved from there. She was hurt,
guilty then she was happy that KD planned a candle light dinner only for her.
In the class KD looked at Kiya
She was busy in her copy then she looked at KD when she saw him
he changed his look, then again saw her she was already looking at him.
She slightly smile n hold her ear n said "Sorry" But he was angry n again
he changed his look.
Then JJ came in the class. He announced that its a celebration time for RA b/c
RA succeeded to gain its no 1 position there's a party in Royal, n the theme of
the party is Indian culture so u all have to dressed up with the theme.
The bell rung all students moved out but JJ stopped 8 buddies n talk to them alone.
JJ asked the buddies In the party u all have ti take care of your buddies. Otherwise
u all are buddies but one buddy is special for everyone. And u'll never leave your
buddy alone. All nodded. Then JJ with Hima, RaHi n AmBy went out the class n
Kiya holds KD's hand n stopped him.
Kiya: KD plzz dekho itna naraz to mat ho.. Kal party hai to tum mere sath rahogay na??
KD was ignoring her n didn't ans her.
Kiya: Oh KD itni bari baat nahi hai kitna tum ghussa ho rahe ho?
KD: Jab tum 7 bj se le k raat 10 bj tak kisi ka wait karogi na,
tb pata chalega bari baat thi ya nahi..
She was shocked b/c of her KD waited too long. n he moved from there.
Now Its party time. All dressed up with the theme n reached at RA. Kiya reached
there before KD, she wore Red ghagra choli she looked so pretty. She was
searching for KD but he was late. Then KD arrived there he was in black Sherwani
He looked so hot.. KD saw Kiya n gave a cute smile n lost him self in her beauty but
she didn't saw him then she looked at him n again he gave attitude but she smiled n signed him like "You looked so Wow"
Then girls were busy in their chatting n boys are taaring them
All were happy but KD was dull then Piddi asked him the reason.
KD: Milne ka bol k ati bhi nahi hai.
Samar: Janab ap Kiya sahiba se naraz hain?
KD: Bht..
RV was smiling.
RV: Dude tu janta hai ya nahi I don't know but ye baat hum
sab jante hain k tu Kiya se naraz nahi reh sakta.
Then Samar n Piddi also laughed.
Samar: Ranveer sahab bilkul thek bol rahe hain.
Piddi: Ranveer tu bhi humare sath reh reh k bht intelligent hogaya hai.
RV gave tashan to Piddi n stopped then n KD smiled.
KD: Han ghussa nahi hoon par dekhen to sahi k KIYA GUJRAL kaise manati hai?
After short time Kiya entered in some class n boys (RV, Samar n Piddi) saw her
He asked KD to go in the class he denied a lot but after their force he agreed,
he entered in the class n RanPraMar were outside waiting for them.
KD opened the door n entered in the class Kiya got scared n turned.
KD: Tum yahan kya karahi ho?? Jao.
Kiya: KD wo mai...
KD shouts.
KD: Jao.
Then Kiya turned n show him her back that the dori is untie.
He looked at her back n felt panic n said.
KD: Mai help karun?
She thought that he'll tie the dori.
Kiya: Sure.
KD: Mai Panchi ya Juhi kisi ko bhejta hoon.
He was about to go but Kiya hold his hand.
Kiya: KD aisa bhi kya hogaya hai jo tum mjhe touch bhi nahi karsakte?
KD: Kuch bhi to nahi hua?
Kiya: Tum mjhse abhi tak naaraz ho??
KD: Kaha na aisa kuch nahi hai.
Kiya: To phr kya hai? Tumhe kya lagta hai mai tumhare sath time spend
nahi karna chahti thi
She started crying, Kd was confused he was guilty b/c of him she
was crying then he consoles her.
Kiya: Mai ana chati thi par.
KD: Par?
Kiya: Par Anya di ne end time pe rok dia. Un k friends arahe thay jis
ki wjhse unho ne mera plan khrab kardia.
She was crying n KD was looking at her.
KD: Kiya chup ho jao ro mat.
Kiya: I'm sorry KD..
KD: Kiya Its Ok.. Itna kyun ro rahi hoo?
She was still crying then KD teased her.
KD: Dekho chup ho jao.
She also teased him.
Kiya: Nhi hongi to kya karogay?
KD: Mjhe pata hai tumhe kaise chup karwana hai.
Kiya: Kaise?
KD: Batana parega.
And he moved closed to her n she moved in a reverse direction.
Then her back touched to the wall. He moved more close to her
she closed eyes. They both were so close. They can feel the harm
heat of their breath. Then KD whispered.
KD: Can I kiss u?
Kiya nodded with closed eyes.
Then he touched his lips slightly to her lips. Both breath so hard the heart beat
was super fast. Then he opened his eyes n saw her she also opened her eyes.
Both looked at each other n turned their faces. Their backs are facing each other.
Both were embarrassed then they looked each other n slightly smile moved
close to each other, n again kissed each other with full love. Then Kiya felt shy
n turned her face to the wall. KD moved closed to her tie her dori.
Then she turned n hugged him.
Kiya: ILU KD.. ILU...
KD smiled
KD: ILU 2 Jaan.. ILU 2.
He kissed her on her head n both moved outside happily.
Boys saw them n said "Kam hogya"
Part ends...
Sorry if there any mistake.
Hope u liked it...
Press the like button n Give ur comments on it


Edited by kishathebest - 21 February 2013 at 6:56am