Manvi and sameer were all together throughout the party. Virat was disgusted on seeing them so close.
Ajay- virat yeh le teri drink and ajay offered a drink to virat. But virat was so angry with manvi and sameer that he took the glass threw the drink on ajay's face and the glass down to floor and ultimately It broke into hundreds of pieces.
Virat- uski himmat kaise hui aisa karne ki?
Ajay- virat whats wrong with you what the hell are you speaking?
Virat-who sameer itna handsome hai kya mujh se bhi?
Ajay- virat what nonsense are you blabbering are you drunk?
Virat's anger crossed all the limits and now he got up from his seat went towards manvi pulled her from sameer and took her out of the hall. He dragged her into an isolated place cornered her and pinned her to the wall.
Manvi- virat kya kar rahe ho chodo mujhe its hurting! She squealed feeling the pain shoot up all in her body
Virat- manvi what the hell you told sameer was a five year old kid?
Manvi- just leave me! She glared furiously at him.
Virat- answer me dammit!
Manvi- haan I lied to you aur waise bhi tumhi ne toh kaha to kids not allowed
Virat- why did u lie to me the other day?
Manvi- because you are an animal if I would ever tell you the truth don't know what you would have done to him
Virat got more furious. All the girls were like dogs for him. They would listen to what he told and there was not even one girl till now who din't surrender to him but she is too oversmart for him and he din't like his girl or ex-girl being close to some other guy other than him. Virat couldn't control his anger anymore and kissed her. He was kissing her hard and waiting for her to respond. Manvi was shocked out of wits. She immediately pushed him and slapped him hard.
Manvi- don't ever dare to touch me! She shouted while tears started to flow through her eyes.
Manvi- you are a rakshas I hate you'.you are the one who desires for girls body and not her heart just leave me.
And she runs inside.
Sameer is all worried. Sameer knew everything about virat. Manvi had told him everything what happend between them both afterall he was her best friend.
FLASHBACK
On that night when virat and manvi were sharing a passionate kiss in her room manvi's phone rangup and she picked it.
Sameer- hey girlfriend
Manvi- hey boyfriend!
Sameer- missing you so much manvi you know what right now I am in Mumbai!
Manvi- what wow! Love you so much!
Sameer- love you too!
Manvi-muaaa!
FLASHBACK END
Sameer and manvi were childhood friends. They loved teasing each other. When they were small they heard about love stories in which when a girl and boy are bestfriends they called each other as boyfriend and girl friend. So they used to make fun of each other calling like that. But somewhere deep down sameer really meant calling her his girlfriend. Because he truly loved her. Today is a very big day for him because he was going to propose her in front of everyone. He was dreaming about their dream wedding too. Manvi would wear a beautiful bride dress and waiting for him holding a varmala. That was lame but he would always go to sleep just to see her like that.
He actually came to the party today to bash up virat for what all he did to his mannu but it was manvi's strict order not to get into fights with him. But he made sure to keep him away from her. But now he was worried. It has been so long since they went and till now no one turned up. He got up in search of manvi when he spotted her. She was crying badly. Sameer exactly knew why she was crying. All because of that virat. He went near manvi and she hugged him tight. He consoled her and was ready to go for a war with virat but manvi yet again stopped him. Sameer was not convinced this time but he had to because manvi made a promise on her. He din't know why manvi was so much bent on saving him.
DINNER TIME
All were definitely enjoying this grand party except for three souls. Virat Manvi and Sameer. Virat slowly started realizing the fact that manvi meant something to him. Not just little but so much did she effect him. He needed her. And I mean it. He started to realize how much he actually likes her no loves her. But he din't know how to say it to her.
Sameer thought that this was the right opportunity to propose her and so first he started searching for her but she was no where to be found. Sameer then searched for virat. And now his nightmare once again came true. Both of them were missing. He immediately set running out in search of manvi. Because he din't again want someone to hurt her and this time he cannot control himself from punching him too.
Manvi was walking in the garden. If she would be inside the party then every minute she would have had to see his face. Manvi was standing near the fence and looking at her reflection in the pond. Tears started to come out from her eyes. Those tears flowed into the pond of water which was already full.
Someone tapped on her shoulder from back. She without looking at him hugged him. Now she was in need for a shoulder who could solve all her problems and drink away all her tears.
Manvi- hamesha mere saath hi aisa kyun hota hai? Main akhir kya galat kart hi hoon? Kyun bhagwan ne mujhe aisi zindagi di hai?isse gine se toh acha hai main mar jaungi. And she cried out loud
Virat-I am so sorry manvi. Virat also got tears on seeing her so. I dint a second for manvi to realize that it was him and she pulled back.
Manvi- main tumse kaha than a ki mujhe choone ki bhi koshish mat karna
Virat- manvi I am really very sorry manvi I have realized my mistake
Manvi- yeh tum kya keh rahe ho? Please virat itne jhoot mat bolo! Agar tumhe mujhe ullu (owl) banana hai to who to tum mujhe pehle hi kar chuke ho isliye please!
Virat- no manvi I mean it I am really sorry!
Manvi- main tumse kaha just leave it please mujhe aur mat satana
Virat- manvi please(with tears in his eyes)
Manvi- main tumhe kabhi maaf nahi karungi!
And she pushes him and runs away. Virat falls down on his knees and starts crying. He has realized finally how much she means to him. She is his life. It just took him a second to realize. He wants her back. He wants to take care of her and not mean to hurt her. But just to love her all his life.
On the other side when manvi came in running all the lights were off. But just then a spotlight fell on her. She covered her eyes from the light and just then a song started playing from back'.
"MANVI THIS IS FOR YOU" shouted a voice from back
Surkh wala, sauz wala, Faiz wala love
Hota hai jo love se jyada waise wala love
Ishq wala love


And then the spotlight falls on sameer as he is singing it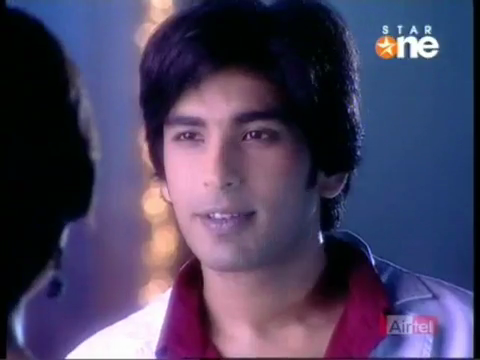 Hua jo dard bhi toh humko aaj kuch zyada hua
Ishq wala love
Ye kya hua hai kya khabar yehi pata hai zyada hua
Ishq wala love
Agar ye usko bhi hua hai phir bhi mujhko zyada hua
Ishq wala love
Sameer holds manvi's hand and then takes her on the stage many couples are now dancing for this song.

Meri neend jaise pehli baar tooti hai
Aankhein band kar ke dekhi hai maine subah
Hui dhoop zyada leke teri roshni din chadha
Ishq wala love
Sameer spins manvi

Jhanke badalon ki jaali ke peechhe se
Kare chandani ye mujhko ittala
Leke noor sara chand mera yahin pe hai chhupa chhupa hua
Ishq wala love

Hua jo dard bhi toh humko aaj kuch zyada hua
Ishq wala love
Ye kya hua hai kya khabar yehi pata hai zyada hua
Ishq wala love
Agar ye usko bhi hua hai phir bhi mujhko zyada hua
Ishq wala love


Sameer- manvi you are looking gorgeous
Manvi- thanks!


Jo aise hota
Jo milte tum ho jaate gum sath mere
Hote hote hoga samjhaye hum tham jaaye tum
O dil mere
Toota zyada zyada tara jab gira
Zara zyada zyada maangu dil tera
Kabhi zyada zyada maane na dil ye sarphira
Ishq wala love

Bada ye dil nadaan tha, par aaj kuch zyada hua
Ishq wala love
Jo khine ka tha dar tujhe pata nahi kyu zyada hua
Ishq wala love

Hua jo dard bhi toh humko aaj kuch zyada hua
Ishq wala love
Ye kya hua hai kya khabar yehi pata hai zyada hua
Ishq wala love
Manvi starts to remember that night she spent virat and tears start to roll down her cheeks

Agar ye usko bhi hua hai phir bhi mujhko zyada hua
Ishq wala love

Surkh wala, sauz wala, Faiz wala love
Hote hai jo love se jyada waise wala love
Ishq wala love
The dance is over and everyone starts clapping. Manvi wipes her tears and now time for her to get a big shock. Sameer sits down on his knees and proposes
Sameer- manvi I love you will you marry me?
Manvi is utterly shocked. She doesn't know what decision to make. Then she reminds herself that sameer is her best friend and she always liked him and so she was about to accept but still her refused. Just then there was a loud bang and it came from outside. Everyone ran outside and saw a horrible one. Virat was hit by a truck and he lay there on the road bleeding like hell.
Manvi- VIRAT!!!!!!!!!
Manvi shouted and ran towards. She was crying
Manvi- somebody call the ambulance!
Manvi- virat please apni ankhe kholo dekho main manvi hoon please virat ankhe kholo I LOVE YOU virat please!
She was crying and crying. Sameer here realized that manvi and virat were made for each other and so he left it all.
Soon the ambulance came and virat was taken to hospital. In the hospital the doctors were treating him but they said that there was no chance of his survival. Manvi went in front of the god's idol and prayed.
Manvi- hey ganapati bappa aap hamesha mere saath hi aisa kyun karte hai. Pehle jab main virat se nafrat karti thi tab who mere paas tha par ab jab main use pyaar karti hoon to aap use mujse door kyun le ke jarahe hai. Kyun aap aisa karte hai. Please aap use bacha lijiye agar mera pyaar saccha hai to aap use bachaiye.
Just then the doctor came out.
Doctor- ms.manvi I am happy to inform ki patient out of danger hai
Manvi is very happy- kya main virat se mil sakti hoon?
Doctor- sure!
Manvi rushes into the room and sees him sleeping. She sits beside him and ruffles his hair. She leans forward and gently places a kiss on his forehead. Virat opens his eyes and sees her.
Virat- manvi he says weakly
Manvi- shhh kuch mat bolna
Virat- I love you manvi
Manvi- aur main tumhe ek flash news sunau I hate you!
Virat- are par tumne kaha you love me? Raising an eyebrow
Manvi- matlab tumhe sunayi diya?
Virat- me behra (deaf) nahi hoon ki mujhe suniayi na de bas aaram kar raha tha tumhare bahon main. And he winks at her
Manvi- besharam! And she hits him
Virat- OUCH!!!
Manvi- I am sorry lagi kya?
Virat- haan yaha pointing at his heart!
Manvi laughes.
Virat- manvi I have something very important share with you!
Manvi- kya?
Virat gets up from the bed and manages to sit on his knees in front of manvi
manvi kaash mein tumhe bataa sakta, mein tumhe kitna chahta hun
I love you, I love you very very much manvi
mein aankhe band karta hun to tumhe dekhta hun
aankhe kholta hun to tumhe dekhna chahta hun
tum paas nahi hoti to tumhe charo taraf mehsoos karta hun
har pal har ghadi har waqt merre manvi mere manvi ko doondate hain
ise pyar kaho paagalpan ya mere dil ki dhadkan
mere liye ek hi baat hai
pyar to bahut log karte hain
lekin mere jaisa pyar koi nahi kar sakta
kyonki kisi ke paas tum jo nahi ho
mein tumhe bhool nahi sakta manvi
mein tumhe bhoolna hi nahi chahta
tum meri ho, mein tumhe zindagi bhar pyar karunga
marte dam tak pyar karunga aur uske baad bhi
I LOVE YOU MANVI!
Manvi jumps into his arms and kisses him. Virat is at first surprised but then he holds her tightly and kisses her with equal force. Manvi nibbles on his lower lip and virat is sucking and biting her upper lip. Virat wants to explore her mouth so he bites her lip making her open her mouth. He enters her mouth and plays with her tounge. He twirls it pushes it making manvi moan. When they were so lost the nurse drops the tray and both virat and manvi pull away. The nurse was so shocked. Manvi feels embaressed and moves away. Nurse closes the door and leaves giving them privacy. Virat and manvi smile at each other and hug.
'''THE END''
So how was it guys I have finished it finally. First of all sorry for being late I was on cruise with my friends for few days so couldn't update. Please comment,like. Love you all!


Edited by ..nikki_vijay.. - 16 January 2013 at 4:12am