JaiGanesh ShivaOm
Hi all, I'm Sia.
I have got this privilege of updating the Written version of the show for
Mondays
and
Fridays
.
I would like to thank you for giving me this opportunity.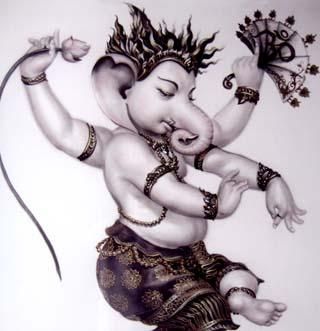 Devon Ke Dev Mahadev21st -Dec-2012 : 'Family Values, True Friendship & Mushak Vanhan Ganesh'G
anesh thinks something.. Mahadev asks what was he thinking?
Ganesh tells Mahadev to come to his original- jata dhari roop, wearing animal skin. Then my SHiva asks that did he get the difference between worldly things and his Jogi's attire.
Gannu bhayya replies that, it is best to cover one's body with whatever one finds at the time of need.
(OMg this is supper awesome scene..)
G
annu bhayya says to Mahadev that he wants his father to come back to his real roop because he (Mahadev) looks more handsome than mother Parvati!
And further says that he doesn't want anybody look more prettier than his mother.
Mata Parvati is literally varijawa on her little one.
T
hen Mahadev comes to his original form.
Saying that his mice friends are waiting for him he goes away from there.
Nandi says that he was afraid when Ganesh asked for the wish he had to see him (Mahadev) in a different form.
Mahadeva says that its important that one should reply to a child's curiosity with wisdom and correct reason.
W
hen parents themselves are angry at their child then there is a probability for the child to wrong paths. Just giving birth to the child is not the parent's duty but the have to look into the betterment of the personality of their child too.
Ganesh with his cute voice calling his mice friends...he thinks that may be they are playing hide and seek with him..so he decides to search them...
Then our cute Gannu bhayya uses his divine powers and appears before a few running mice.
He asks them where they were going?
O
ne of the mice says that they are missing their home so they plan to go there... Gannu bhayya asks are they gonna be happy without him, cause he wont be happy without them as they are the only friends he has... then he inquires that there is something else which is bothering them. He also tells them to be straight forward and transparent of their feelings.
T
hen the mice say that Mahadev's serpent - Nag dev was frightening them as he says that he gets annoyed seeing them.. Gannu bhayya says are they talking Vasuki?
The mice say yes.. they say that the serpent says that mice has no place at Kailash and also that they will be made a meal by him.
Gannu bhayya say that one should not fear .. its a sin to endure problem and to tolerate unjust!

G
annu Bhayya promises that he would protect them at Kailash.
The mice say that they wont have any identity at the Kailash.. Ganesh says that God has made them all equally everyone has some components in their body, have same emotion as happiness and grief; God doesn't differentiate between any creature he has made.
Seeing all this Shiv Parvati are happy.. Parvati ma asks Jagat Pita Mahadev the reason for his smile?
Shiva says that this is the time when Ganesh gets to know about his powers.. Mata Parvati says that "He is ur son and he has ur values, he is trying to bridge difference in the world! he has started to bring together all the animals. You must have been feeling so happy eh?"
Shiva says that he has redefined happiness.
I
n a calm village with vendors doing their daily work...
There comes a big rodent and destroys all the pottery thing, ruins the flowers and created menace.
As they tried to chase it away it turns back and threatens them..
W
here Ganesha and his mice friends sit near a water fall near a field and enjoy the nature... Ganesh sees the rodent trouble the farmers.
As they run for their life they see Ganesh; they tell their sob story and ask for his help.
Our adorable Gannu bhayya introduces them that he is Mahadev - Parvati putr Ganesh and he would save them.
They feel blessed to find Ganesh come to their rescue!
N
ow the Rodent runs towards them and Ganesh ji faces it!
As the rodent marches towards Ganesh he asks it to stay back and it is because of him that his mice friend's name is getting stained.
The rodent (lolz which sounds like
one of the cockroaches in the animated show Oggyy and the cockroaches
) warns Gannu bhayya he cannot stop him!
Saying this the rodent jumps high on Ganeshji he stops it mid air by his powers and throw it down. The rodent is injured now.
G
anesha now ties a rope to the rodent(mouse). And tells it that only Mahadev has a right to punish it!
All the people there sing praises to Mahadev putr Ganesh.
At Kailash:A
sweet voice calls out "Pitaji!"
Shiv and Parvati's attention towards the voice.
Shiv and Parvati are worried to see Ganesh with a big mouse which was tied with a rope.
Those pitkus aka mice friends of Gannu bhayya also comes their.
"There are two issues father" Says Ganesh ji (aww sucha misry ki dali voice the kid has.. ice cream, chocolate, five star!)
O
ne is the issue of his mice friends and the other is that the rodent has destroyed all the food grains of the farmers..
Shiva replies "You are Ganadhyaksh but keeping the value of me you could have punished it yourself. and if given the chance what would you do Forgive or punish?"
Gannu bhayya replies that he would forgive the culprit and punish the crime, so that it can get a chance to bring change in its behavior.
S
hiva says that justice of the judge is impressive.
Shiva says that a true judge is the one who punishes the crime not the criminal and gives the chance to the later to improve.. thus saying these words essence he tells his judgment that the huge mouse has to become a vanhan to Ganesh!
T
hen Mahadev gets the rodent to its real form ie a man who was cursed by Vamdev rishi for his restless behavior.
The man feels blessed and asks Ganesha that will he accept him as his vahan.
Ganesh accepts it.
The man shows his gratitude towards Mahadev.

T
hen the mice speak up when are they gonna get justice...
Shiva says that it is already done!'
When asked by his little one Shiva says that by making Mushak as Ganesh's vahan he has given recognition to the specie of mice.
Shiva says that Mice too will get the same recognition, importance and value that Nandi and Vasuki have got.
But at Kailash all the species living in harmony will be an example for tolerance and togetherness.
They feel happy and they sing praises of Mahadev, Mata Parvtai and Ganesh
Our innocent sugar coated Gannu bhayya asks Nag dev that now he wont say his mice friends to move away!
- - - - -
Precap:
Monday will see Mahadev accepts his devote Grushma's pure faith and devotion for him...
He promises her that he would stay there in the form of a ling till the end.
This will lay the base of the famous Grishmeshwar Jyotir ling temple.
- - - -
Thanks for Reading and liking the WU
Have a great weekend and Merry Christmas
Regards
Sia