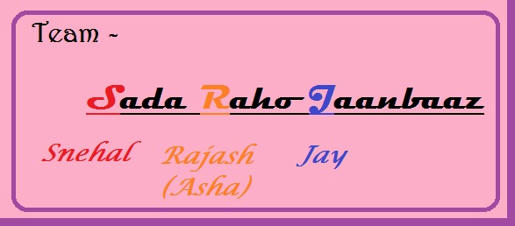 Our Team's OS
Scenario 3: Siddhi is Daddy T's daughter and Kunal goes to ask for her hand in marriage
Dark night, stars peeking out while a man walks on his path with determination. Soon he reaches his destination, Thakral mansion. He enters Thakral mansion, stands right in the middle. Regular chappals, black jeans, untucked red shirt with sleeves up, elegant chronograph watch, deep silent eyes with no nonsense attitude on the face, simplicity at its best; Kunal Chopra.
"So Kunal Chopra", Thakral walks down on steps, stops at mid-way with stern face. "Why are you here?"
Kunal looks at Siddhi's picture, "you know very well why I am here"
Thakral
seeing Kunal looking at Siddhi's picture, "Kunal Chopra, you sure have won cases against me; but now you want to win Siddhi? you think I will just let you take her away?"
Kunal,"Siddhi is not some prize I would win or claim. About taking her away, actually I have submitted myself to her long ago"
Thakral snores, "huh, you young generation and your love. You think you will come to here, say some fancy nonsense about love so I can get emotional and say
.NO
You are not fit for my daughter. You care about your principles, ethics, simplicity, unwillingness to make any compromise, ego and attitude. Can you let go of them for my daughter? How will you provide her with what she deserves, that is only best. You must prove yourself to me."
Kunal chuckles, "your concerns are valid as a father. I am everything that you said, but thanks to Siddhi , little more than that. I will never let go of any one of them as they define me as the person I am right now, person that Siddhi loves. My principles, ethics, simplicity are reasons Siddhi first came to know me. My ego and unwillingness to make compromises sure annoys so many, but Siddhi calls them her pride. My attitude
she calls it cherry on top
. So why would I ever want to let go of qualities that made it possible for Siddhi to love me. She me for me, fully accepts me. I will always remain the way I am as that's why Siddhi me."

Thakral rages..."Oh come on Kunal Chopra stop
!!! You are an egoist do you even know what love is ? Love does not improves one"
Kunal gives Thakral straight look and says thakral saahab :
Pothi Padh Padh Kar Jag Mua, Pandit Bhayo Na Koye
Dhai Aakhar Prem Ke, Jo Padhe so Pandit Hoye
"Siddhi has taught me that. I may doubt myself, but then Siddhi has full faith in me. That is why I stand before you with my head high in confidence, you will accept my proposal. Siddhi is the one who taught me what life really is." He feels a hand on his shoulder forcing him to turn his face, immediately bringing a blissful smile
as it is Siddhi, "She completes me."


Edited by Rajash - 19 December 2012 at 10:08am