Presents u the OS of the 1st TM TASK
We have chosen the 1st Scenario
i.e
Scenario 1: When Daddy T comes to know from Kunal,that Richa was responsible for/killed Rohit .You have to write some kind of emotional scene btw Thanal which'll end up with Thanal becoming friends
So here's presenting our OS
DK Thakral ki Kunal Chopra se dhusmani ki dastan khatam hoti..dosti par.
Kunal comes to Thakral house to warn Richa to stay out of his family and his life. He hears Richa
on d phone
and tries to listen to her conversation carefully. Richa is making plans to kill Siddhi with those goons who were responsible for Rohit's kidnapping.
As Richa hangs up the phone and walks away, Kunal decides to follow her which leads him to a dark and desolate place where Richa meets up with the goons. Richa refuses to pay them for a previous job, so the goons threaten to reveal the truth behind Rohit's
to the world. Richa
and starts to blurt out the truth about Rohit's
, Kunal feels that this is the right opportunity to expose Richa hence he records her confession on his phone. Kunal

Richa n tells dat she has been caught red handed .
Kunal drags Richa to Thakaral mansion and plays the recording to her father. Thakaral

hearing Richa's confession about Rohit's death.Thakaral
as he is in disbelief that his own daughter killed his son .Thakaral apologizes to Kunal for holding him responsible for Rohit's
for no valid reason. Then he goes to Richa and

At his home, as Kunal is telling his family about Richa's truth, the bell rings and Thakaral is at the door. Kunal gets upset seeing Thakaral .Thakaral assures him that he didn't come there to
, but to
for the deeds he and his daughter has done to Kunal . Kunal doesn't accept his
The next day, Thakaral spots Richa on the road
. SiNal had gone to
.Richa tries to hit Siddhi with her car, Thakaral comes in front of the car and takes the hit saving Siddhi. SiNal take Thakaral
where Thakaral is declared to be fine.
When Kunal goes to Thakaral ,to ask about his health, Thakaral again pleads Kunal
. Kunal asks him to rest. Thakaral says Kunal must have been
knowing that he had to stay away from his
and
for nine years because of Richa. Thakaral asks him If Siddhi is fine? Kunal asks him why did he save Siddhi.It's not the first time he found out about his daughter's evil intentions. Thakaral says, he might have done this for his selfish reasons as he wants Rohit's soul to RIP. Kunal says, he is not sure if Rohit's soul will RIP or not, but will make sure that Richa will

. Thakaral says he should have done this himself to Richa a long time ago then at least his son would be alive. Thakral says, It's not his children's fault but his fault that he couldn't be a better father to his children. Thakaral

to Kunal
This time Kunal decides to let bygones be the bygones and forgives Thakaral. Thakaral regrets being Kunal's enemy . Kunal and says, "Chalo Jab Humane Dushmani Itani Shiddat se Nibhayi Hai Toh, Dosti Mein Kanjoosi Nhai Karunga".
ThaNal are

and Richa

KOLAVERI DI TEAM


Scenario 2

Kunal enters Thakral mansion
Kunal: Thakral you are my Father
and you kept quiet




Thakral: Sorry beta...Kunal please listen to me
Kunal: Beta math bolo. when did you came to know about this and How ? Does Richa know about this.
Thakral:
One day Richa was signing "pehla nasha" after she met you, i doubted your intentions so started digging,this truth came out. I know chopras don't
you as much they do their other children. But never thought they are not your real parents. I met sulekha ji regarding case and saw her husband's pic in their home. He is none other than my college friend, who knew about my past and gave support to your mom after we split. Then after her death sulekha gave you to Veena who is your Mom's Cousin.

Kunal: my family never gave support to me, but you are my father

and sulekha told me" that you are my real father...and said for aage ki jhankaari please visit Thakral". Hey Bhagwaan woh Selfish Family kam hai kya???ab jab I have my Siddhi back you sent this evergreen item as my Father. It would have been better if iam an Orphan

.
You should have at least told me this before, your Ladli was all set to Marry me



Thakral: when i came to know i tried to tell richa to stay away from you.But haye re Meri phooti kismet, she didn't listened to me. so i thought to Reunite you with Siddhi.
Kunal: Reunite with Siddhi
are u
you should have revealed it to Richa and Me. How is it possible? woh Nori of Mumbai my Sister




Thakral:Today I will reveal truth to Richa.I thought if i help you by bringing siddhi back to your life you will accept my apologies. so I took Abhay's case and indirectly helped you. I lost my one and only son,now God gave me a son



Kunal: You better reveal this to your "Beti" soon.
You think I will accept you as my father no never
Now I have a JKR and two OTT kids to deal with
. I will be happy singing " Abhi mujh me kahi"


Thakral: Kunal you are my son and Richa is your sister,you accept or not you will b my heir now.

Kunal:"KHAMOSH"

there is no question of accepting you as my father.heir ?

you want me to be your heir.

the property which is the proof of your ghatiyaapan is mine. i would rather prefer to shoot myself before taking a penny from you.
Thakral sab you should better consult a doctor and take your Ladli to some psychiatrist. Take it as a family package.


kunal storming out of thakral mansion.
self talk :Thakral u thought you helped me in getting back my siddhi in to my life.i planned this against abhay when i saw him strangling siddhi. i did my investigation and wanted to get my siddhi back...but in between this disgusting truth came out. Huh achcha hai tera mere baap banneki chaakar mein, uss Richa mera peecha chodegi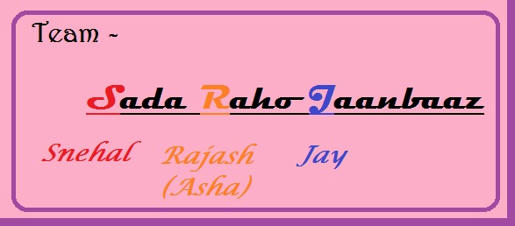 Our Team's OS
Scenario 3: Siddhi is Daddy T's daughter and Kunal goes to ask for her hand in marriage
Dark night, stars peeking out while a man walks on his path with determination. Soon he reaches his destination, Thakral mansion. He enters Thakral mansion, stands right in the middle. Regular chappals, black jeans, untucked red shirt with sleeves up, elegant chronograph watch, deep silent eyes with no nonsense attitude on the face, simplicity at its best; Kunal Chopra.
"So Kunal Chopra", Thakral walks down on steps, stops at mid-way with stern face. "Why are you here?"
Kunal looks at Siddhi's picture, "you know very well why I am here"
Thakral
seeing Kunal looking at Siddhi's picture, "Kunal Chopra, you sure have won cases against me; but now you want to win Siddhi? you think I will just let you take her away?"
Kunal,"Siddhi is not some prize I would win or claim. About taking her away, actually I have submitted myself to her long ago"
Thakral snores, "huh, you young generation and your love. You think you will come to here, say some fancy nonsense about love so I can get emotional and say
.NO
You are not fit for my daughter. You care about your principles, ethics, simplicity, unwillingness to make any compromise, ego and attitude. Can you let go of them for my daughter? How will you provide her with what she deserves, that is only best. You must prove yourself to me."
Kunal chuckles, "your concerns are valid as a father. I am everything that you said, but thanks to Siddhi , little more than that. I will never let go of any one of them as they define me as the person I am right now, person that Siddhi loves. My principles, ethics, simplicity are reasons Siddhi first came to know me. My ego and unwillingness to make compromises sure annoys so many, but Siddhi calls them her pride. My attitude
she calls it cherry on top
. So why would I ever want to let go of qualities that made it possible for Siddhi to love me. She me for me, fully accepts me. I will always remain the way I am as that's why Siddhi me."

Thakral rages..."Oh come on Kunal Chopra stop
!!! You are an egoist do you even know what love is ? Love does not improves one"
Kunal gives Thakral straight look and says thakral saahab :
Pothi Padh Padh Kar Jag Mua, Pandit Bhayo Na Koye
Dhai Aakhar Prem Ke, Jo Padhe so Pandit Hoye
"Siddhi has taught me that. I may doubt myself, but then Siddhi has full faith in me. That is why I stand before you with my head high in confidence, you will accept my proposal. Siddhi is the one who taught me what life really is." He feels a hand on his shoulder forcing him to turn his face, immediately bringing a blissful smile
as it is Siddhi, "She completes me."

Kunal comes to know that Thakral is his real dad. He reaches Thakral house fuming!
Kunal - Thakral!! Thakral!!
Abbe muh chupa ke kya baitha hai, pehle jo karna tha woh tune kar diya aab sharam kyun aa rahi hai?! Jab aani chahiye, tab toh besharamo jaise sab bigad diya!
Thakral - Kya hai subah subah kyun chilla rahe ho?

Khud toh sote nahi ho doosron ko toh chein se sone dooo!!!
Kunal - Chein se sona hai?! Meri neend haram karke tumhe chein se sona hai!

(kunal punches thakral's face) haan?? Kyun kiya tumne aisa?? Aur agar kiya toh aise kyun dikha raha hai ki tujhe kuch pata hi nahi hai?!
Thakral - Kya bakwas kar rahe ho tum?? Aisa kuch bolo joh samaj mein aaye!
Kunal - Aisa bolu? Toh thik hai! Mujhe pata chal gaya hai ki tum aur meri maa ke beech kuch tha

aur mein tumhara beta hoon!!

Thakral -

Kunal - Haan Thakral!! Bada aaya mujhe paida karne wala!

Baap ka toh matlab pata nahi aur chala bacho ki factory kholne!!

Haan lekin ek baat achi ho gayi! Kamse kam Richa se toh picha chootega mera.. meri behen joh ban gayi hai!!

Thakral - Kunal mere bete!!

woh mujhe veena ne tumhe batane se manaa kiya tha! Varna mein toh tujhe gale lagana chahta tha!

Tujhe pyaar karna chahta tha! Tujhe apne kandhe pe bitha kar poore shahar mein gumana chahta tha! Aur tu mere ghar ka varis hai! Thakral parivar ki aan ban shan hai!!!
Kunal -

subah subah konsi film dekh k aaya hai be tu. Joh itne dialogues bol raha hai!!
Pyar aur tu?.. Accha kiya jo mujhe gale nahi lagaaya.. varna inhi haton se tumhara gala daba deta!

Mein kaanta banke tujhe katunga!

Pehle khud toh chalna sikh aur badme mujhe chalna sikhana.. aaya mujhe aapna beta kehne wala ..huh!

Haan! aur ek baar kisi se bolna mat ki tu mera baap hai
.. varna log tujhe joote marenge!

.. ki bete se kuch sikh ke aao!!..
Thakral - Kunal!

Yaad rakhna ki tum apne baap se baat kar rahe ho! Dekho.. aaj tumhe pata chal gaya hai ki main tumhara baap hun! Hame ek doosre ke saath kaam karna chahiye! Socho agar hum dono top lawyers ek ho jaayen!

Kitna acha hota! Hamaari firm Mumbai me hi nahi, poori India me top law firm ban jaayega!
Kunal - Abe Thakral ke bacche!

Apni neeyat pe aa hi gaya na!

Yeh mat sochna ki is baat-bete ki rishtey ki vajah se hamaare beech kuch badalne waala hai! Tum mujhme apna adarsh beta nahi

, apna sabse bada dushman paogey!
Aaj se mera ek hi lakshy hai.. tumhe barbaad kar dena!!


Scenario 3: Kunal asking Siddhi's hand
Team 5: Shweta, Suhani & Salman
TEEN KA TEKHA TADKA
Kunal arrives in Thakraal Mansion with full on Hero Attitude
Kunal: Thakraal Sahab, Main aapse Siddhi ka haath maangne aaya hoon. Waise to Rishte ki baat ghar ke bade karte hain, lekin main khud hi hero banke Chala aaya.
Thakral: mere pass ghar hain ,shuhrat hain, bangle hain.. tumahre pass kya hain?
Kunal: mere pass maa hain, bada sa parivaar hain or 2 bedroom flat hain'
Thakral: hmmm tumhare is 2 bedroom ke flat se bade to mere naukron ke baathroom hai. Bura mat lagaana Kunal, main ladki wala hoon, itna to haq banta hai ki Tum se poochon ki kamaate kitna ho?
Kunal: Peshe se to main ek Lawyer hoon, leking jaise hi Shadi ho jayegi waqalat shuru kar doonga.
Thakraal: To kya tum kuch bhi nahi kamaate?
Kunal: Nahi nahi thakraal sahib, yeh maine kab kaha, Ab roz roz main jeet nahi sakta na, Kabhi haar bhi jata hoon, yeh Juaa lat hi aisi cheez hai

BG - Aamdani adthanni' Kharcha rupaiya'.
Thakraal: Haaainnn, to kya tum Juaari ho?
Kunal: Chee Cheee'.Juaari aur main? Main to bahut hi Sahreef aur seedha ladka hoon, saara dosh Sharaab ka hai. Ab nashe main acche Bure ka hosh kahan rehta hain? Doston ne pakad kar bitha diya, ab is main mera kya dosh hai?
Thakraal: Hai hai... To tum Sharabi bhi ho?
Kunal: Thakraal sahib, aap to bura maan gaye. Ek baar Siddhi se meri Shadi kar dijiye, Sharab aur Jue ki lat to yoon choot jayegi.
Thakraal: Kya yeh aadat kisi gayi hai jo tumhari jayegi?
BG ' Tera pyar' Hukka (Richa) bar'.
Kunal: Arey T.Sahab Saare fasad ki jad Richa Bar hai, Shadi hote wahan jaana choot jayega aur Richa mujhe daru nahi pilaygi.
(Richa Lap Dance)
Thakraal: Bas yehi kami baaki thi, ki Richa Baar main bhi jaate ho
Kunal: T.Sahab, yeh koi mamooli Bar nahi, yeh RICHA Bar hai, yahan bade bade law firms ke maalik sadiyon se jaa rahe hai.
Thakraal worried and thinking: "Shayad Kunal ko pata chal gaya hai ki Richa ki maa ke saath mera EMA hai? Agar maine mana kar diya to yeh mujhe badnaam kar dega"
Thakraal: Kya naam bataya? Richa Bar? yeh Richa wohi haina jiski maa is bar ki owner hai?
Kunal: Bilkul, wohi hai...
Thakraal changing his tone: Ab honewale Daamad se kya Chupana, main bhi wahan apni jawani ke time par jaata tha, case ke silsiley main
, aur...mmm bbb... mmmain aur Richa ki Maa Video games bhi khelte the.
Kunal thinking (Ab mamu ke bheje main baat aayi)
Kunal: To main yeh rishta pakka samjho?
Thakraal: Pakka? Bilkul Pakka. Aur meri taraf se permission hai shadi se pehle bachelor party tum Richa Bar main hi karna. (BG... Subah Hogayi Mamu...Mamu... )
Le jayenge Le jayenge...
KOLAVERI DI TEAM
Thakaral:
aaj na chhodunga tujhe dam dama dam
tune kya samajha hai mujhe dam dama dam?????????????
Kunal:
Aa Dekhen Zara
Kisme Kitna Hai Dum
Jum Ke Rakhna Kadam
Mere Saathiyaa
Aage Nikal Aaye Hum
Pichche Rehe Gaye
Upper Chale Aaye Hum
Nichche Rehe Gaye
SADA RAHO JAANBAAZ
Mr DK Thakral :
Muhabbat hai kya chij ... muhabbat hai kya chij...hamko bataao...
Yeh kisne shuru kee, kisne shuru kee hame bhee sunaao...
Yeh kisne shuru kee, kisne shuru kee hame bhee sunaao...
Muhabbat hai kya chij... muhabbat hai kya chij...
Kunal Chopra in akdoo estyle :
Duniya mein kitni hain nafratein...
Phir bhi dilon mein hain chaahatein...
Duniya mein kitni hain nafratein...
Phir bhi dilon mein hain chaahatein ...
Mar bhi jaayein pyaarwaale mit bhi jaayein yaarwaale ...
Zinda rahati hain unki muhabbatein...
Mar bhi jaayein pyaarwaale mit bhi jaayein yaarwaale ...
Zinda rahati hain unki muhabbatein...
JAANBAAZ SIZZLING DIVAS
DK Thakaral to Kunal:
Na tum ho bewafaa
Na mein bhi hun
Phir bhi hain hum judaa
Main kya kahoon
Na jaane waqt ki marzi hai kya
Kyun hai mili yeh dooriyan
O meri jaan'o meri jaan
Kunal to Thakaral:
Thodi thodi guzre pakad kabhi taaza si hawayein
Saate saate se yeh rishte apni baah ko filayein
Mera mann, toh bas gungunana chahe
Uska mann, khul ke geet gaana chahe
Muskurayo, main woh khilkhilana chahe
Hai ziddi yeh badi majbooriyan bhi
Dooriyan bhi hai zaroori, bhi hai zaroori
Zaroori hai yeh dooriyan
TEEN KA TEEKHA TADKA
Thakraal:
Ruk Ruk Ruk' Are Baba Ruk'
Oh My darling Give me a look
Dil mera Dhadke Tere Liye'Dil mera Tadpe Tere LIye..
Gussa Tera wallah wallah nakhre tere uff uff uff'
Kunal:
Bhaag bhaag DK Bose DK Bose DK Bhaag..
Daddy mujhse bola, tu galti hai meri
Tujhpe zindgaani, guilty hai meri
Saabun ki shakal mein, tu toh nikla kewal jhaag, jhaag, jhaag, bhaag
Bhaag bhaag Bose DK Bose DK Bhaag...???
THREE MUSKETEERS
Thakral (showing Nakli pyar
) :
Abhi na jaao chod kar ke dil abhi bharaa nahi
Abhi abhi to aaye ho, Bahar banke chaaye ho
Nash Eke Ghunt Pi To Lun Abhi To
Kuchh Kuchh Kaha Nahin
Abhi na jaao chod kar ke dil abhi bharaa nahi!
Kunal (Knows Thakral is trying to Pataofy him
):
Asli Kya hai Nakli kya hai
Inko aaj bata denge
Marte dam tak yaad rahe wo
Jalwa aaj dikha denge!


Edited by -sahasra- - 31 December 2012 at 8:36am