Originally posted by AshuNaik
Kai Po Che! to be a desi, middle-class bromance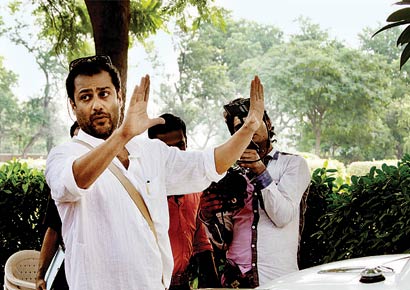 Published: Sunday, Dec 16, 2012, 20:40 IST
By Mahalakshmi Prabhakaran |
Place: Bangalore | Agency: DNA
Abhishek Kapoor This weekend, excited viewers of that eccentric, masala movie sequel Dabanng 2 will also catch a sneak peek of another movie that has been arousing curiosity since news of its making started doing the rounds ' Kai Po Che! A UTV production, there are a few reasons why Hindi movie buffs are all eyes and ears about the movie: for one, it's Abhishek Kapoor's second directorial outing after that cult hit, Rock On! Two, the movie is based on Chetan Bhagat's The Three Mistakes of My Life, and then there's the interesting cast ' TV actor Sushant Singh Rajput debuts along with Amit Sadh and Raj Kumar Yadav (last seen in
Talaash).
"I was clear that I wanted to cast lesser-known faces for the three protagonists because the bonding between them has to look real and that is not possible when you have stars playing the roles," explains Abhishek before letting us in on the other details of the movie. The question that invariably pops out is about his choice of basing a movie on the least successful of Chetan Bhagat's books. "Even Chetan offered me Two States explaining that it would be more successful given its remise of a love story between a North Indian and South Indian. When I read the book, The Three Mistakes of My Life, I understood that it was not his best work but the story at its heart is about friendship and bonding, a story that could be cinematically rendered." Abhishek quickly adds however, "I've rewritten 50% of the story. I've done a lot of restructuring and have played around with the characters and plot to make it more relatable to audiences." Kai Po Che! centers around the characters of Ishaan, Govind and Omi and reeks of a male bromance. So, how similar or different is it to the other popular male-bonding films we've been seeing in the past couple of years? Abhishek points out, "I wouldn't want to compare it with other films. I can however compare it with my previous film, Rock On! And so, I will say Kai Po Che! is essentially about friendship between the three leads, but the story and the backdrop make it a very Indian middle-class film.
Besides the element of camaraderie, three other areas that the film focusses on include the country's favourite topics ' cricket, politics and religion. The movie was largely shot in Vadnagar, which Abhishek quietly points out is the "hometown of Chief Minister Narendra Modi." Recalling the experience of shooting in a place of blistering heat, the filmmaker says, "You know shooting in Mumbai can be quite difficult but unlike there, the people of Gujarat are very gentle, very kind and supportive. That being said, I didn't shoot in the modern parts of Gujarat like Ahmedabad because the story is set around 2001 and 2002 and to create the ambience of that time period I had to chose a smaller, lesser-developed town like Vadnagar."
Finally, we wonder if a sequel to Rock On! is still on the cards to which Abhishek suffices to say, "I have developed the story but haven't begun work on it yet." Now, there's a story for another day.