Posted:

14 December 2012 at 8:59am

| IP Logged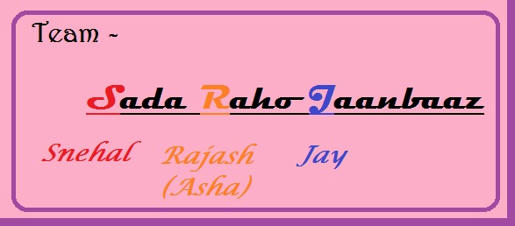 Hi This is Snehal
Here's Snehal for u all
S-Sweet
n-Naughty
e-Excellent
h-Helpful
a-Adorable
l-Lovable

M from Nagpur[India],,,hve cmpleted my engg few mnths back!
i m very friendly person! i like to spend max of my precious time with my friends!my frndz r my life!
i love to watch tv
,,,as m too addicted to it
,,,,,,,i like playing games on pc,reading novels mostly indian authors nd romantic,thriller ones!
listening songs etc
i just cant live without choclates, my cellphone,my lappy,tv,internet and last but not least the most imporant my friends
i luv to be funny & make everyone happy around me!
actually Simple,sweet,bubbly emotional,trustworthy makes me

Hi This is Asha (Rajash)
This is ur Ashu
A-Adores Sameer Soni
s-Simple
h-Humble
a-Addicted to Parichay


A fashion designing graduate from Mumbai, loves watching Parichay only, always optimistic in life n addicted to my friends on IF
Hi This is Jay
n Here's Mr. writer Jay to u..


J-Joyful (Not really)

a-Adamant,Very
y-Youngest in the family

Just finished my MA in Forensic Psychology. I only watch Parichay. You may or may not know me for my longgg posts of analysis or recently writing FF


Edited by Rajash - 14 December 2012 at 11:17am