To All the teams Good Luck and u guys can connect with your team mates through PM's and if in need of any help we are always there at yr service
Team 1

Yo! Yo!
We Are The
" The Attitudics "
Hi! I am Ria. A B.Com graduate and a CA by chance
Trying to get into a decent Business School at present. Absolutely fell in love with Parichay bcoz of Kunal's interesting characterization n SiNal rocking chemistry, consequentially now i have a huge crush on SS
A total sucker for love stories and in love with Rahul Dravid
Hi, I am Honey... I am doing C.S. along with my graduation... I like Sameer Soni and he is the only reason which kept me hooked to the show... My hobbies are dancing, singing and chatting wid my friends
Ello! Do i need to give my intro
I dnt think so bt need to do it as script demands
Moi self Nidhi(u see naam hi kafi hai
) M the most youngest n smallest kid on Parichay forum
Bt dont go by my age m the most naughtiest gal n crazy gal u have eva seen
M a phone freak u will always find a new cell in my hand
Padhai
Wo kis chidiya ka naam hai
I m preparing for my CPT exam which is after one day
M in B.C.C.A 1st yr
My Parichay buddies are too good n hilarious thats why i love them alot
Wifey, aditi,suji,suru,rani,bhavi,sallu(u guys gave me my best days on IF always supported me) Thanks
I watch Parichay for SaTi/SiNal n KN
Oppositions Be Aware Of Us
Live.Laugh.Love
Nidhi,Ria,Honey

Team 2

Eshi's Slam book
You name : Eshi
Your nick name: Eshi
Occupation :finished MBA
Fav. Actor : Amitab Bachan
Fav. Actress : Bhanumathi
Fav. T.V Show freinds,parichay

Fav. Foods :chicken,Muffins
Favourite hangout place:Home

Your Hobbies : listening music,cooking
Who do you have a crush on: none
Ur strength: My family

What can easily impress you ?
i don't know
Songs you are humming these days Hukka bar

An unforgettable day in your life ? there are so many


Sindhu's slam book
You name : Sindhuja

Your nick name: Sindhu
Occupation : student
Fav. Actor : Surya, samir, Shahid, Avinash, Arhaan
Fav. Actress : Jyothika
Fav. T.V Show parichay , choti bahu, WRWMK

Fav. Foods : any food made by my mom

Favourite hangout place: my home

Your Hobbies : listening songs, reading novels

Describe your self i m a short tempered and sensitive person but not of a kind of reserved girl
Who do you have a crush on: none
Best advice u have gave or have been give ? my frnd advices me not to be sensitive in all matters
ur deepest fear ? i dont fear at anything

Ur strength: my family and friends

What can easily impress you ? good nature and kindness

Songs you are humming these days yeh jo hullki hulki khumariyan

An unforgettable day in your life ?
my cousin bro's marriage day

You name : Roshani
Your nick name:
Rosh, Rosho , Roshu many more
Age :
Occupation :
Student
Fav. Actor :
Sharad kelkar, Sameer soni, Harshad Chopra
Fav. Actress :
Keerti Nagpure, Krystle Dsouza
Fav. T.V Show:
Parichay
Fav. Foods : Pasta and Idli
Favourite hangout place:
Home sweet home
Your Hobbies :
IFing
Describe your self :
Im very simple ( my friends would agree with this
) thats all
Who do you have a crush on:
NO one
Words or phrases u use the most ? Seriouly , kya yaar?, Chill naa
Best advice u have gave or have been give ?
i always tell my friends to ignore things that would irritate us
but i don't ignore such things
best advice I've been given :
Don't take rest after your first victory
ur deepest fear ? Loosing my loved ones
Ur strength:
Nothing
Songs you are humming these days: nilavu thoongum neram ( a tamil song )

Team 3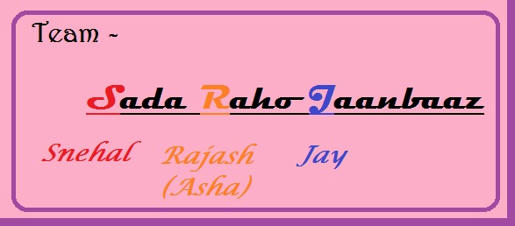 Hi This is Snehal
Here's Snehal for u all
S-Sweet
n-Naughty
e-Excellent
h-Helpful
a-Adorable
l-Lovable

M from Nagpur[India],,,hve cmpleted my engg few mnths back!
i m very friendly person! i like to spend max of my precious time with my friends!my frndz r my life!
i love to watch tv
,,,as m too addicted to it
,,,,,,,i like playing games on pc,reading novels mostly indian authors nd romantic,thriller ones!
listening songs etc
i just cant live without choclates, my cellphone,my lappy,tv,internet and last but not least the most imporant my friends
i luv to be funny & make everyone happy around me!
actually Simple,sweet,bubbly emotional,trustworthy makes me

Hi This is Asha (Rajash)
This is ur Ashu
A-Adores Sameer Soni
s-Simple
h-Humble
a-Addicted to Parichay


A fashion designing graduate from Mumbai, loves watching Parichay only, always optimistic in life n addicted to my friends on IF
Hi This is Jay
n Here's Mr. writer Jay to u..


J-Joyful (Not really)

a-Adamant,Very
y-Youngest in the family

Just finished my MA in Forensic Psychology. I only watch Parichay. You may or may not know me for my longgg posts of analysis or recently writing FF

Team 4


Jaanbaz apni team... sabko harana Humare baye hath ka khel... intelligence humaari fitrat jitna humari adat...We the Sizzling Divas set to defeat everyone...winning is our habit...God bachaye aap logon ko kyunki hum aa rahe ahin harane sabko...be ready for the Jaanbaz Sizzling Divas!
1.Name : Sonia Rachel John
Nick-name-Sonu,Sona
Doing my Bsc.Zoology in God's Own Country
My Fav Hobbies our Singing,Watching my Kunu's Videos,Making Vms n Siggies,Readiing short-stories etc etc
2.Name: Deblina Saha
Nick-name- DL,Debi
Studyng in 9th Std...in the Salt Lake City
My Fav hobbies are PLaying Violin, Watching Samir Soni Videos
3.Name-Padmini
Nick-name: Paddy
working at TCS in Silicon Valley of India
my hobbies: reading books, talking and chatting with friends, traveling and going on long drive ..
my fav pass time is watching SINAL scenes,love them to core
Team 5


Teen Ka Tadka
(snmalik4) Salman: Shayar-e-Azam, Official BHAI & Famous for his SALMANIA on the forum'.
. Many Call him BHAI and some BAD MAN...
(shweta_r) Shweta: THE BAHADUR (Man Balwaan, Laage Chattan, Rahe Live Updates main Aage' Hudd Hudd Shweta ' Shweta ) Fearless & Dabangg...
(-suhani-) Suhani: ChulBuli, Funking, Emotional Atyachari Suhani, shayarana aandaz hain, karti hai shayari in parichay CC.. kunal ka deewana pan chaya hua hain
Our Motto: We DONT Follow Bura Mat Kaho, Bura Mat Suno, Bura mat Dekho'.. So what do we do? Please see Below (We are Modern Sikandars)
Meharbaan Kadardaan Sahibaan
Jo log Parichay show ko chalaate hai'.
Nakli promo dikhakar dhoka dete hain, Aur Apne pakaao tracks se hame Bore karte hain
Unse toh bhale hum teen Sikandar hain Jo apna aur apne saathiyon ka manoranjan karte hai
Aur chain ki zindahi basar karte hain
Toh bachha log bajaaon hum teen Sikandar ke naam pe taali
IF ke hum Sikandar'.
Chale to rakhle sabko apni jeb ke Andar'.Arey Humse Panga mat lena meri jaaan'.
Teen ESS (S) ko kabhi Underestimate mat karna. Shweta, Suhani aur Salman
Team 6
Team Name: Three Musketeers!!!
Introductions:
hima2012 - Hi! I am Hima. I am married and have 2 beautiful children to spice up my life. I am currently doing my MBA! I watch only Parichay and that too only for Sinal. I love both SS and KN and their on-screen chemistry is what keeps me hooked to the show!
vidhisalot - Hey frndz , I m vidhi. i m a student n i m a career oriented gal...i m a big big fan of SMS ( samir , mahendra singh dhoni, shahid kapoor) they r part of my life...i fear to loose my loved ones... Love u all...
lovergirlalina - HIii I am ALina khan 4m HYD,I have completed my graduation now doing B.Ed ,My hobbies are reading books and news regarding SINAL/SaTi