A very happy bday to u ankit.
okie as i promise..an essay..

here u go...
first of all i dint evn knw it its ur bday...lol n i hv to stalk u to find ur bday thread.
sry for dat...
first cake cutting..i knw u dnt celebrate ur bday like me.. but cake cutting..toh banta hai..
blow d candlesss now...pshhhttt m acting like a kiddo now...
can u blow dese all candles or shuld i call fire departmnt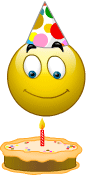 shruti gone madwaaa

dnt do dis ankit..
m nt gonna sing bday sng for u...
eat d cake...

n here ur giftss..omg..so mny...





time...



number 1 person...yes u r no. 1..a really kind hearted n sweet n caring frnd.
as per ur no. u r..sunny, energetic ,radiant ,confident,proud,goal oriented( dat u r for sure),socially active( correct IF pe jo ho)
arrogant
no u r nt... n ready to rule...yes yes dis is true..protector n provider..haan jii wo bi ho... it turning out to be true..
smarter dan wrk harder..hmm nice quality ankit..
make frnds...for sure u ve mny..frnds..
A leader.. as u r...
god bless u a successful life ahead n all d happiness u want in life.
A bday is a step twrds d nxt round of 365 days of gud n bad xpirences. hope gud ones make u happy..n hope bad ones nvr evr cum to u...n if dey do..den teach u sumthing mch bttr in life n give u inspiration to move ahead.
as we jst became frrnds i didnt knw u vry well so i used no.1 characterstics to describe u.
.. till d day we had chat u r an awesum prsn vry caring n a sweet frnd
n continue to be so... wish u ve mny mny mny mre bdays ahead..n u hit to d century..
they say u lose ur memory as u grow older
I say forget abt d past n "live life to d fullest"
hope u njoyed ur bday..n dinno wit ur family.
a vry happy bady once again ankit..
-shruti
ps: cnt write mr cz of hand.
if jitu bhaiyaa sees dis ii say to me..bacchaa again essay..
again posted here..