InTrO
KrIpA sHaRmA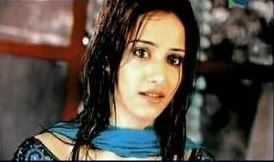 A very traditional girl. She is an orphan. She was raised by her brother who love her very much. She is rich but doesn't show it because she believes that people should like her for who she is and not what she has. (She is rich because their mom and dad left the money for them and Josh works at the Sharma Empire when he can). Lives with her brother in a 3 bedroom flat. Her best friend is Prithvi. She believes in true love and is looking for her prince charming. She is nice and very caring and is very delicate. She is going to go to college in Mumbia. She is perfect except she can't see!!
AgE- 20
AnGaD kHaNnA
A big flurt. He's a huge rockstar. He is rich. Has a younger sister that he loves a lot! Doesn't believe in love. He is in college in Mumbia. He is a senior. He has A LOT of girlfriends! All the girls are crazy after him because of his looks, money, and fame. He lives in a 5 bedroom flat. Angad treats girls like clothes. Once they get old, throw them away!! Hates his dad because __________. (find out in the story). Lives alone with his sister. Misses his mom (she died).
AgE- 23
JoSh ShArMa
Loves his sister a lot. He is a normal person. Very nice and caring. Mostly same as Kripa. Goes to college in Mumbia. He has heard of Angad but doesn't really think that they will get along because of their diffrences. He's waiting for the perfect girl. He is shy. Some girl like him because of his kindness, looks, and the way he cares for others and not himself that much. Josh never dates them. His best friend is Prithvi.
AgE-22
KuMuD kHaNnA
Shy. Caring. Loves her brother. She is very kind and doesn't make fun of the unfortunate or poor. She is traditional and wears Indian clothes all the time! She cares a lot about her brother. She is looking for her Mr. Right. She never saw her mom before. She is very pretty. Going to go to the same college as others. She has a pure heart. She loves helping people in need. Angad always gets annoyed because of that so she helps the needy in a different way.
AgE-20
DiLiP kHaNnA
Buisness man. Never has time for his family. Has a wife and 1 child. Technecly same as the show.
AgE- Lets say 56
RiShI kHaNnA
Hates his dad for not caring about him or his mom. Goes to the same college as others. He found out that his Dad had another family so he is looking for his two kids. Mean and spoilt. Plays with girls hearts. Hates Angad!
AgE-22
NaInA kHaNnA
Loves her husband. Doesn't know that he had another wife. Caring. Loves her son alot. Nice.
AgE- Lets say 54
PrItHvI bOsE
Nice and kind. Just like Josh. Shy and sweet! Goes to the same college as others. Josh's best friend. Loves Kripa. Cares for her alot. Lives alone. His parents live in Australia.
AgE- 22
AvAnTiKa KhAnNA
Mother of Angad and Kumud. She died when Kumud was born. She died by ___________. (find out in the story) Loved her husband a lot. She was broken when she found out her husband had another family.
ThEsE aRe ThE mAiN cHaRaCtHeRs!!!


Edited by .:KYPHlOvEr88:. - 27 July 2006 at 11:38am