JaiGanesh ShivaOm
Hi all, I'm Sia.
I have got this privilege of updating the Written version of the show for
Mondays
and
Fridays
.
I would like to thank you for giving me this opportunity.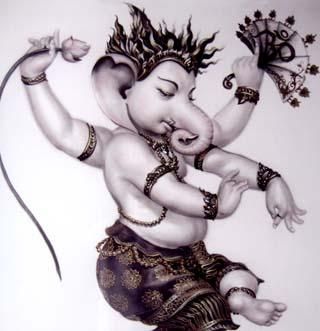 Devon Ke Dev Mahadev7th -Dec-2012 : 'Tales of Vinayak and the Mice'

The mice are sad as they couldn't find Laddus to eat and the reason was Vinayak..they narrate the story to Vinayak. So when he tries touch them they runaway; He feels amused by this and on finding one of the mouse running he starts to chaise it and at one point the mouse is trapped and tired.. Vinayak gently takes it in his hands and asks as to who he was?
It replies that it is a mouse and it lives in his gandpa's palace (Himvan never had pest control at his palace)
It also says that they were shunned from eating ladus at the palace and they had come their to know who was their reason of starving.
Vinayak replies that they both sail in the same boat...he too has been stopped from eating ladus cause of his mother's promise. He says further that if they both share the same pain why don't they become friends?
Vinayak plans that if the mouse goes into the room where he is forbidden, he gives it the authority to enter the room, so as to have ladu.
Vinayak puts a condition that only after he eats they should start eating, which is agreed by the mouse.
Seeing this the other mice too join the brave one, but the mouse has a fear that if the gans catch them what would they do?Vinayak assures them that he would protect them.
As the mice bring him ladus he start to eat them and ask them bring more.
And this continues till they question him that his appetite is endless and in this pace nothing would be left for them.
Vinayak then says that he is still not done,. They again say that if gan prayt catch them... Vinayak says that to eat some thing as Delicious as this ladu they have to take some risk. Then they go to carry more..
Then gans come back and are appalled to see lots of ladus on the ground.
They doubt that someone is stealing it.. then they run inside the cave to fins who is responsible for all this.
They find mice and try to catch them...but the mice run towards Vinayak but they are trapped as all the gans are stopping their way..
The ganas bash the mice for stealing the ladus..where Vinayak is not getting anything to eat.
The mice shout for help and Vinayak when hears this e gets up and goes to the place.
All the gans make fun of the mice as they are crying for help for their own kind!
Vinayak replies that he is there for them.. all the ganas are shocked know this.
The mice start to cry.. ganas question that how cam these small mice be his friends... Vinayak says that whosoever gives him ladu to eat will be his friends.
Then as the ganas go to harm them... but Vinayak using his powers making them all fall on the ground.
Parvati ma feels the ground shake and is worried.
Vinayak says that its his duty to save the mice and ones he makes a commitment it is done!
Naradji and Brhm dev are discussing about Vinayak...
The gans say that it is cause of the mice that the food is wasted!
They say that he have to punish the mice for their mischief act
Vinayak says in that case even he has to get a punishment cause he was responsible for it.
He asks them to catch him first in order to take him to Parvati ma...They all hold him tight but they couldn't even move him an inch, instead he forcibly throws them in the air and Vinayak laughs.
All the ganas are hurt and at that moment Parvati ma comes and sees all that... and feels worried about Vinayak. He says that all those mice are his friends.. when she says that she has never seen them on Kailash they reply that they stay at her parents house.
They all sing prayers of Mata Parvati.. Vinayak says that they weren't given ladus to eat there.
He then narrates what has happened...hearing that Parvati ma feels sad on her being so hard on him.. but also feels good to know that her son is righteous so she embraces him.
She apologies to stop him from having lauds .. she also frees him from the promise of not having Ladus.
She also permits the mice to stay there and to eat whatever they wish for.
All the mice with Vinayak run towards the room...
Parvati ma feels happy for her little one!
One of the injured Gana says "LITTLE ONE! Being a little one he has made this out of us and if he grows old what he is gonna do!"
As Parvati ma walks Naradji appears and greet her.
Naradji says that after Vinakay's birth she looks content and carefree.
She replies that she is content but not carefree.. On asked about she replies that "from childhood itself if Vinayak is given a suited guru, to make him disciplined and learned"
Naradji says that its too early for him as its just his namkaran sanskar that was held. And before his education his Upnayan sanskar has to be held for which Mahadev's presence is important; he suggest that she has to wait for Mahadev.
Where as Mahadev is still in his penance.
BG- Karpura Gauram is played
Mahadev opens his eyes coming out of his long meditation.
All the devtas watch him come out of the meditation.
Vishnudev says that his coming out of the meditation is a sign of goodness for the world.

*___*___*
Precap:
Vishnu dev says to Mahadev "For which purity you have done the penance it is done in the form of Vinayak's birth."
Shiva says that he doesn't want Parvati to suffer and its their responsibility to look after the world.
Thanks for reading the WU
Regards
Sia