She is sweet, tolerant(my god, those scary days to update. I don't even want to remember)

ritzi
she is sweet at the same time funny kaafi danda dikha ke kaam do minute mein karwa leti hain am fida on this talent of hers
gina
She is the cutest and most peaceful soul around
tista
Chulbuli
adi/uma
Very Sweet...never has a rude word towards any one...even for fun...
arya
sweet
rashu
She is a total naughty kid
vedo
She is very sweet, caring, hard working and emotional!
anita
When I met you on the forum, I did not know that you would end up being such a special friend of mine. I will cherish our friendship forever. Always remain your sweet self.
mona
- sweet like chocolate ice cream
nia
Fun loving and curious
umam
Sweet and sensible.
neha
She is very sweet,sensible and friendly
Anshul
patient
Bhavi_shiv
i dont know her closely neither we talk much but i think khushi ji is most civilian one on forum and sweet...

ashahai_aamanke
honey
ritzi
khushi danda girl here
gina
Dandewali
Tista
Sweet heart
adi/uma
Khushi - is very apt name for her...She distributes Khushi to each one of us...in her own sweet way...
arya
angel
rashu
sweet-honey...
vedo
Well I call her PDjee...short for Par Daadijee, cos she takes care of me like a sweet grandma!
anita
Sweetheart
mona
her name is already so sweet..umm..Sri
nia
Shona
Umam
I think, her current IF ID suits her best
...
Neha
Her name is already sweet enough Khushi
Anshul
her name khushi i think nothing suits her better than khushi.
Bhavi_shiv
name for her i think khushi suits the best as she bring happiness in forum...the only name come to mind for her is khushi...
ashahai_aamanke
She is super fast express in updating!

ritzi
she says everything to the point i like tat .. and she calls me chotu which i love
gina
Always willing to help
tista
Helpfull
uma/adi
She is very accomodative towards every ones' opinions...
arya
Friendly
Rashu
she is very nice
Vedo
She is a leader!
Anita
She comes across as a very lively and happy person.
mona
only one?
..her friendly nature
nia
Friendly
umam
The way she grasps the characters in the BV tracks and her interpretation of scenes is bang on..
Neha
she is very friendly
Anshul
her sincerity
Bhavi_shiv
she never criticize anyone although she stand up for the wrong...
ashahai_aamanke
scratching my head to find one! will let you know as soon as i find(Well, she is too sweet to find anything annoying with her)

ritzi
well she shows lots of danda she is very strict
gina
Her danda
Tista
nothing find till now
uma/adi
Cannot really think of any thing...
Arya
Nope...nothing..Nil...N/A
Rashu
more then 1
Vedo
Not a bad thing per say but she's always assigning tasks to everyone...a taskmaster she is!
Anita
Honestly I can't think of any
mona
- thinking..
Nia
Sometimes she become so straight forward but it is not bad thing... I thought this can hurt her in real life...
umam
Don't find anything bad. Infact, I find her sweet, particularly the way she helps with any questions that I have on BV pre Shiv entry and to understand all the characters better
Neha
Ummm...no idea
Anshul
she finds shiv Casanova
Bhavi_shiv
nothing,,,
i would like to know her more..
ashahai_aamanke
No. I love the forum when she is around.
ritzi
yes and no well yes coz she is very strict and disciplined like donji and no coz she is too chweet!!
gina
Not at all; even if she shouts, I am sure she is smiling..
Tista
No I love her and I believe when there is love no need of fear there at all
uma/adi
Scared of her...? NOT AT ALL...b'coz she is one of the most friendly & sweet member...
arya
No
Rashu
is she a ghost why should i be scared of her
Vedo
Nope I'm not scared of her...but I do use her name to scare others in the AnSh AT...cos she is always scolding people who break the rules!
anita
Scared? no way. I am not scared of any of my friends.
mona
-
no..bcoz she is not my chemistry teacher
Nia
I'm not scared of her, because she is very sweet and if she said something its always logical...
umam
No-- not scared at all
Neha
Hell no !!
Anshul
i am not scared of her because i find her sweet.
Bhavi_shiv
no she didn't scare me shes too sweet to be scary...
gina
Happy birthday Khushi,
May this year bring you your own Collector Saheb who is not a Casanova, a Sid who is only yours, and a Shiv who loves you as Shiv loves Anandi!
God Bless!!
Tista
WISH YOU A VERY VERY HAPPY BIRTHDAY DEAR
MAY GOD FULLFILL YOUR EVERY DESIRE AND WISH,,,,,,,,,,, BE HAPPY AND HEALTHY DEAR
vedo
anita
Wish you a very happy birthday Khusi. May you life be filled with loads of happiness just like you spread around you.

mocking_bird
"Khusi dear, A very,very happy wala Birthday,Love:Suku"
Mona
OMG Khushiii...it's ur birthday!!!!!
I guess in BV forum, Khushi is the first person whom i added in my buddy list...u lucky gurl!
...i can still remember how she helped me in uploading my signature and taught me how i can post pics in the forum
...she is the sweet and the simple person i have ever met in any forum...and of course she is the person who named me "late latif"!!
She is the "Jaan" of BV forum! okay, before all AnShians kill me, including khushi, i must modify my statement...she is the "AnSh" of this forum!
..she is entertaining the members since a long time by her super fast Written Updates, Sigies, OS & many more...THANK U DEAR!!!!
...I wish u will rock like this for thousand years more
May your birthday be filled with many happy hours and your life with many happy birthdays...May this birthday remind you that you are loved by a lot and I am one of them.
Link : http://i.imgur.com/KgSXI.gif
Mona
nia
May God Bless her always... May God give her long life and happiness :)
umam
Here's Wishing Khushi/Ankita A Very Very Happy Birthday, Tonnes of Happiness and great year ahead
neha
Wish u a very Happy birthday Khushi..May all ur dream come true
anshul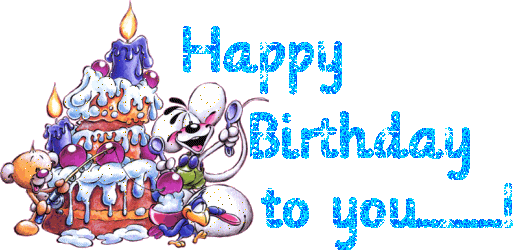 May God fulfill all your wishes and you have a wonderful year ahead.

have lots of fun.